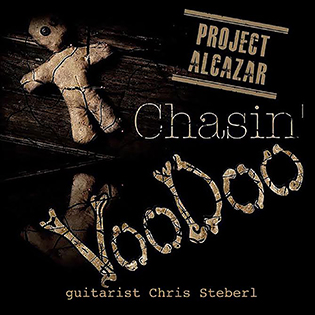 REASONS FOR A DECADE (2001) CHASIN' VOODOO (2016)

Also be sure to check out Project Alcazar on the albums:

Warmth in the Wilderness - A Tribute to Jason Becker
(Opus Pocus)

The Spirit Lives On - The Music of Jimi Hendrix Revisited
(Manic Depression)

Chris Steberl began playing guitar at the age of 8 years old at his parents bidding. For many years he dreaded missing Saturday morning cartoons to go take these "stupid worthless guitar lessons". He swore one day he would smash the guitar and never play again. Then at age 13 Edward Van Halen stormed onto the rock music scene with "Eruption" and everything changed. Now having a solid foundation of reading music and theory under his belt he developed his ear copying all of the new found guitar heroes solos note for note. He played in several cover bands throughout high school and relocated to Sarasota Florida where he was exposed to the "thrash metal" scene. Metallica, Iron Maiden, Anthrax and Slayer were to name a few and the band also wrote some of their own original material. Then he discovered Yngwie Malmsteen and the Shrapnel artists Tony Macalpine, Greg Howe, Jason Becker, Richie Kotzen and "shred guitar" was the new path to follow. After relocating back to Columbus Ohio he formed his own instrumental band "Alcazar". The band entered the "Battle of the Bands" at the Al Rosa Villa and went on to win against many vocal led bands WITHOUT a singer! The band went on to record 2 EP's entitled "Visions and Spells" and "Gothic Belladonna". Chris left his teaching job at the time for a brief stint on the road with another band until the singer was injured and their dates cancelled.


Chris decided it was time to pursue a solo career and released an EP demo entitled "Play Times Over" – the CD found him a place on Guitar Nine Record's new talent spotlight. Chris then set his sights on a 2nd release Project Alcazar: Reasons for a Decade. The songs topped the MP3.com instrumental charts for almost 9 months when Lion Music out of Finland agreed to sign Chris as one of their own. The CD received great reviews and did moderately well in sales for an unknown guitarist covering Mozart, Vivaldi, Mussorgsky as well as some of his own compositions. Endorsement deals followed with Brian Moore guitars and Carvin Amplifiers.

Not being able to find the personnel needed to play the material live Chris joined a local cover band "The DiVide" back in 2007. The band built somewhat of a following playing all styles of music from metal to pop to country to dance. In 2013 Chris entered the Sam Ash Best in Shred contest with a chance to open for Steve Vai. Chris went onto the finals and took the top honors. He performed in front of Steve Vai at the Newport Music Hall in November 2013. After 7 years with the DiVide band he decided that he really needed to go back to where his heart was – instrumental rock. He went back to the woodshed and began to write songs for a new album.

The songs off the new CD Chasin' Voodoo pickup where Reasons for a Decade left off. The playing and songwriting has matured and developed over the years. Chris plans to shoot videos for all of the new songs and has put together a very talented band to perform the songs live wherever he can perform.