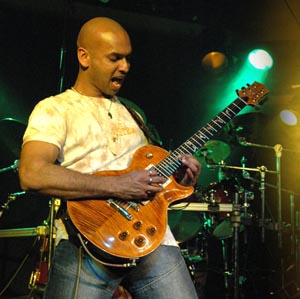 Anand Mahangoe was born in Surinam - South America on the 8th of January 1974. And to make it even more complicated, his ancestors are from India! So, now that you know this, let's see how he discovered the "Magic" Guitar!
At the age of 5, his family moved to Holland. When he was 12 years old he had to study an instrument. Can you imagine, he had to choose between a heavy guitar with 4 strings and a lighter one with 6 strings. The guitar of his choice was the 6 string. It was lighter and with 2 more strings it would have more possibilities!
Fortunately he started to like this "machine". And after fooling around for 7 years, he decided to do some serious business with it. So he took for almost 2 years guitar lessons from a great guitar player called Paul Menzing.… and then one day he saw the light! This llight coming from Joe Satriani's Guitar, at a concert in Holland! Anand immediately knew that this was [and still is] his destination: to make Instrumental Guitar music!
Anand won the prize of Best Guitar player of Holland '96-'97 and then recorded his first cd called A Man's Mind , which was re-released by Lion Music in the beginning of January 2005. After this debut Anand did some support acts for Tony MacAlpine and others.
In August 2003 Anand releases his second album Joy 4 Ever on Lion Music. The instrumental tour-de-force recieved superb press reviews from around the world with many comparing the release to the finest Satriani output. The album saw performances from Derek Sherinian (Dream Theater) and Mike Terrana (Yngwie Malmsteen) backing up the classy fretwork from Anand.
As previously mentioned January 2005 saw Lion Music re-release A Man's Mind making it widely available to the public. This re-release saw an sonic overhaul bring the production values right up to date.

In 2006 Anand also appeared on the second Book of Reflections album Chapter II: Unfold the Future as guest soloist on three tracks.

Fans of exciting and melodic guitar work will want to make Anand a priority.