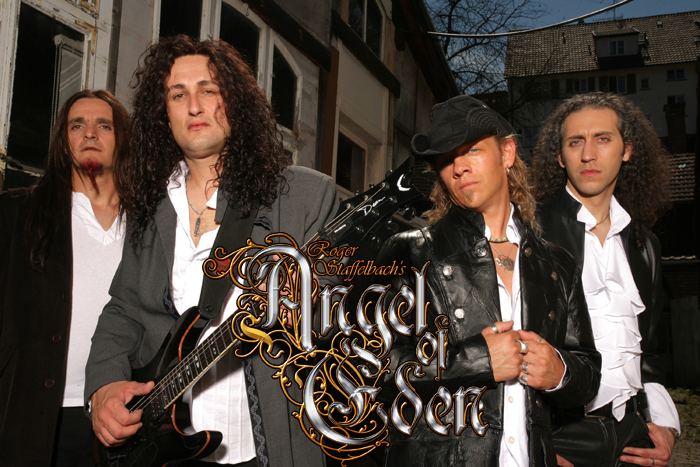 Angel Of Eden is Artension guitarist Roger Stafffelbach's new band project. Having recorded seven albums with the prog metallers Roger has formed his own band in his own vision with the focus on top quality metal with neo-classical influences. The result is "The End Of Never" - ten tracks of melodic harmonies, neo-classical lead work, potent riffs and grinding heavy metal rhythms all wrapped in a powerful production with superb artwork.
Fuelled by Roger's virtuoso guitar work, the melodic soaring vocals of Carsten "Lizard" Schulz (Evidence One, ex Domain), keyboard wizardry of Mistheria (Solo, Bruce Dickinson) and, the powerhouse drumming of Rami Ali (Evidence One) "The End Of Never" is a first class album from some of metal most respected names offering lush vocal melodies, pulsating rhythms and virtuoso lead breaks within captivating songs. The album is also home to several notable guest performances in the guise of bassist Steve Di Giorgio (ex Testament/Artension), John West (ex Royal Hunt/Artension), David Shankle (ex Manowar) and Ferdy Doernberg (Axel Rudi Pell).
"The End Of Never" is the start of Roger Staffelbach setting out with his own vision, more accessible than his work in Artension yet with the all the trademarks his playing is renowned for backed up with the ever impressive vocals of Carsten Schulz. "Angel Of Eden - The End Of Never" showcases an impressive new beginning from Staffelbach and a band that is ready to expand on this blistering debut.
Roger is known for his unique style and his aggressive rhythm playing as well as for his considerable soloing skills being no stranger to the pages of "Young Guitar" and "The Guitar Magazine" in Japan, as well as in numerous other publications around the Globe.
Roger started playing the Guitar at the age of 15, right after hearing for the first time Yngwie Malmsteen's Trilogy Record. He then started playing in the local scene in his home nation of Switzerland before taking lessons at a local Jazz School and then later on attended the GIT /MI in Los Angeles. That's where he got contacted and was offered a record contract by Mike Varney, president of Shrapnel Records after hearing a instrumental Demo which Roger sent him and which he has recorded together with his buddy and keyboard prodigy Vitalij Kuprij. The band then was called Atlantis Rising, which was later to become Artension who went onto release six albums to date. After a period of inactivity with the band Roger decided to form Angel Of Eden and looks set to continue the same success of his previous band.