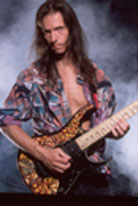 "Swedish guitar sensation" is the quote from the Swedish daily newspaper Aftonbladet. The year is 1992 and Benny Jansson has just released his first album "When Sanity is Acting Kind of Wild", with the band Two Rocks. The album received great reviews from both the Swedish and English music critics and Benny was compared favourably to guitar heroes such as Yngwie Malmsteen, John Norum, and Kee Marcello to name a few.

Benny has also worked as a studio musician for artists including Anders and Jens Johansson from the Yngwie Malmsteen band, Erika (Yngwie Malmsteen ex wife), Svullo, Dave Nerge, Snake charmer to name but a few. Two songs in the movie "Sokarna" are also the work of Benny.

After many years of devotion to the Swedish hard rock music scene, Benny released his first solo album in 1995, "Virtual Humanity". This album was very well received by the Swedish press and Benny was described as an unbelievably skilled guitarist with total control over the instrument. This time Benny was compared to guitar legends such as Allan Holdsworth, Mike Stern, Pat Metheny, Al DiMeola, Steve Vai, which all have been a huge source of inspiration for Benny both as a player and as a composer.

Benny released his second solo album in 1999, "Flum Ride", The album one again received very good reviews all over the world.

In 2001 Benny started working on some new songs that would eventually end up on his best album this far, "Save the World" which features a very competent band built around his long-time friends such as singer Goran Edman (Malmsteen) and keyboard player Jens Johansson (Malmsteen). In 2002 when this album was finished Benny signed a deal with Lion Music.