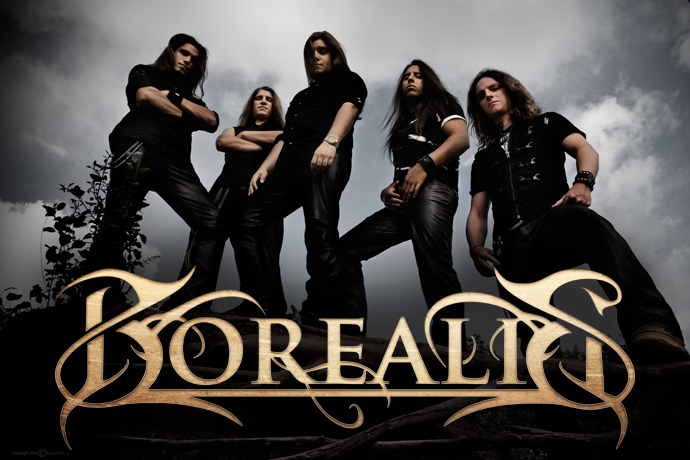 With soaring vocals, lightning fast guitars and a rock solid backline, Borealis is bringing leather back, and dragging power metal up with it. It's been that way from the start for these 5 Canadian guys: all or nothing, and it shows in their music.

Starting out in 2005, Borealis wasn't supposed to sound as it does today. The first songs and live performances were done with a female opera singer. It was quickly realized that the possibilities were limited following that path, so they set out to find the right sound. During their search, enough songs were written to record an album, but there was no luck finding a singer. However, at some point the band realized that guitarist Matt Marinelli had been holding out on them by not letting them know that he could sing up until that point.

With Matt now stepping in as their new singer and an arsenal of songs, Borealis entered the studio, and after a long and endlessly drawn out time, the debut album was unleashed in 2008 by the band itself. 'World of Silence' has quickly garnered attention from all angles of the industry, and word is just starting to get out.

"To me it was a chemistry that worked right away, 'World Of Silence' is a power metal masterpiece, capturing the sheer essence of the genre and improving it by adding speed and progressive metal elements! Their sound can be described as being both expressive and melodic, especially in the keyboards and guitar sections as a result of harmonized layering. The vocals of guitar player Matt Marinelli are another point that lifts this band to a very high level. Yes, brothers and sisters; there's a new star born, heading from the west! This release is a blistering one for all those into Progressive Power Metal. Borealis is a band you should try out and believe me you won't be disappointed for one minute."

- Officer Nice, Metal to Infinity Webzine


Having been playing locally with such world-renowned bands as Kamelot, Epica, and Sonata Arctica with nothing to sell, patient fans were elated to finally get their hands on the album, and Borealis played a packed show with Edguy to support it. Suddenly Borealis was a band on everyone's lips in their home-area of Ontario, Canada.

A short history of a band working to fill a tall order! Consisting of Sean Werlick (keys), Ken Fobert (guitar), Sean Dowell (drums) and Jamie Smith (bass), along with the aformentioned Matt Marinelli, the top of the power metal scene is where these Canadians strive to be, and if there's only one certainty, it's that they won't stop until they're there.

Summer of 2010 was spent recording and mixing the sophomore album, sinisterly titled "Fall From Grace", an album that will bring the band to where they need and deserve to be - as one of the best young bands on a growing metal scene.

Musically Borealis leans towards the classic power metal sound, not too far removed from bands such as Evergrey or even Savatage in their prime, but also the more progressive bands like Vanden Plas or Dream Theater springs to mind here and there. It's all about energy, aggression, melodies and finesse - and Borealis has it all in spades.


With "Fall From Grace" safely in the bag, the band took it upon themselves to give ProgPower USA one heck of a kick-start when they visited the world famous festival in September of 2010, and with a 45 minute set comprised of songs from both the upcoming disc as well as the debut made sure all 1100 people in attendance would leave with a positive memory of Borealis.

Early 2011 the band signed with Hydrant Music in Japan and Lion Music for the rest of the World.

The release dates for "Fall From Grace" are:
- Japan on April 13, 2011 through Hydrant Music
- May 20, 2011 through Lion Music

The band is extremely psyched about signing with two labels, Hydrant and Lion Music for their respective territories, and are also looking forward to collaborating with them on promotion of the upcoming album.

"Fall From Grace" is sure to see the buzz generated by both their debut album and ProgPower USA performance, and will certainly reach a larger audience world-wide come April and May 2011.