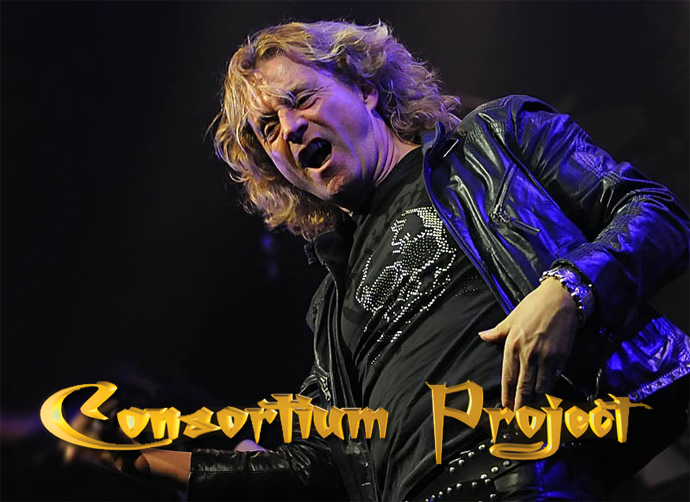 A lyrical concept written & produced by Ian Parry (Elegy, Vengeance, Infinity Overture) and performed by many of the world's best gothic power metal musicians known collectively as the CONSORTIUM PROJECT .

The Consortium Project is the brain child of singer songwriter & producer Ian Parry which started back in 1999 with the debut release of Consortium Project I "Criminals & Kings". Ian produced 3 more Gothic Prog-Power Metal consortium albums over the following decade and now in 2011 we see the release of the concluding chapter Consortium Project V "Species" on 15th July 2011 via Lion Music.

Ian Parry created this phenomenal fictional theoretical concept story of a world in crisis. The planet finds itself on the verge of an economical meltdown, caused by the collapse of banks due to greed, an oil shortage and a gang master culture within the corridors of power.

2002 saw the release of Consortium Project II "Continuum in Extremis". A conscientious effect was made to incorporate many present day issues & topics. With global warming being ignored the environment finally reaches a devastating level. Society is under threat from human cloning and an hysteria surrounding Live Reality T.V. fights to the death. With frustration towards greed and a power struggle within political circles the world turns to street riots and uncontrollable violence. Due to the intervention of women who split society into two separate species, mankind is saved from total annihilation.

Consortium Project III "Terra Incognita (The Undiscovered World)" released in 2003, finds the species now divided. Set centuries in the future a new era evolved were war, poverty and money no-longer exist. The planets eco-system and ozone layer now significantly restored. Women know as Neofems - the good people of the earth - set a task to venture outside of the protection of their futuristic Biosphere to re-united the species once again.

By 2007 having received worldwide recognition & rave reviews, the strength of Ian's Symfo-Progressive Gothic Metal concept gains additional credit due to performances by some of the world's best metal musicians in a unique collaboration admired the world over. Ian's concept story was complete so he thought, but after many requests from fans and members of the press alike, he embarks on the continuation of his formidable concept band with Consortium Project IV "Children Of Tomorrow" being the 4th part of this continuing sage.

Now set more than 300 years further in time the world now peaceful and united. No hate no greed one and all working for the preservation of mankind. However another kind of dilemma still exists after the discovery that mankind's origins are not of this world?

Wishing to complete his inspirational concept, Ian has written & produced a final chapter. Consortium Project V "Species" is a culmination of brutal, but melodic gothic-power metal at its best. A classic epic Sci-fi scenario, which takes mankind into outer space in search of its ancestors. It combines a selection of the best musicians from all 4 previous consortium albums such as; Stephan Lill (Vanden Plas) Casey Grillo (Kamelot) Kris Gildenlöw (Pain of Salvation) to newcomers from the gothic metal scene Lene Petersen & Niels Vejlyt (Infinity Overture).

This final instalment marks the 21st album release from Ian Parry celebrating a career of over 25 years in the world of rock & metal.