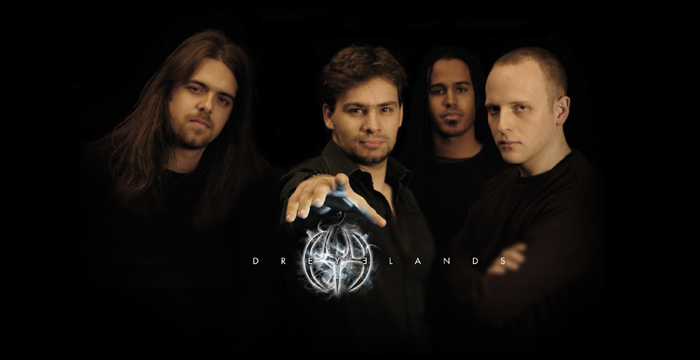 Dreyelands is one of the latest representatives of the Hungarian progressive metal music.

Summoned to life in 2002 by the two founding members András Ádám Horváth (guitars) and Gergely Springer (bass), the band played several cover shows with its initial formations. After Omar Gassama, Zoltán Kas and Nikola Mijic (Alogia, Expedition Delta) joined the band they began work on their own material.

The members do have a broad musical taste from the progressive rock of the 70's, through the AOR music of the 80's & 90's to heavy-, death- and extreme metal – not to mention funky, jazz and blues as well. Altogether there were and are several influences synthesized by the band while developing their unique sound, resulting in complex, but still catchy songs with wide spanning vocal themes, tight rhythms, hard riffs and flowing keyboard themes.

Dreyelands will surely be cherished by those who like Dream Theater, Symphony X, Pagan's Mind, Circus Maximus, Jorn Lande, Evergrey or Redemption, just to mention a few bands.

After recording a demo in 2003, Dreyelands recorded their first earnest material, a promotional EP titled Can't Hide Away in 2006. There was also a music video made for the title song of the EP. This video was featured several times on the Headbanger's Ball program of MTV Hungary. Hungarian and international feedbacks on the EP are beyond expectations. A song of the EP, titled One Fall featured on the CD sampler called 'Metal Crusade Vol. XVII' of the 117th (2008 December) edition of the German 'HEAVY' magazine.

The material of the first album was ready at the end of 2007, and the band began recordings in the spring of 2008. Mixing and mastering of the concept album titled Rooms of Revelation was done in January 2009 by Barnabás Hidasi (Stonehenge, Wall of Sleep, Korai Öröm) in the HL-Studio.

Dreyelands – Rooms Of Revelation will be released in the second quarter of 2010 on Lion Music. More information on the release to follow soon.....