The fusion rock band Hybrid Freak Division was formed in the spring of 2000 by guitarist Fredrik Andersson, bass player Pär Laurén and drummer Björn Nyberg. Hybrid Freak Division is an all instrumental fusion rock outfit wrappedd up in a classic powertrio format. Although improvisation and chaos is a vital part of their music, all Hybrid Freak Division songs feature some kind of melodic and rythmic structure. Finding studio recordings often boring and uninspiring, the band is a genuine hard hitting live-band, which you will be aware of if you ever see them perform in concert.
Pär Laurén Bass player of Hybrid Freak Division
Born i Gävle Sweden in 1977, started playing guitar at age 14, later swiched to electric bass after seeing bassplayer Jonas Hellborg play in Stockholm 1995. Studied music at a Jazz/blues gymnasium( swedish form of high school) while playing with numerous local jazz/rock groups. Started playing with the Hungarian saxophonist Janos Nemeth´s band, which also included Björn Nyberg and Fredrik Andersson. Feeling a little fed up with just playing straight forward jazz, the rythmsection decided to split and form their own, hard hitting, jazz-rock band, the Hybrid Freak Division. The rest is the future...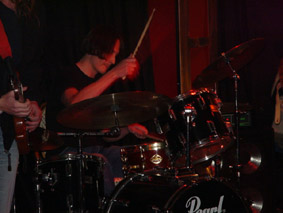 Ponder the words of the great Jaco Pastorious: "On a sinking ship, women and the rythmsection comes first."
Björn Nyberg; Drummer of Hybrid Freak Division
Born in Sandviken, Sweden, in 1972. Currently resides in Gävle. Björn has been playing drums since kindergarden, which has led him to a diversity of musical educations. He has worked several years as a drumteacher and freelance drummer with a number of different musical constillations, including jazz tromboneplayer Ulf Werre/Johansson and pop singer Fredrik Swahn. Focusing nowadays mainly on progressive metal and jazzfusion, he provides an unmatched energy and groove to the Hybrid Freak Division.
Fredrik Andersson, Guitar player of Hybrid Freak Division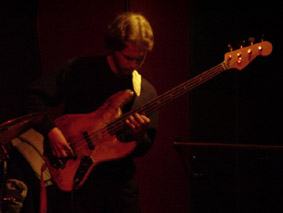 Born in Gävle, Sweden, in 1975. Started playing guitar at age 13 after hearing the first Motley Crüe album. At age nineteen, he moved to Los Angeles where he studied at the Musicians Institute. While at M.I. he started to get into jazz and fusion, mainly influenced by Scott Hendersson, John Schofield and Bill Evans. Besides playing in Hybrid Freak Division and metal band Pin Me Down, he works as a guitarteacher.