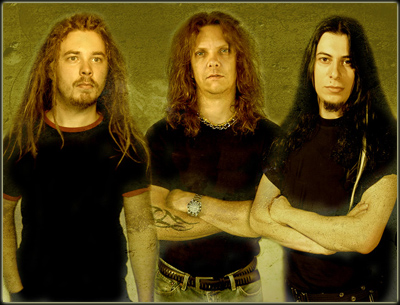 Imaginery begun their course in music as a vision of Bob Katsionis back in 1996 when he formed a project called "MIRAGE" playing fast European power metal in the vein of Stratovarius / Angra etc. something that was previously never attempted by a Greek band.

The band recorded 2 demos, first on 1996:"Time To Win" with female singer Mary Z. and on 1997:"Vibrations"with vocalist Thomas Papaefstathiou, who is a very close friend to Bob and a fine graphic designer/photographer and has also made the logo for IMAGINERY. These 2 demos got great reviewing from every media so Bob decided to form a full band and release a record.Joined by ex-Fatal Morgana singer Luis Hatzimichalis, ex-Acid Death drummer Kostas Tsobanos, bassist Telis Kafkas and producer Nigel Foxxe he begun recording the songs for the debut of SECRETS KEEPER, as Mirage were later renamed.

The first record deal was offered by U.S label Sentinel Steel, then Greek Metal Mad but finally it was the also Greek Steel Gallery Records that released the debut album of IMAGINERY in 2001 entitled "Oceans Divine".Luis' high pitched vocals and Bob's fine melodies were 2 things that someone could spot from this work but due to lack of promotion and distribution, Bob's parallel occupation as a member of NIGHTFALL and SEPTIC FLESH and his constant desire to release a solo instrumental work, kept IMAGINERY out of his priorities.

Despite this, Bob was always composing songs for the second IMAGINERY cd, but he still hadn't decide who would be the next singer for this new and much heavier material. It was Lars Eric Mattsson owner of Lion Music who sent Bob's new demo tracks to Bjorn Jansson, singer of Swedish melodic metal band TEARS OF ANGER and made IMAGINERY an active band again. Bjorn came in contact with Bob who traveled to Sweden and along with bassist Olof Sundfeldt of SYSTEM SHOCK (a greek-swedish band) and Bjorn worked on the new songs and recorded the vocals and bass in Bjorn's BackBone studio.

Bob then returned to Greece, mixed the album in Artemis Recording Studio with Mark Adrian (who also performed all the drums on the cd) and along with the wonderful contributions from mighty guitar players like Gus G., Marcel Coenen and Michael Harriswho nailed some great solos on particular tracks, made "Long Lost Pride" a must have for every fan of 7 string guitar driven Heavy metal music who is in for melody, fast rhythms and really unique atmosphere only compared to that of bands like Children Of Bodom, Symphony X and Ark.

The lyrics of Bjorn are in their entirety anthropocentric, dealing with issues of relationships, human behaviour, the guilt of soldiers, haunting nightmares, even reaching to the darkest sides of life in "Korozon, the Lord Of Evil" and the second album was made complete when Swedish graphic designer Carl Andre Beckston contributed his unique artwork to capture the mood of the new album in the best possible way.