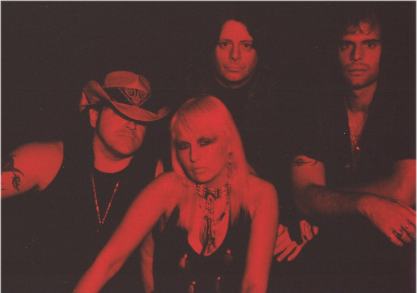 A FOUR-PIECE "WALL OF SOUND" AS DESCRIBED BY SOME, JARRA IS ACTUALLY A FOUR-PIECE METAL BAND ORIGINALLY FORMED IN THE NEW JERSEY/NEW YORK AREA OVER 7 YEARS AGO. THE BAND IS FRONTED BY SINGER/GUITARIST, KATHIE JARRA WITH AGGRESSIVE LINE UP THAT INCLUDES LEAD GUITARIST, JOHNNY RUSSIAN, DRUMMER, SHANE DIAZ AND THE MOST RECENT ADDITION TO THE BAND IN JUST MARCH OF 2000, PHOENIX, ARIZONA BASSIST, DAVID CHANEY.

JARRA WAS FORMED BY KATHIE JARRA AND JOHNNY RUSSIAN ON THE SOUTH JERSEY COVER CIRCUIT, IN AN EFFORT TO HAVE AN OUTLET FOR ALL OF THE ORIGINAL, HEAVY, MELODIC MUSIC THEY WERE WRITING IN THE MIDST OF ALL COVER BANDS. WITH THE ADDITION OF DRUMMER, SHANE DIAZ, AND VARIOUS BASSISTS, JARRA BEGAN TO PERFORM REGULARLY IN NEW YORK CITY, PHILADELPHIA AND THEIR HOME BASE OF NEW JERSEY. JARRA WAS A REGULAR FOR SEVERAL YEARS AT THE "NEW YORK CITY MARATHON" PERFORMING FOR OVER 30,000 PEOPLE EVERY YEAR. THE BAND ALSO DID SOME MINOR TOURING IN LOS ANGELES AT THAT TIME.

CREATING QUITE A NAME FOR THEMSELVES, JARRA IMMEDIATELY BEGAN SUPPORTING NATIONAL ACTS ON A REGULAR BASIS. (CINDERELLA, KIX, FASTER PUSSYCAT, ETC).

THE BANDíS FIRST RELEASE WAS A FOUR SONG EP, "TWO EVILS" THAT GARNERED THE BAND A LOT OF ATTENTION AND RECEIVED MANY GREAT REVIEWS AND STARTED THE BANDíS PRESENCE IN GERMANY.

AT THIS TIME RECORD LABELS STARTED TO BECOME INTERESTED IN THE BAND AND WITH A FEW DEALS THAT FELL THRU, THE BAND DECIDED TO WRITE, RECORD AND PRODUCE THEIR OWN FULL LENGTH CD. UPON ITíS RELEASE, IMMEDIATELY THE CD CHARTED IN THE TOP 15 NEW METAL RELEASES ON THE "HEAVY ODER WAS?!" MAGAZINEíS IMPORT CHART IN APRIL 2000 AND A SINGLE FROM THE CD, "INDIAN WAR LOVE SONG", WAS CHOSEN TO APPEAR ON THE MAGAZINES 50TH ANNIVERSARY ISSUE COMPILATION CD THAT FEATURED SOME OF THE WORLDíS BEST UP AND COMING METAL BANDS FOR 2000, THUS INCREASING THE BANDíS PRESENCE IN EUROPE. THE BAND HAS RECENTLY RELOCATED TO THE STATE OF ARIZONA.

THE BANDíS UNIQUE METAL SOUND COMES FROM A DIVERSE COLLECTION OF HIGH CALIBER METAL ARTISTS INCLUDING, BUT NOT LIMITED TO JUDAS PRIEST, ACCEPT, DIO, AND THE SCORPIONS. KATHIE JARRAíS MAIN INFLUENCE AND MENTOR IS RONNIE JAMES DIO. JARRA STATES THAT SHE WOULD LOVE TO DO A "METAL DUET" WITH RONNIE AT SOME POINT IN HER CAREER. JUST RECENTLY AFTER A MEETING WITH RONNIE IN PHOENIX, ARIZONA, THE BAND WROTE A SONG RECALLING THAT MEETING. THAT SONG, "RAINBOW OVER THE MOUNTAIN" WILL APPEAR ON THE BANDíS NEXT CD. LYRICALLY THE BAND IS VERY DARK AND INTENSE WITH JARRAíS HAUNTING MELODIES AND LYRICS DRAWING FROM SOME VERY PERSONAL AND SPIRITUAL ISSUES. THIS ALONG WITH AGGRESSIVE GUITARS AND POUNDING DRUMS MAKES QUITE A METAL STATEMENT.

KATHIE JARRA HAS ALSO WORKED ON SOME OTHER INTERESTING PROJECTS INCLUDING WORKING AS A MUSIC SUPERVISOR ON THE INTERNATIONAL VIDEO PICTURES FILM, "THE VILLIKON CHRONICLES" WHICH IS IN PRE PRODUCTION AT THIS TIME AND ALSO DID SOME VOICE OVER WORK AND SINGING ON A PROJECT FROM SOVEREIGN PRODUCTIONS FOR FILM SOUNDTRACKS IN GERMANY SEVERAL YEARS AGO AND WOULD LOVE TO WORK ON OTHER FILMS AND SOUNDTRACKS IN THE FUTURE.