Born in Reading, Pennsylvania and now residing in Los Angeles, Richie first began playing piano at the age of five. Later, at the age of seven and inspired by a Kiss poster, Richie took up playing guitar. Amazingly by the time Richie reached the age of seventeen, he had traveled back and forth across the United States playing in excess of five hundred gigs, opening for acts such as the Fabulous Thunderbirds, Greg Allman and the Smithereens. It was during that year that Richie released his first eponymously titled record on Shrapnel Records and graced the cover of several publications including Guitar World magazine..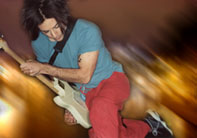 Richie's success and virtuoso playing caught the eye of Bret Michaels, lead singer of the multi-platinum act Poison. Richie was asked to join the band at the age of twenty. The album Native Tongue was released in 1993 and achieved platinum worldwide sales, and produced two top twenty singles which Richie wrote "Stand" and "Until You Suffer Some (Fire and Ice)". Appearances on numerous national TV shows such as Letterman and The Arsenio Hall show followed on the heals of intense MTV coverage. The video for "Stand" which included backing vocals by the entire AME Church Choir, was a Top 10 video on MTV's Most Wanted. Once again Richie graced the covers of numerous magazines. A world tour followed with sold out dates from London to Los Angeles. Following a controversial split with Poison, Richie continued his solo career releasing albums in various musical genres ranging from Rock to Soul and ultimately Fusion. Richie's cult status was also beginning to grow, especially in Japan where Richie released classic albums such as "Wave Of Emotion" and "What is".
1999 proved to be a crucial year. Legendary fusion bassist Stanley Clarke had been approached by Sony Music to put together a new band that could bring Fusion into the Millennium. Stanley called on the talents of his old cohort Lenny White and set about finding other virtuoso musicians. After exhaustive auditions the band 'Vertu' (pronounced virtue) was ready, Stanley and Lenny where joined by Rachel Z (Keyboards), Karen Briggs (Violin) and, of course, Richie on guitar. A massive tour of Europe commenced on the back the album, providing many of Richie's fans a chance to see him play in the flesh for the first time since his Poison years. Hopefully when Clarke can find time in his busy schedule scoring films Vertu will rise again.
Even with having to perform with Vertu Richie found time to release two more solo albums in 1999, the first a true Blues album "Bi Polar Blues" which seamlessly mixed classic standards and home grown tunes and the second album "Break It All Down", released on JVC Victor for Japan, a more up to date sounding collection with its feet still firmly seated in the Blues.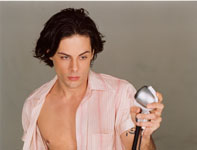 1999 also was the year that saw guitarist Paul Gilbert leave the band Mr Big wishing to concentrate on more personal matters. With a massive following in Japan Mr Big's remaining band members, Eric Martin, Billy Sheehan and Pat Torpey, were under great pressure to find a suitable replacement in time to start work on a new album. Having worked together on a previous album Sheehan turned to Richie to fill the gap. The aptly titled "Get Over It" sold more than 175,000 copies in its first two weeks in Japan and was followed by a successful Asian wide tour.
With the release of "Get Over It" worldwide and the re-release of Richie's Asian titles into the American and Europe market the new Millennium is set to be an exciting one for both Richie Kotzen and his fans