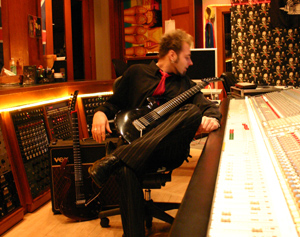 Dave Martone has played, hosted clinics or performed with 3 Doors Down, Steve Morse, Jennifer Batten, Paul Gilbert, Yngwie Malmsteen, Marty Friedman, Seymour Duncan, Greg Howe, Joe Satriani and drum greats Chester Thompson, Mike Portnoy, Greg Bissionet and Gene Hoglan.

Martone's last record "When the Aliens Come" has just been released by Lion Music in Europe www.lionmusic.com with world wide distribution. It has already made it up the charts at Guitar9.com as the top seller! It is a sonic peek of what music might sound like in the future!!! The amazing Daniel Adair (drummer for Martone ) who also plays with Nickelback as well as David Spidel were integral in the making of this album!

The press has been good to Martone lately with a feature on the cover of Muzik Etc Jan-Feb issue and also in Guitar One Magazine Jan issue as one of the top 4 underground shredders in North America. Dave was also credited on the latest Joe Satriani album Super Colossal.

Martone is endorsed by such wicked companies as Vox, Digitech, Parker, Cakewalk, GHS and Radial Engineering doing clinics either through Canada or at the NAMM trade shows.

Martone also works for the National Guitar Workshop www.guitarworkshop.com as well as Berklee College of Music www.berklee.edu doing clinics/master classes for them. He has directed 3 successful School of Rock Guitar Sessions for Tom Lee Music in Vancouver Canada. www.tomleemusic.ca

On line state of the art video lessons are also available through a company called http://www.workshoplive.com/. Check out some free lessons and then sign up!