Massimo Izzizzari started playing the guitar at the age of eleven. As he was turning fifteen, he got to play for a band called "Orchestra Spettacolo". As years go by, he gets involved in many different musical projects.
At the age of seventeen he performed in many local events playing tunes of famous guitar stars such as Joe Satriani, Greg Howe and Yngwie Malmsteen just to name a few. In the following years he focused his playing on jazz-fusion guitar playing. Particurarly, he studied the styles of Scott Henderson, Pat Metheny, Mike Stern, John Scofield. Later on he joined the fusion band "Black and Blue", for which he recorded a demo of original tunes. With this band he took part at many national events. Among the most significant ones, Liri Blues, Emergenza Rock Radio Roma.
In 1993 He reached the final stage of a national guitar competition called "A.W.F.". At the same time, he worked as a studio guitarist and played in many recording sessions. In 1995 He played in Rome for a music production called "Inventario 95" financed by the University of Music. At the same time, he attended many guitar workshops and studied at the Lizard school in Fiesole.
In 1995 Massimo Izzizzari became a member of SIAE as both musician and composer. His compositions range from instrumental to vocal. He has arranged many vocal parts for many recording sessions and concerts. At the end of the ninenties, he founded a band named Misturafina which combined both Pop and Rock music.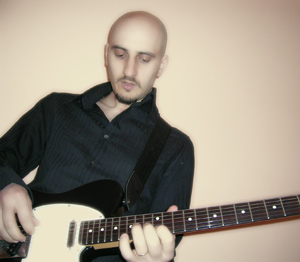 Massimo Izzizzari also signed recording contracts with Zomba Records and BMG. That was followed by the creation of many CDs and video clips. In order to promote his material, he appeared in many radio and TV shows (Rai 3, Italia 1, Mtv, Telemontecarlo, Viva, Match Music, Radio 1, Radio 2, RDS, RTL, Kiss Kiss, Rado 105). To promote his works, he kept an intensive touring schedule which got him to perform all over Italy.
In 2003 he started to work with a jazz Big Band called "Free Time band". Izzizzari teaches reguraly in music schools such as Sonoria and Famous, both located rispectively in Castelliri and Arce. He also teaches at Fusion/Rock guitar seminars.
January 2007 saw Massimo unleash his debut solo album on Lion Music entitled "Unstable Balance", which is a stunning slice of virtuoso guitar covering a wide range of styles with each track showcasing the unique guitar talent that is Massimo Izzizzari.
Second guitar instrumental from Massimo Izzizzari the fluid Italian guitarist with a style that mixes rock with modern fusion idioms. First heard on his 2007 Lion Music release "Unstable Balance", Massimo Izzizzari has delivered a potent second release of 9 new instrumentals all of which showcase his flawless lead technique over strong rhythmic bedrocks. Fans of the likes of Greg Howe will get a kick out of Massimo Izzizzari's work with the albums title summing up the musicianship contained within.