No one told me I was born, but I figured that out later. It happened sometime in the 60s in Ohio. Both my parents were, and still are, musicians. But even though I had already been chosen by music, I remember being mostly into sports as a kid. I really wanted to be a pro baseball player, but that all changed when I discovered music. Of course, I'm still a big sports fan.
At some point when I was around 11, I decided to play an instrument. French horn was my choice, but fortunately (yes, fortunately!), when my Dad and I went to the music store, they did not have one, so I ended up with a cooler instrument (albeit only slightly cooler), the cornet, which is basically a small trumpet. I played in the school orchestra and even went as far as taking private lessons, but never had the enthusiasm to practice at home much. I guess the trumpet had little or no 'cool factor'. But when I was around 13 or 14, I discovered rock and roll, and eventually my weapon of choice, guitar. I was inspired by friends who played in bands and by seeing concerts on TV. I then knew the guitar was all about 'cool' and all about me.
After playing only a short while, I got very serious and practiced for hours every day. I did take private lessons for awhile, which mostly got me into reading music, but the bulk of my progress was done at home learning licks and songs off of recordings - initially rock and metal, and eventually fusion and prog. This was all good, as although it made me look rather reclusive to friends, at least it kept me out of trouble in my teen years, or at least minimized it!
Six months or so into my 'career' I formed a band with bassist Mike Smith and drummer Mike Duncan. 3 Mikes! The name of the band was 'Steve'. (OK, no name, cuz we just toured garages.)
I had my first taste of real musical 'success' immediately following high school graduation, by performing with my first gigging band, Tyrant, in local night clubs. Following several changes in line-up, Tyrant evolved as Arch Rival, which gained considerable success locally and we eventually recruited a sizable U.S. following by touring everywhere from the east coast and Midwest to the southern states in support of the two EPs we had recorded. Still, we had not found our niche, so we took a hiatus. Inspired by my appearance in Mike Varney's Guitar Player Magazine 'Spotlight' column, I decided this was a good time to finally record my solo instrumental album, which I had been planning for some time. Greg and Gary from Arch Rival were cool enough to do the record, and so 'Defense Mechanizms' was finally born in 1991. It soon caught the attention of David Chastain, who lived close in Cincinnati. His label, Leviathan Records eventually released it worldwide.
Around this time, Arch Rival had linked up with an exceptional vocalist from Michigan, Steve Snyder, and immediately started to write music for our first full length disc, while gigging as well. We also signed a management deal with JFN Management, founded by John F. Neal, who became AR's great friend and '5th member'.
We toured in support of 'In the Face of Danger', while working up new material for our 2nd CD. Then, in the middle of all these musical endeavours, David Chastain and myself put a group together to support our latest instrumental solo releases, and after two short tours, 'Chastain/Harris' (featuring my friends David Harbour on bass and Greg Martin on drums) released a live album, 'Live! Wild and Truly Diminished', worldwide.
After the final C/H tour, I got right back to writing a new CD with Arch Rival which, around new years of '93, we recorded at Carriage House, near New York City. We used Steve's title, 'Wake Up Your Mind', and released the disc later on that year.
It was great to finally be in a creative mode and to have a global fan base who actually listened. So of course, this just fuelled my creative spark that much more. I decided to direct this musical fire to a new market, so in 1994, I moved to the Dallas / Ft. Worth metroplex. It was tough to leave the band, old friends and family behind, but I did have some family in Dallas - a sister Anne and brother in law Tim - and several acquaintances there, so I adjusted quickly. Upon my arrival, I immediately went to work recruiting musicians to complete more of my musical visions, the first of which was my 2nd all instrumental disc, 'Ego Decimation Profile'. I met some great people in Dallas, including an old friend from Ohio, John Purdom, drummer Keith Carlock (who eventually went on to play with Steely Dan, John Scofield, and Sting), and drummer Matt Thompson, who became a part of a METAL band I put together in Dallas, SURGEON. Vocalist Len Jarrell and I wrote the SURGEON material and I released 'Encyclopaedia of the Insane' on IMF in 1996.
Around the same time, I had started to complete the songs that were to become the new ARCH RIVAL CD, 'Third Degree Burns', for which we were able to land our best deals for overseas. That recording was quite a challenge to complete logistically, as Greg & Gary were still in Ohio and Steve had moved to Florida.
My next endeavour was to put together a live band in Dallas, which I did with bassist James Martin, drummer Rob Stankiewicz, and keyboardist Erik Martinez. We became 'The Michael Harris Project', (for lack of a better name) and within only weeks we landed the opening slot for guitar greats, Joe Satriani, Steve Vai, and Robert Fripp ('G3') at the Bronco Bowl in Dallas.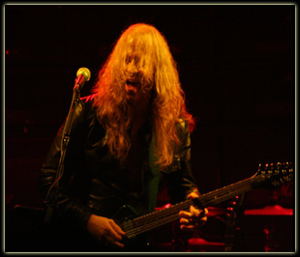 'MHP' gigged for awhile on and off while I was composing material for another instrumental release which surfaced finally in 1999 as 'Distorted Views'. Much of that was recorded and mixed at Nomad Studio in Dallas, owned by drummer and all around nice guy, Gary Long. I was very happy with this disc and it did very well for me. I was fortunate enough to have some great musicians play on it, including Rob Stankiewicz and Derek Blakley, both from Haji's Kitchen, on 'Transmigration of Souls'.
After landing more worldwide deals with 'DV' I started to slip into more of a creative mode with less live playing, while working on more instrumental music. I bought my first house in late 2000 and started working on a more extensive home studio. Musically, I wanted to go a bit 'farther out' this time, which I did with 'Sketches From the Thought Chamber', released in early 2001. 'SFTTC' is my favourite instrumental disc and included my brother Brian Harris, drumming on 3 tunes. I negotiated a European deal for 'SFTTC' with Heavencross Records in Spain.
Around this time, my bro, who still lived in Ohio, and myself got to talking about putting together an Ohio band, which we did with Jay Luis, a bassist that I did some work with years before, and keyboardist Jeff Davis. This band became 'The Michael Harris Tranz-Fusion'. We immediately 'clicked' both musically and personally. We played our first gig in July of 2001 and now continue to do several short tours each year around that Ohio area. We are presently seeking a bassist.
For my next recording, I decided to try something new. I had been singing more and more with my solo bands, initially by necessity, but it became more enjoyable as time went on. I had already written several vocal songs, so I decided to pursue a complete vocal CD. I toiled over this project for quite some time, as it was tough finding the right tunes stylistically which were also within my limited vocal range. It was also time consuming to record, as it contained a lot of vocal harmonies, guitar synth, and the lyrics were a whole other venture, not to mention the disc ended up being an hour long. Finally in December of '02, I flew my brother out here to Dallas to record his drums, and I released the disc, 'Words Collide', in July of 2003 on IMF in the US and landed a European deal with LION Music, who released it in November of the same year with a bonus track. From my perspective, it is always strange to hear an instrumental artist finally express himself vocally, but I'm grateful that the critics and fans listened and really seemed to dig the disc.
I also had the pleasure of playing on 2 songs on Vitalij Kuprij's 'Forward and Beyond' disc around this time. Vitalij is a virtuoso keyboard player with amazing songs and it was some of the most challenging stuff I'd ever played on.
During the writing of 'WC', I had also written some heavier METAL tunes, which I eventually realized would be more cohesive on a separate release. Rather than make this another solo effort, I decided to pursue this as a real band. My brother, being the METAL dude that he is, was totally up for this, and so we recruited a bassist I had known for years in Ohio (and actually played my very first gigs with), Mike Neal to form DARKOLOGY. Brian and Mike laid down some truly raging trax in April '04. We mixed it later in the year, only to remix it myself in '06. I eventually decided to look for a vocalist for this band and that's where we stand now.
Rewinding a bit, sometime around 1996, my manager, John Purdom and myself decided to form a progressive vocal band with the best musicians possible. I decided to start by gathering together some material & writing more, then working with a vocalist. By a fortunate happenstance, Ted Leonard, the great vocalist of Enchant, responded to my ad and we started working on material for our 'supergroup'. Several years later, we had enough material, so I called Rob & Derek of Haji's Kitchen and they were down with joining the group. We spent future months practicing and eventually recording the CD, which included Bobby Williamson of Outworld helping out with some ripping kybd solos. The band has become "Thought Chamber" and the debut CD is entitled "Angular Perceptions", which I have secured a deal for with InsideOut Music. The CD is going to be released worldwide on April 3, 2007, making it my biggest release ever!!!
Sometime in 2005, I decided to compose a neo classical record. I have written many pieces in that genre on my other CDs, but wanted to focus on that style exclusively. Many months, cups of java, painful recording sessions, and about 15,000 notes later, I had completed "Orchestrate", my first complete "neo-orchestral" CD. LION Music released it in Nov 2006 and I was overjoyed to find it met with much critical appraise.
So what does the future bring? Well, more music of course. I got into this 'biz' for the art of it in the first place, and I find myself constantly driven to create more music. For this I am eternally grateful.
Guitar virtuoso Michael Harris returned after the successful "Orchestrate" album ready to take on a fresh new challenge in his ever widening musical vocabulary. Enter 'Tranz-Fused' which is Harris' first all fusion instrumental recording; although this isn't just jazz fusion in its purest sense as it incorporates prog, metal, blues and some funk elements as well. Despite the change of musical expression one thing remains the same - the stunning guitar work of Michael Harris.
Michael's musical goal with making the album was first and foremost strong songs with melodies that hold up as well as a little wackiness. In a performance sense Michael has delivered a strong yet tasteful vibe with effective dynamics. Sonically Michael has gone for a more stripped down approach with less overdubs and making use of cleaner guitar sounds, old school fusion keyboard and some guitar synth sounds as well as a dose of effects such as octave and ring modulators for true authenticity. Influences for the album have come from the likes of Clint Strong, John Scofield, Pat Martino, Al DiMeola, Scott Henderson and Jeff Beck.
Joining Michael for the album is a stellar supporting cast of bassists Adam Nitti, David Harbour, James Martin and Bunny Brunel. Drums come from Mike Haid and Marco Minnemann and Bernard Wright delivers a keyboard solo on "Seizure Salad". On his fellow musicians Harris comments; "I was grateful to have a roster of great musicians on the record, who all brought chops, style, dynamics, and substance to the table!".
"Tranz-Fused" is a welcome return from one of the instrumental scenes best loved players.