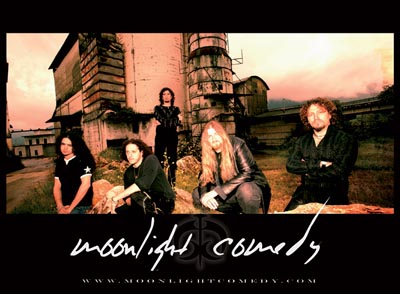 Moonlight Comedy were formed in 1998 and immediately started to compose it's own music together to present to the public with an innovative and individual image in mind. The influences of the nineties progressive, power metal and hard rock are specific characteristics of Moonlight Comedy. It is very evident already from listening to just a few seconds of their music that the passion of the group lies in the fusion between melodic harmonies and innovative instrumental sequences. The members, who prefer to define themselves as "Actors of the comedy at the moonlight", to integrate their musical taste. The greatest characteristic of Moonlight Comedy is their continuous search for a sound that is able to integrate with completely free and limitless technique in order to spice up the final composition.

The band built up a following in Italy thanks to two independantly released demo ep's which caught the attention of Lion Music who signed the band for what was to become their debut album "The Life Inside" (LMC116) which was released in 2004. The debut received positive press from around the world and was followed up by the release of a guitar instrumental solo album from guitarist Simone Fiorletta entitled 'Parallel Worlds' (LMC152). The band headlined the 'Killer Prog Night' gig in Rome Italy in April 2005 before commencing work on album number two - "Dorothy" (LMC199) - which is due for release in Feb 2007.

The Cast:
Actor I: Emilianio Germani – Vocals & Backing Vocals.
Actor II: Gianluigi Farina – Keyboards.
Actor III: Simone Fiorletta – Guitars.
Actor IV: Armando Pizzuti – Bass.
Actor V: Andrea Scala – Drums & Percussion.