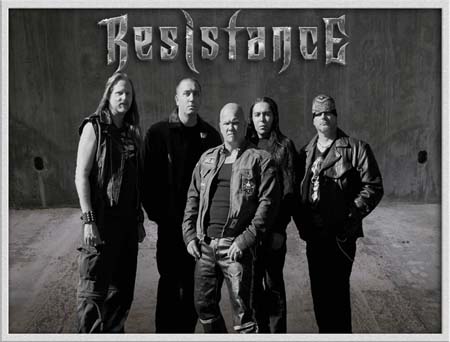 Resistance are a full on, non compromising metal act from Los Angeles. This five piece deliver their own brand of 'Pure American Metal' and are winning fans over worldwide.

Resistance is the collaborative effort of its members, combing each members talent, experience, tastes and philosophies into one musical vision. Resistance was born out of Paul, Matt, Dan and E.F's love for heavy music and their desire to once again become creatively involved in it.

Their friendship and musical experience began in their formative high School years. During this time these core members played in several bands together and evolved into a cohesive unit.

After years of playing together and recording, the four friends became disillusioned by the music scne towards the end of the 1990's. Eventually, Paul, Matt, Dan and E.F parted ways and began exploring different paths in their lives. At the onset of the new millennium the four came together again with a renewed musical passion and a new vision/

Still unhappy with the current popular trend of heavy music (nu-metal) the name Resistance was chosen as a statement of their philosophy to resist popular trends and write music for themselves. Paul's brother Tim was then selected as the vocalist for Resistance as the group saw a fresh untapped talent in him.

Armed with their new vision and dedicate, Resistance exploded onto the local metal scene and over the the course of two years developed a strong following and established themselves as a dominant presence on the L.A metal underground scene.

Resistance has had the pleasure of sharing live billings with the national acts, Exodus, Agent Steel, Helloween, Super Joint Ritual, Jag Panzer, Prong, Engine, Beyond The Embrace, Into Eternity, Flotsam & Jetsam, L.A. Guns, Death Angel and Leatherwolf as well as playing many crushing shows with our buddies ( the other big fish in the L.A. Metal pond) Prototype, Dreams Of Damnation, and Scarred.

As the bands popularity grew so did a problem with Tim's voice and it was discovered that he had developed nodes on his vocal chords. A very tough decision was made that it would be in Tim's best interests to step down and not continue. The decision was fully supported by each member and Tim's contributions are still a part of Resistance.

In a twist of fate a new vocalist (Robby Hett) fell into their laps and quickly proved to be a viable new member. Robby brings a dynamic new voice to the music of Resistance along with a solid musical history and most importantly shares the same musical vision.

With a renewed appetite Resistance continue to steam roll their metal machine forward and deliver the very best Pure American Metal and saw their debut album released in 2005 via Lion Music. Entitled Lies In Black, the album is a hard hitting affair with an original edge and attitude.

With the release of their latest effort "Patents Of Control", Resistance will showcase its diversity and broad musical tastes, as well as provide its fans with a strong metal album that will stand the test of time. "Patents Of Control" also marks the debut of new guitarist Dave Watson appearing on album with the band.

The album was produced by Resistance and engineered by Patrick Miller and Desert Moon Recording Studio in Annaheim, CA. The mix was handled by world renowned producer Neil Kernon (Queensryche) at Rax Trax studio in Chicago, IL. The master was completed by Alan Douches at West Side Music in NJ.