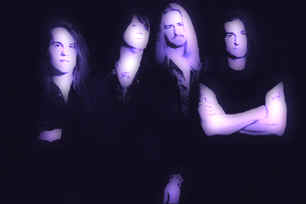 Reign of Terror and their new cd Conquer and Divide takes off from and supersedes the band's amazing previous release Sacred Ground. The new release again features the most impressive Euro melodic power metal by any US band in the marketplace today. Joining up the talents of guitar master Joe Stump and vocalist extraordinaire Mike Vescera with the powerful rhythm section of drummer Matt Scurfield and bassist Jay Rigney has once again proved to be a lethal metal combination. Special guest Mats Olausson provides the keyboards throughout the cd.

On their newest release Conquer and Divide, The Reign of Terror combine a variety of influences to deliver a high powered extremely aggressive recording. The Deep Purple, Rainbow and Rising Force influences have always been a strong part of Joe Stump's composing and guitar work but on Conquer and Divide he mixes that with elements of European based power metal, speed and thrash along with more traditional metal styling's. Mix those with Joe's unparalleled trademark insanely intense guitar playing and you start to get `the picture. Then you add the always classy vocal talents and melodic genius of Mike Vescera and you begin to understand why some journalists are calling The Reign of Terror the US melodic power metal band of the ages.

The track No Forgiving is certainly drawing from heavy neoclassical influences. Mats' well orchestrated keyboard textures give the tune a strong symphonic element and the middle classical section is one of the most difficult and demanding technical displays known to metal. The heavy Dio era Rainbow influences on both the guitar work and the vocal line give the listener an illusion of what modern day Rainbow might sound like mixed with speed metal.

The title track, Conquer And Divide, is a complete balls out full throttle monster from start to finish. The track is a strong indication of what The Reign Of Terror's newest disc is all about: in your face, no nonsense, well crafted metal. No sappy power ballads here, just completely focused non-stop metal virtuosity from every member of the band.

The Mark of The Devil title is influenced by an old horror film. This track combines a mix of American thrash with progressive and Euro metal influences. In addition to Vescera's haunting vocal melody is the impossible to replicate perfectly harmonized guitar solo.

Joe adds, "The guys and I did a lot of touring after the first cd so we now understand a lot more about each other as individuals and musicians. I believe when we went into the studio to record Conquer and Divide we were a closer band than when we recorded Sacred Ground. I believe this has produced a tighter and more professional sounding cd."

Reign of Terror seems to have once again provided all of the ingredients to become of one of the top metal bands in the world: great musicianship, image, a superb guitar/vocalist combination and instant classic metal songs. The band's new cd Conquer and Divide is certainly one of the most important metal releases in 2003!