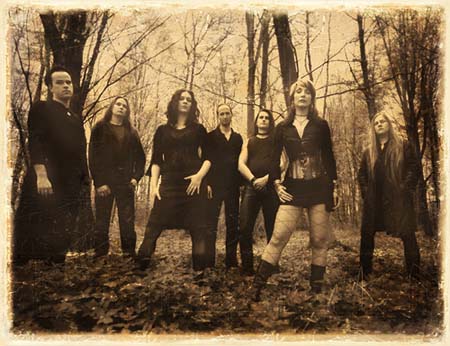 SATYRIAN is an international gothic rock band, combining dark atmospheric lyrics with wave, rock, classical orchestration, piano and heavy guitars.

The story of their new album Eternitas goes back to December 2002, when the band started recording at the Spacelab Studio in Germany. Though at the time they called themselves Danse Macabre, these were the early days for SATYRIAN. Recordings started with drummer Merijn Mol (Danse Macabre, The Dreamside), bassist Milos Marisevic (Danse Macabre) and composer / guitarist Jan "Örkki" Yrlund (Danse Macabre, ex- Lacrimosa, Prestige, Imperia, Angel, Delain). Piano and some clean vocals were supplied by producer Oliver Philipps (also in Everon). The band invited Kemi Vita (The Dreamside) as guest vocalist. Judith "Ciara" Stüber also took part in recording; she'd already joined the band for three songs on their previous album "Eva."

With a summer tour quickly approaching, the band invited their guests to join them. Guest vocalists Kemi and Judith gladly agreed, and producer Oliver also joined the band for this journey. At this point, the band was nearly complete. All that was missing was a final singer to complete the line-up. This they found in Roman Schönsee (ex- Pyogenesis, The Bloodline, The Dreamside). After rehearsals at Spacelab, the band headed to Finland for the tour. There, they also shot scenes in Lapland for an upcoming video with director Jari Koskela.

While on tour, the band and guests formed a bond not easily broken, and the guests were invited to join the band as full members. With the album still missing vocals, the band returned to Spacelab Studio in 2004. With all three vocalists experimenting with new sounds, the recordings were truly a creative process. Not only did they lay down the vocals, the band got carried away and recorded new piano, bass and orchestral parts. They also added an extra song to the mix. By June 2004, recordings were complete and the band adopted it's new moniker: SATYRIAN.

In autumn 2005, SATYRIAN's old record company agreed to the band's request to transfer the album and the band signed a new record deal with Lion Music Records.

The debut album "Eternitas" consists of 12 songs in a wide variety of musical styles. From pure dark rock to danceable industrial beats, folk elements to classical atmosphere, the album runs the gammot of musical tastes. The contrast between the two male and two female voices define the band's sound. The guitar work varies from rock and metal riffing to melodic leads, often combined with piano. The lyrics are dark and atmospheric and offer a close look into deep personal emotions. It's an album about life and death, desire, fear, loss and eternity, the Eternitas.

December 2006 saw the release of the limited edition 'Eternitas' add on 'The Dark Gift' which saw remixes and a movie of the making of 'Eternitas'.

Welcome to the SATYRIAN world!