Simone Fiorletta is at the forefront of Italian rock guitarists with a style and technique which is winning over fans worldwide. With 3 instrumental solo albums already behind him, not to mention albums with progressive metal outfits Moonlight Comedy and No Gravity, Fiorletta is now ready to unveil his fourth and most accomplished solo offering to date in "Personalities".
Home to 11 tracks (or personalities) the new album is the perfect reflection of where Simone Fiorletta is in 2013 on his ongoing musical journey with a more mature and refined, sound.
"Personalities" goes from subtle to all out frenzy and offers something for guitar lovers of every genre with many tones and timbres to match the mood of each song.
On this album Simone plays with drum greats John Macaluso (Yngwie Malmsteen / James LaBrie / ARK), and Mario Riso (Rezophonic – Rock Tv ) as well as iconic Italian rock bassist Dino Fiorenza and sees guest performances from guitarist Fabrizio Leo on "Bottom Line", keyboardist Andrea De Paoli (Labyrinth) on "To The Station" and fellow No Gravity guitarist Davide Perruzza on "Your Grit Is My Reason Of Life".
At seven year-old I got near the music studying piano with the M°. Gianluca Spalvieri (an European level pianist). At twelve I bought my first electric guitar studying first as self-taught person then taking private lessons. Among the various studies, I frequented the triennial course given by Percento Musica in Rome where I "knew" the instrument with teachers such as Umberto Fiorentino, Franco Ventura, Massimiliano Rosati, Stefano Micarelli and others. At the same time, for two years, I studied flamenco guitar with Roberto Valle.
September 2004 saw the first Moonlight Comedy album "The Life Inside" produced by Legend Music in Rome and distributed in 26 nations by Lion Music . In October 2004, the Milanese label Videoradio released in Italy my first album (The Beginning). After the success of both the albums (The Life Inside appreciated by world press and The Beginning that got the first place among the more downloaded albums of Vitaminic ) I have had the honor to sign a Lion Music contract as solo guitar player; so in September 2005 I released "Parallel Worlds" , my second album, this time a worldwide distribution. This album has got for various weeks the Top10 in Germany , Norway and in the famous American website Guitar9.
In February 2006 saw work commence on the next Moonlight Comedy album "Dorothy" which was released in 2007 and also my second solo album on Lion Music "My Secret Diary" released July 2007 on Lion Music.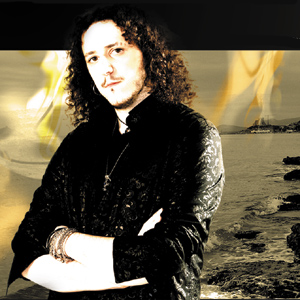 Endorsements
D'Orazio Strings - http://www.doraziostrings.it/
Jim Reed Guitars - http://www.jimreed.it/