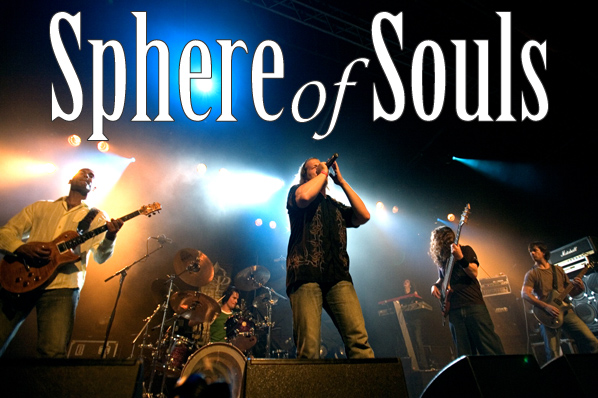 Sphere of Souls was formed by vocalist André Vuurboom following his departure from Sun Caged in May 2004. Former Autumn Equinox bassist Kees Harrison was soon recruited to the line-up, closely followed by André's former bandmate, ex-Imperium drummer Patrick Gerritzen. Joost van den Broek, who had also recently left Sun Caged, soon expressed a keen interest in the project, offering his services as keyboard player and producer for the band's first album. Guitar virtuoso Anand Mahangoe agreed to contribute solos.
André soon began writing material and demoed a number of tracks with Kees. At this point in time the band was still without a rhythm guitarist for the album. In January 2005 a suitable candidate was found in former Imperium guitarist Rob Cerrone.
In February 2005 Sphere of Souls began rehearsing as a four-piece (minus Anand Mahangoe and Joost van den Broek). However, it soon became apparent that Patrick Gerritzen was not going to be able to combine his other commitments with the band. In late March 2005 he was replaced by Kees's former bandmate, ex-Autumn Equinox drummer Ruud van Diepen.
Sphere of Souls' debut album 'From the Ashes...' was recorded between May and September of 2005 at Rotterdam's Excess Studios and the home studios of Joost van den Broek and Anand Mahangoe.
In October 2005 Anand Mahangoe became a permanent member of Sphere of Souls.
In November 2005 Sphere of Souls signed to the Finnish progressive rock and metal label Lion Music, which released 'From the Ashes...' on Friday, 21 April 2006 to critical acclaim.
Prior to the album's release, Sphere of Souls made their live debut opening for Ulysses on
1 April 2006.
This was followed by a prestigious support slot with Vanden Plas on 2 April at P60 in Amstelveen, the Netherlands.
The official release party for 'From the Ashes...' was held at Plato in Helmond, the Netherlands, on Friday, 12 May 2006. Joost van den Broek, who does not usually perform live with Sphere of Souls, also joined the band on stage for the performance. On 7 July 2006, Joost also accompanied the band supporting Stream of Passion at Podium in Hardenberg.
The high point of 2006 for Sphere of Souls was undoubtedly their opening slot on the second and final day of ProgPower Europe 2006 on 1 October 2006, which earned them a number of positive reviews, most notably in the Netherlands' oldest metal magazine, Aardschok.
In early 2007, Anand Mahangoe and Ruud van Diepen left Sphere of Souls in an amicable split. Ruud has since been making waves in the Netherlands with his new band, Alura.
Following the departure of Anand and Ruud, a long search for new members ensued. Ruud in particular proved difficult to replace. In July 2007 André and Joost found a talented lead guitarist in Alex Rosenhof of Picture of the Moon. In October 2007 the search for a drummer finally ended when Sphere of Souls found a suitable drummer in Milan Ridderhof, formerly of Daisy Vain.
Sphere of Souls are currently putting the finishing touches to the 'From the Ashes…' material with the new line-up and resurrecting a number of previously unreleased Imperium/Souls of Inbetween tracks. Material for a second album is also in the works and the band will resume live work within the next few months.
Watch this space!

André Vuurboom

Kees Harrison

Anand Mahangoe

Joost van den Broek

Rob Cerrone

Ruud van Diepen