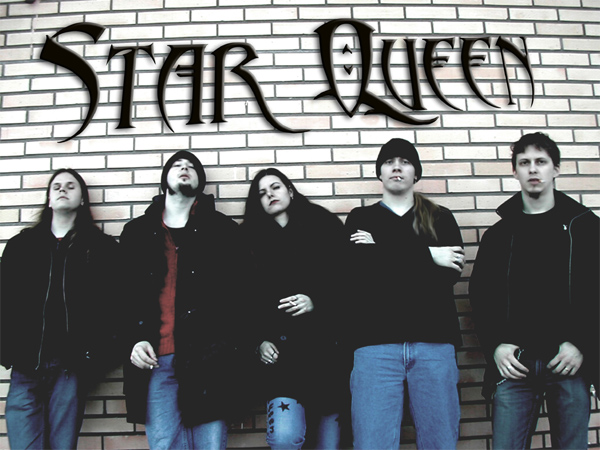 The dream child of singer / composer Stella Tormanoff, Star Queen also features guitarist Thobee Englund (Sabaton) and bass player Erik Torberg, both members of Winterlong, keyboard ace Bob Katsionis, drummer Tony Eriksson and producer co-arranger Lars Eric Mattsson on additional keyboards and string arrangements. World famous artist Eric Philppe (Rhapsody) is the man behind the artwork of "Faithbringer", Star Queen's mindblowing debut album. Star Queen is a truly international band with members coming from Bulgaria, Sweden, Finland and Greece. The music of Star Queen is almost like a new genre because it certainly doesn't sound like any other band on this planet. Gothic metal, neoclassial, power metal, heavy and beautiful at the same time.


Message from Stella:
Hail to everybody!
I am the Starqueen… I would like to tell you some things about me and my music, because the last thing I want is someone to misunderstand me and to analyze my art using incorrect info. Everyone can curse me and admire me, this is my power – this is your right. I will explain whatīs on my mind; – I respect each opinion and estimation made about me, cuz no matter negative or positive, it is a kind of interest and attention anyhow. But you`d better to know the truth, cuz then you can like or dislike me in the way I truly am…
First of all, I AM BULGARIAN : ) this is a country located at the west side of ex-Yugoslavia ( such a state does not exist since almost 10 years ) I think this is enough geographical information. A-ha! And Firewalker is a dancer you can find only in Bulgarian folklore. I just suppose someone would wonder… It is a very real notion – not only a metaphor for the concept..
The StarQueen story is very long and complicated, and there is also much mysteries and personal experiences behind it. Me and Thorbjorn decided to meet each other by our own desire, and it was more personal than professional. The story of the project is told all in the lyrics and the cover of the Faithbringer CD, and it will go on in the next album. But it is a piece of the real story without metaphors and with the real names of the heroes… Sooo, I started to sing when I was 11 in the school choir. At the same age I compose my first song with all the 5 guitar chords I knew, and I wrote a very depressive poem. Then I have visited 10 or 15 lessons of opera singing and 1 year I was dealing with piano playing. And this was all the official education about my voice. I was going to classical guitar lessons for 3 years but I had no talent and the opportunity to do what I want, so I quit. When I was 14 I had gathered my first band but it failed rather fast. I was very disappointed and I was playing alone and with some violin player and a flute-player from time to time. Then I went to the gymnasium and I started to play with 3 boys, all younger than me, mostly covers and 2 of my own songs… But then a swollen guitar-player came and destroyed the peaceful relations in the band. I left them, and the school band called Transsilvania just died. It was for gjood cuz I was invited into a new band much more advanced and organized. Finally only me and the guitar-player were left from the whole band. We made 9 songs and 1 cover version and recorded them in his own studio. The project was called Triangle but we hadn`t got the luck to be managed by any music label in our country. But this was my first professional musical experience. After this project, I made a long pause for 2 years, and I was just so desperate to deal with music… But I couldn`t stand to be a regular gray unit of the society, so I found a band called Thunderbird. And they were very good musicians but like everybody else - a little confused… Cuz we have been playing around gigs, some senseless covers of Maiden, Helloween, Dio and Kiss, but I just didnīt feel right in playing in the pubs. I wanted to make my own music or new songs but not covers only… Rock fans and musicians were disagree and didn`t take me serious only because I am a woman. And my voice blend is too special to be accepted at once… But luckily the boys from the band supported me. I think it was great time and I studied a lot with them. My last try was just before my first contact with Lion Music. I did 2 songs in a good demo-version with a band called Mistical. This time all the musicians messed me up, and my projects and my effort… just everything. I gathered all my gjood quality demos and I sent them to some labels. Lars Eric Mattsson replied me immediately, and we began to work on StarQueen… I was alone with my lyrics, my acoustic guitar and my voice. Then he got me to know Thorbjorn and we stared to discuss ideas and it came up so great… The whole band hasn`t still played together, but the result was very successful. The project came up better than I could imagine. We were sending demos to each other, when some of us had developed his part. And finally Lasse Mattsson fixed and mixed everything…
Now, about my influences and the music I have been inspired of… About the composing and the rough structure of the songs, I am inspired by Iron Maiden, Rainbow, Savatage, Queensryche, Rhapsody, Accept, Helloween, King Diamond, Uriah Heep, Judas Priest, Black Sabbath, Pink Floyd and Andrew Lloyd Webber. When I do music, I think about each detail and element to bring sense and valuable message to you… I don`t copy anybody and I don`t compete with other musicians. Cuz I am worthy in my own special style. I am taking inspiration from books and movies too. I am not keen on the regular commercial stuff like mega-expensive productions, so empty of matter. I just study myself how bring out my philosophical ideas through the music. I have my own ORIGINAL style. My music is syncrethic, and I mix also theatric, poetic, religious, philosophical, mythological and even scandalous notions and visions. So everyone can find a piece of his/her soul in the kingdom of the Starqueen. My lyrics are not the best poetry in the world, but they are not naive or childish. If you consider them like this, you can define perhaps the book "The Little Prince" like childish… And this is funny, non professional and it is a poof of low common knowledge… I use those fairy-tale elements and the fabulous genre on purpose, so if I can wake up the romantic dreamer in the heart of each listener.....
I am trying to create a new "religion" for eccentric, sensitive and emotional persons, who are special and a kind of misunderstood, who are intelligent and brave to be themselves. So if someone thinks I am not serious, those people just are not educated and open-minded enough to understand my message : )
About my singing – I can sing like an alt, and also like a mezzo-soprano. I am not a soprano…he he! I never use falsetto cuz I don`t like it and it is not suitable to this music style. I often change blends from opera to my natural voice to make my singing more expressive. If someone thinks that my screams here and there are "startling", I must say that I don`t listen to punk music at all, and if I am influenced by someone, this could be Axle Rose only, and a few Glam Rock bands. I heard this way of singing in the early Led Zeppelin. I don`t listen to any other female singers but Taria Turunen, and a little Doro, and Cher very long ago. Other singers I have been "studying" from are Fabio Lione, Michael Kiske, Bruce Dickinson, David Coverdale, R. J. Dio, J.L. Turner, Eric Adams, Kim Peterssen, David Byron.
-Thanks to all these bands and singers! To compare me with other singers that I didn`t mentioned here would be inappropriate.
If someone is really interested in the story behind the band StarQueen, my lyrics, my voice or whatever, feel free to contact me. And I will answer you as soon as I find some spare time. And, please, don`t waste your time to yell, because I won`t read a word of such things, much less to argue with somebody …I am very down to earth and opened as a person, so if you have the necessary manners and the professional knowledge, I will be very honored to read your critics. Thank you in advance!