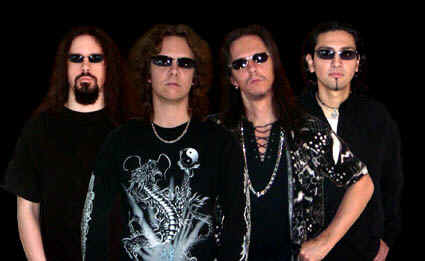 The band started out as a duo in the early 90's. Consisting Benny Jansson and singer brother Björn Jansson, one of Sweden's best kept secrets.

Back then calling themselves Mindcrime, both well hired studio musicians in Sweden at that time. They did producing, engineering and playing for many artists through the 80's until the mid 90's, working for one of Sweden's best selling labels LIONHEART records.

The idea of Tears of anger began when the brothers wanted to mix AoR and Metal together, to create something dark yet so melodic no one could resist their music. During the 90's they signed a deal with Montezuma records licensed by Black Mark, but for some reasons yet unknown the album which had Anders Johansson (Ynwie Malmsteen, Hammerfall) handling the drums, never saw the light of the day. Affected by this, the brothers stopped working together in the late 90's realizing a Tears of anger album was too much hard work to realize at that time.

Björn worked with some bands around Europe, finally deciding after working as a session singer around Stockholm doing vocals for Erika, Two Rocks and as lead singer for band Snake's in Paradise, he wanted to do a solo album, again this time writing songs with he's left wing commander Benny. Björn searched for musicians all over Sweden but without much luck, he worked with names such as Jan Granwick (Glory) and so on. The album was never really recorded so Benny used the songs for he's next project Two Rocks, an album released by LIONHEART records. The album was well received in the Swedish press. The guys had now much success and was invited by suggestion from LIONHEART to make two songs for the big budget film called "Sökarna". The film was a big box office success by Swedish standards and both Benny and Björn received allot of credit for their work.

Time passed by and now Benny who had been working parallel with The Johansson brothers, Talisman and Svullo, just to name a few, now wanted to go solo. He recorded two solo albums for Heptagon Records "Virtual Humanity", "Flumride" and one album later for Lion Music "Save The World", receiving much success and recognition for his true craftsmanship as an arranger, engineer, producer and solo guitarist.

After having such great chemistry and partnership with drummer Daniel Flores (Mind's Eye, Faro) from he's last solo album, Benny asked Daniel to join him and Björn in Tears Of Anger, he of course agreed, loving all the demos they had recorded in Sheepvalley studios trough the years while Daniel being in Mind's Eye. The band was almost completed and the only thing left was the bass player. The band searched around for a steady but skilled bass player. The songs demanded a certain kind of technique and Daniel thought right away of he's band mate Johan Niemann (Therion, Mind's Eye). A perfect match for Tears Of Anger as it also turns out that Johan was also a big fan of Benny and Björn's early recordings in Sheepvalley studios as Mindcrime.

Finally with a great lineup and even greater confidence Benny, Björn, Johan and Daniel began to record their debut album called "Still Alive", which was produced and mixed by Benny Jansson. Recorded in Sheepvalley Studios, Zinken Studios and Backbone Studios, the band landed a deal with Swedish/Finnish label Lion Music. Now "Still Alive" will be released mid March 2004 worldwide. This is Melodic Metal like you never heard before.