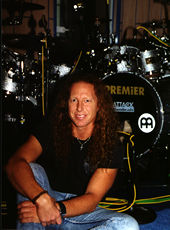 Mike started playing drums at the tender age of eight years old when he was strongly influenced by the radical sounds of the Beatles during the age of the British Invasion. He began learning the basics of the instrument by playing along to recordings made by the various popular artists of the day. Some of his favorites were The Beatles, Led Zeppelin, The Who, Yes, CCR and Rush. I would say that the young whipper snapper had his work cut out for him!

As the years rolled by Mike began to enter his teenage years, and was still practicing down in his parents basement located in the great white north of Buffalo, New York. He was frustrated because he was still jamming to recordings and not with other musicians. The inhabitants of the Terrana's home did not particularly enjoy these mid-afternoon practice sessions. It was later made known to Mike, by various family members that his drumming did not sound very musical or original. His father once commented that real drummers don't play to records, real drummers play with other musicians and take solos! This remark was made to discourage the young drummer, but in turn it inspired him to begin practicing the drums from a different perspective. He began to learn the art of tuning, soloing and performing with various local groups in the local club scene in his home town.

Unbenonced to Terrana this was the beginning of a long and very interesting journey in becoming one of the top professional rock / fusion drummers in the music industry today.

In 1980 Mike joined his first real serious professional band Zillion. The group had a full set of original material and was frequently asked by local promoters to be the support band for bigger regional acts like Talas and major national acts like Ratt.

"I was 20 years old, getting a feel for the road & trying to get a record deal for the band all at the same time. It was a great experience, but I was still trapped in Buffalo and it was hard to get people to take me seriously in terms of being a professional musician."

Zillion broke up after three years of hard work in 1983. Mike began to develop a name for himself as a competent regional rock drummer. As luck would have it he received a call from MCA recording artists Hanover Fist. Terrana relocated to Toronto Canada to join the band and immediately began rehearsing for an extensive tour of the United States and Canada as the support act for heavy metal British rockers Saxon. Shortly after the tour ended Hanover Fist was dropped from their label, sending Terrana on a new quest for more recording and touring work as a professional drummer. Mike returned to Buffalo in the spring of 1985 and worked with various local bands in order to save enough money to get to Los Angeles California, which at the time was the Mecca for heavy metal music.

Terrana arrived in Los Angeles in the summer of 1987. Within three months of his arrival he landed a gig with Japanese Polydor recording artist Kuni. The record featured Jeff Scott Soto on vocals (ex Yngwie Malmsteen) and a short tour of Japan was organized to support the project. The last show of the tour was filmed for national broadcast in Japan by N.H.K. Television. The band had a very short run of success before breaking up in the spring of 1988.

Luckily for Terrana he received a phone call from some of his old band mates asking him to join a new band they had formed with the help of a new label WTG/CBS records, shortly after arriving back home from his Japanese tour. The band was called Beau Nasty and oddly enough contained members of Zillion and Hanover Fist.

Beau Nasty was being groomed by the label to be a commercial metal band. The record entitled Dirty But Well Dressed was produced by Beau Hill and Paul Winger. The first single off the debut record was called Shake It and received moderate airplay on MTV's Headbangers Ball.

The band completed two tours of the US and Canada. On the first as the support act for Lover Boy and the second as the support act for Love / Hate. Unfortunately the 80's were coming to a close and commercial Heavy Metal was dying a very sudden death and as a result the band members became discouraged by a variety of insurmountable problems and threw in the towel at the end of 1989. Fortunately for Terrana, just as Beau Nasty was heading for the wrecking yard, he received a call from virtuoso guitarist / keyboardist Tony MacAlpine. Once again Mike Terrana's drumming services were requested for a US and Canadian tour of his latest release Eyes Of The World. Mike found this to be one of the most musically challenging situations he had ever been involved in. Although Eyes Of The World was Tony's first attempt at creating a commercial vocal release, the band was still required to play some of the more complicated instrumental songs from his past repertoire. Terrana found great pleasure in recreating the drumming styles of Steve Smith and Dean Castronovo.

"Playing those songs opened up a lot of new doors for me. My playing became more musical and my soloing improved immensely. I learned so much from Steve and Dean's drumming. Tony's first two records are filled with many great moments both on guitar and on drums, which I found inspirational and instructional." Mike really enjoyed working with Tony MacAlpine and was very interested and excited by the challenge of recording a new instrumental record. In 1992 Freedom To Fly was released followed by a subsequent tour of the United States. However the climate and timing was not right for a release of this kind and Mike became frustrated by the fact that there were management problems that were holding the band back.

Once again the phone rings. This time it is Yngwie Malmsteen in need of a drummer for an upcoming album project and tour. Terrana sends a video of his work and gets the gig. Mike has to relocate to Miami Florida were Yngwie resides. The album entitled the Seventh Sign took approximately two years to write and record. To promote the new release, a ten month tour of the United States, Canada, Europe and Japan was organized. A live video was shot at the Budokan in Tokyo, Japan for national television and home video release.

Frustrated by the fact that he could no longer express himself musically, Terrana left Yngwie Malmsteen's band in the summer of 1994 to peruse other projects. After taking some time off to clear his mind, Mike contacted Tony MacAlpine. The two decided to reform as a three piece band, to tour and create another instrumental album. The result is one of Terrana's best drumming efforts to date, showing off his versatility, maturity and musicality! "The title of the album Evolution is very relevant in terms of where we are as musicians as well as a reflection our personal beliefs."

It was at this time that Terrana & Macalpine; where both frustrated with their level of exposure in the industry. "We felt like so many other artists, we are making good records; however they are not being heard." This was the motivation for the team of Terrana & Macalpine to start their own record label called Metropolis records. For a time it was quite successful. The first release "Violent Machine" sold quite well and the band was able to support themselves on tour. As a matter of fact the Tony Macalpine band toured very hard for about two years in America and Europe. The strain of countless one night gigs and endless strings of cheap hotel rooms finally caught up with Mike & Tony and they decided to part ways. The last Metropolis Records Tony MacAlpine release featuring Mike Terrana's drumming was a live CD recorded at the Roxy in Hollywood Ca. It was the last show on a three-week leg of a west coast tour. The CD was called "Live Insanity" and is also available on Japanese import through JVC records. After the breakup of the MacAlpine band, Terrana decided to relocate from Los Angeles to Europe, since the band was fairly well known and successful in Holland, that is where Mike chose to settle. It was good for a short time, but most of Terrana's work was coming from Germany.

"I had become friends over the phone with Helloween Guitar player Roland Grapow when I was still living in LA. I met him through X-Yngwie Malamsteen singer Mike Viscera, we were discussing the possibility of recording Roland's solo record…which eventually did take place approximately two years later, the CD is entitled Kaleidoscope."

Terrana landed in Holland with a couple of suitcases and a bag of cymbals and went straight to work. Roland Grapow had introduced Mike to many German recording artists, and that was all he needed…his reputation as a drummer did the rest. The first job was playing for a German power metal band called Gamma Ray. Terrana was hired to fill in for injured Gamma ray drummer Daniel Zimmerman. Mike played the Wacken Open Air Festival in North Germany and went on to play some scattered festival dates with the band. Then Terrana's services were required for touring and recording by German guitarist Axel Rudy Pell. At the same time Mike was recording and touring with many various metal acts in Germany.

"I was having a hard time financially and was finding it difficult to get myself a German work Visa, which meant I was faced with the possibility of having to leave the country…I remember I was sitting in a practice room, which was actually and old bunker (bomb shelter) converted from the war…and I asked myself out loud…NOW WHAT! Is this how my career will end…I was slightly depressed. The next day I got a phone call to audition for one of Germany's most popular heavy metal bands..RAGE! I was saved and I could stay in Germany and continue to work! Yeeeha!" Terrana went on with Rage to complete a European and Russian tour in support of the Ghosts CD. The band is now recently completed the recording of it's newest CD "Welcome to the Other Side" and the European tour will start in April / 2001. Terrana keeps busy by practicing his drumming, teaching, performing clinics and recording sessions for other bands, studying piano, working out with weights, running and reading. His newest challenge is to learn to speak German…a task easier said than done. One thing is for sure; Terrana will continue to play drums long into the new millennium. He is a machine… a juggernaut …nothing can stop him…Nothing! To be continued…

"I would like to perform more drum clinics to help young aspiring drummers to avoid some of the pitfalls that await them and to spread the good word about creating art instead of striving for money, glory and fame. Of course all musicians need money to live on, but a true musician is driven by a force far greater than money, the force to create art for others to enjoy. This has been and will always be my main goal…Believe in yourself."