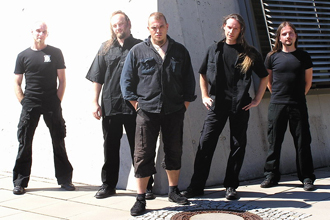 The success of their first album "The Unexpected World" released by B. Mind Records (Berlin) , was overwhelming. Tomorrow's Eve garnered international attention, radio play and "The Unexpected World" was even released in Russia, Belarus, the Ukraine and the Baltic through IROND Records (Moscow).

The very successful album "Mirror Of Creation" followed in 2003. During this time, tensions within Tomorrow's Eve were becoming unbearable and after the album was released, former vocalist Peter and the rhythm section Ralph and Sascha left the group, leaving Rainer Grund and Oliver Schwickert to fight it out. After a few more line-up changes, Tom Diener and Chris Doerr joined the band until Martin LeMar finally completed Tomorrow's Eve in 2004. Meanwhile TE grew by playing Tours with artists like Paul DiAnno, Ryo Okumoto (Spock's Beard) and Nightingale. In 2006 a new label was found in Lion Music (Finland) and finally the first album with the new line-up was recorded at SU2-Studios (Germany) in June: Mirror Of Creation 2 – Genesis II.

This album aroused enthusiasm all over the world and Tomorrow's Eve garnered outstanding reviews for MOCII.

After being confirmed for touring with Circle II Circle and Savage Circus in 2007, TE decided to record two of the new songs of the upcoming album as well as two special treats on a single called: 'The Tower'.