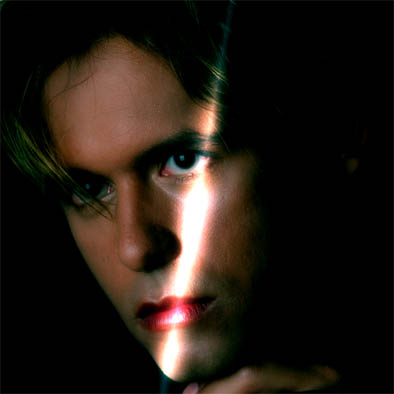 Once some strange rumours occurred in Japan... Valensia would be a computer-generated pop star! Just like Kyoko, the animated Japanese singer. Well, may be it wasn't that strange after all. Before his hit song 'Gaia', no-one ever heard of Valensia. Suddenly, he was just there, out of nothing. People saw his pictures. And they saw his video clips, which were almost completely computer-generated. But no sight of the man himself. No live glimpse of the man from the pictures and the video's. In Japan, Valensia had not shown his face yet.

Of course Valensia is not a bunch of binary data. Aldous Byron Valensia Clarkson (his full name) really exists. He was born on April 13th, 1971, in The Hague (The Netherlands). Long before he appeared in computer-generated video clips, he performed on the beaches of Spain. At that time he was just 7 years old. His voice and his guitar were his instruments, the sand was his stage while the sunbathers were his audience.

Obviously he didn't bore his audience to death, because already in 1979 he was offered a record deal in Spain. However, his parents rejected the deal as Valensia was not allowed to record his own songs. They also considered him too young for the tough music business. It must have been a disappointment for the young Valensia, who at that time already had his own repertoire.

But then, at the age of 20, Valensia was signed up by Mercury Holland. In the fall of 1993, his first single 'Gaia' was released. Within 9 hours after the release, Valensia came to fame as Holland's leading FM-stations played the song all throughout the day. 'Gaia' shot to the top of the charts, only held off the #1 spot by Meatloaf's megahit 'I Would Do Anything For Love (But I Won't Do That)'.

Valensia's debut-album arrived in January 1994 and was awarded with both a Silver Harp and an Edison (Holland's most prestigious music award). With the Gaia-video - the most expensive video clip ever made for a Dutch artist - Valensia became a pioneer in computer-animated clips in Holland. nternationally, attention was gained when the video was broadcasted on MTV Europe. Worldwide, 'Gaia' sold over one million copies.

Valensia's second album, 'K.O.S.M.O.S', was once again recorded and mixed at the famous dutch Wisseloord studios. Few people know this was the first dutch surround-sound-cd. In Japan, where the album was released before anywhere else, 'K.O.S.M.O.S' sold over 40.000 copies the day the album was released.

Initially, Valensia had not intended to become an on-stage performing artist. Simply because his complex music isn't that suitable for live-concerts. But in October 1996 he went to Japan to perform live on stage. Accompanied by a band of five excellent musicians, he started his mini-tour in Tokyo. It was his first live performance, well, leave alone the 'concerts' he gave on the Spanish beaches when he was still a child...

In 2000, Valensia returned to Japan for another mini-tour. Together with Robby Valentine he did three successfull shows in Tokyo, Osaka and Nagoya. A few months earlier the first V-cd was released, a co-operation of Valensia and Robby Valentine. The V-tour ended tragically, for Valensia's mother passed away the day he returned to Holland. Therefore Valensia included a 'Requim pour Jacqueline' on his album 'Gaia II' (2000).

The second V-cd 'Valentine vs Valensia' was released in the spring of 2002. Two months later, Valensia released a new solo-album 'The Blue Album', including the song 'Alyssa', an ode to his new-born daughter.

Metal Majesty

A deal was then struck with Lion Music to release music that was harder, heavier and more pompous than previous albums...Metal Majesty was born.

The first album to bear the fruits of Valensia hard work was 'This Is Not A Drill'. Mixing the hard rock crunch of Whitesnake (1987/Slip Of The Tongue era) with the pompous arrangements of Queen the album was a big hit with lovers of melodic hard rock. This was followed up by Valensia's critically acclaimed Queen Tribute (released under the Valensia banner and widely regarded as the ultimate Queen tribute album).

Early 2005 saw the second instalment of Metal Majesty's metallic glory in 2005. Building on the framework laid down by This Is Not a Drill, 2005 saw even better song writing, musicianship and production.

Fans of driving pompous melodic hard rock with killer vocals, guitar and arrangements owe themselves to check out these 2 masterpieces.