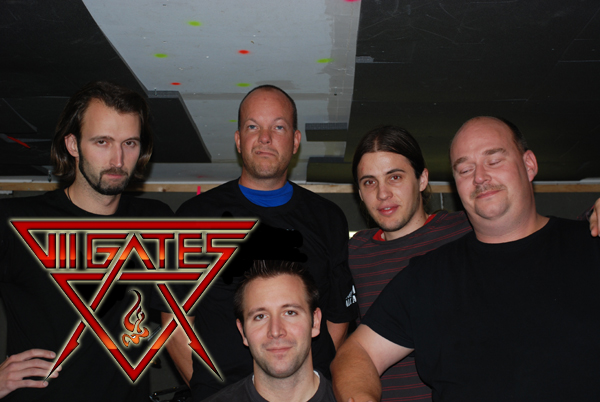 "
VII Gates was founded in autumn 1999 by JJ Rockford. After playing in several wellknown (swedish) west coast bands, mainly Elevator Kreator and Rockford's Hjältar ("Rockford's Heroes" in english), JJ decided it was time to move on a form a more classic metal band. JJ remembers: "I had recently bought a sequenser called Micrologic, and really started to improve my song writing abilities. Had a lot of great heavy metal songs, but no one to play them with. The 90s was, as you might know, not the decade when classic metal was the most popular thing. But when Hammerfall released their first album, it became more popular again. To a bigger audience at least, I should add. Real fans hardly care about what's hot and not.". (Micrologic is nowadays known as Logic, and only avaible on Macintosh computers).
JJ found the very talented bass (and guitar) player David Agnsviks pretty quick, and they started to rehearse along with a drum machine. A few months later, early spring 2000, the in many way impressive Mick van Slowfoot replaced the drum machine. Things started to sound really promising. Soon Mick's old band mates, singer Criss Blackburn and guitarist Niclas Cederfeldt, also joined, and the first complete line-up of VII Gates was a fact.
This line-up was almost finished with the rehearsals for the first demo-EP, when David Agnsviks tragically died in a traffic accident in august 2000. They where also evicted from their rehearsal room, after three reports to the police about too loud music. Niclas also had to leave the band.
Most of autumn 2000 was spent with building a new rehearsal room (Mick's ex-car repair garage and celebration premesis), rehearsing with new bass player Magnus Jacobsson, and trying to find a new guitarist. Tried several, among them Martin Bengtsson (Lechery, Armageddon) who actually where offered the job, but turned the offer down.
Spring 2001, just before the studio session that would result in the first demo EP "When gates are opening", Robert "Basti" Makek joined the band as guitarist. The demo-EP was very well received around Europe. The band was also offered a record deal from Shark Records, if they could record another 5-6 songs. So they did pretty quickly, but decided to turn the offer down. Asking some colleagues in Sweden, it seemed like Shark Records didn't have the best reputation in this business.
The six songs record where still released as another EP, called "A dark room of my mind". For these recordings, VII Gates was expanded with a sixth member, keyboard player Tim Diaz, a cousin to Criss. Tim, who played piano on the song "Memory of a friend" (dedicated to David Agnsviks) on "When gates are opening", really added an extra dimension with his tasteful keyboard playing.
Winter 2001, Basti was fired from the band due to personal reasons. VII Gates played as a quintet for several months. But in spring 2002, after unraveling the previous dispersions, Basti was allowed to join the band again.
In the summer 2002, VII Gates recorded yet another 6-song EP, called "The madman inside", which would also become the foundation of the first album. This EP was even better received than the first two, and led to a record deal with Portuguese record label Sound Riot Records. Negotiations about the contract took some time. Magnus left the band, and Moe A:son joined instead. But the following summer, VII Gates finally finished the recording of the first album, "Fire, walk with me".
The cooperation with Sound Riot Records didn't work out to well thought, and they decided to drop the band. Luckily VII Gates soon found a new home by Lion Music. Moe left Sweden for Australia, and VII Gates was lucky to recruit bass phantom Nicolas "Butcher" Posa.
The work with the next album started. Driven by the success of with the first album, the band decided to take everything at least three steps further. This led to very intense periods with composing, recording, re-composing, re-recording and so on. This, along with a lot of technical problems, meant that it took almost three years to finnish the album. But finally it was finished, and was given the name "In hoc signo vinces", which could be translated to "In this sign you will conquer". The album is set for release on November 14th 2009 on Lion Music.