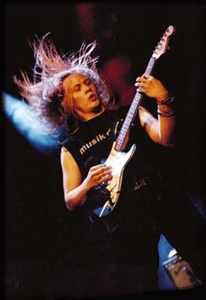 Winterlong are back but with a new dynamic difference. After 3 albums in the neo- classical/power metal vein band leader Thorbjorn Englund felt it was time for a change. 'Metal/Technology' marks this change with a fresh new sound – more modern in approach but with the stunning guitar work Englund is famous for.

Metal/Technology also sees Thorbjorn handling all duties himself including vocals. On the reason for change Thorbjorn comments, "My aim was to make something different from what I'd normally do. I was just feeling that the regular stuff didn't do it anymore, you know, like I needed to create something fresh. I've always liked the more aggressive side of metal, and the more heavy riffing, so it was natural to go in that direction. I hope my fans will like it. I am very proud of this album as I feel I've achieved something interesting, not only for guitar players".

On the making of the album Thorbjorn also took a new approach, "I was actually writing the songs in a rather strange way this time. I usually sit down and come up with ideas and stuff before recording, putting the pieces together into a song, but this time I just went into the studio, made a few bass-lines/vocal-lines or stuff like that and grabbed the guitar and went with whatever came to mind at the time. Though I made sure it had to sound really heavy and it had to feel fresh. After a few songs it felt like as if I had no more ideas and that's when it got even better, cuz that's when I started to think way different... like using beats and arpeggiators and other hi-tech gear, stuff I'd normally never use. I think you have to stay true to yourself and your fans, and by making just another album without making it mean something extra felt as if I'd fool both. Every album is important to me, and I also feel it's important to develop along the way".

This new approach also affected the line- up of the band, "This album is recorded in a rather unconventional fashion, so I decided to play everything myself. It would be difficult to gather all five guys here in the studio every evening (or 3 am in the morning) as soon as an idea popped out, so that's why I kind of ended up experimenting with everything alone, and eventually even ended up singing as well. The drums however are played by Leif Eriksson on most of the tracks, though they are sometimes mixed with beats and different processing".

Metal Technology is a bold new statement by Thorbjorn but a necessary one and set to keep the Englund flame burning bright for many years to come.