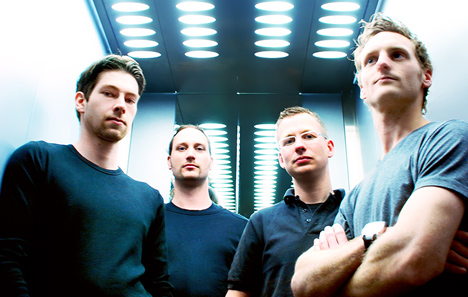 Lion Music are proud to introduce the signing and debut release on the label from one of the most original new progressive metal bands of recent years - Day Six. Hailing from the Netherlands, Day Six are a first class powerful four piece who produce a mammoth sound of great scope and depth on 'The Grand Design'.
With a sound that combines elements from across progressive music's history, Day Six with 'The Grand Design' have come up with a unique take on the genre which is equal parts dark and light making great use of dynamics and textures. Comparisons could be made between a fusion of Pink Floyd, Rush, Porcupine Tree, Dream Theater and Opeth where colossal guitar riffs collide and intertwine with synthesized textures and enthralling vocals for a truly mesmerizing effect.
Lyrically 'The Grand Design' is a concept album which focuses on an extraterrestrial spaceship that has been found in Lake Vostok – Antarctica. The storyline is following five weather scientists who did this discovery and found out about the secrecy on Extraterrestrial contact on Earth. The elite government finds out about the scientists - and to prevent them from bringing out the truth on E.T. life, they are locked in psychiatric hospitals while agents try to erase their experiences from their memories. However, the scientists develop a way to communicate telepathically with each other and with the E.T. beings. One of the scientists is writing a diary – the song 'A Soul's Documentary' is about these writings. In this way, they try to bring out the truth to the world despite the plans of the government.
Since forming in 2002, Day Six have become a mainstay on the live Dutch music scene and won two major competitions in the Netherlands: the Metal Battle and the Aardschok Metal Bash. As a result Day Six have grown to be one of the most well known progressive metal bands in the Netherlands and with the worldwide release of "The Grand Design", Lion Music will introduce the band to a wider audience.
"Day Six – The Grand Design" comprises of 9 tracks and clocks in at over 70 minutes and it set for release on Lion Music on June 18th 2010.


• Superbly dynamic debut album with superb cross over appeal from one of the most impressive new progressive metal bands.
• Day Six have already built up a name on the live circuit with frequent gigs across Europe.
• Reviews in all leading rock/metal press.
• Day Six are available for interview. Please contact promo@lionmusic.com to arrange.