Opposing Motion release "Laws Of Motion", a progressive metal debut of immense proportions on 11th May 2013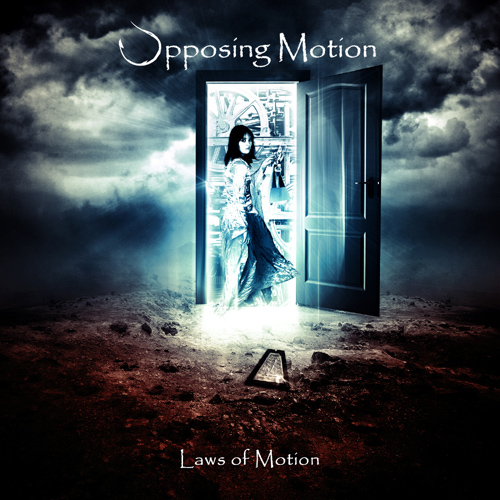 Lion Music are proud to introduce progressive metal outfit OPPOSING MOTION with their debut album "Laws Of Motion" set for digital release on 11th May 2013.
With the release of a independent debut EP entitled "The Illustration" in 2010 the band have become known on a national and international level as one of the hot underground progressive metal acts. Composed of four experienced musicians all active on the UK and France session scene (Ludovic Desa - Vocals; Joe McGurk - Guitars; David Deplanche - Bass; Kevin Deplanche – drums), Opposing Motion weave highly melodic and orchestral tapestries mixing technical pieces, intricate musicianship and offering a fresh outlook on the prog-genre bringing together flamenco, classic rock, NWOBHM and progressive rock influences for a spectacular end product.
With several top tier high street magazine features and numerous excellent reviews on the international metal scene, "The Illustration" EP (2010) has set the foundations for an eagerly awaited full-length debut album. 2011 also saw the band feature on cover mount CD's worldwide, including the prestigious Terrorizer magazine 'Fear Candy-Fresh Flesh' CD, which show cases the best unsigned metal talent in the UK and abroad.
In 2012 the band recorded their first debut album entitled "Laws of Motion", working with Brazilian artist Caio Caldas (Paul Di'ANNO, DORO) to commission full professional artwork and has now teamed up with prog metal specialist label LION MUSIC to bring their music to a wider audience.
The musical aspects of "Laws of Motion" stem from varied influences from the heavy/prog metal genres but always focus first and foremost on melodies, then layering more creative, technical breaks and sections to take the listener through an exciting and intriguing journey.
The sound achieved on "Laws of Motion" is bigger and heavier than anything the band has done before but the overall vision is to mirror classic heavy metal albums production-wise; powerful yet keeping strong dynamics throughout. Musically, this album is a step up from the original EP and is a lot more ambitious, with a lot of care taken to put forward strong riffs, catchy vocal melodies and epic themes, as demonstrated by the 64 tracks, 10 minute epic final track Fallen Opera which sums up the direction of the band. Lyrical themes edge towards time lost, regrets and being unable to alter paths taken through life seen through multiple scenes and characters.
"Laws of Motion" is the product of 3 years of passion and hard work, growing together as a band and developing their writing skills accordingly. On the subject of their debut album drummer Kevin Deplanche comments, "Our goal and ambition was to create an album that we would be truly proud of, giving us a platform to continue to grow through future releases. We also believe we can bring a fresh outlook on the prog-metal genre, bringing more orchestral elements together with heavier riffs and technical themes. This recipe, first tried on the EP "The Illustration" was extremely well received by fans and press alike and we would hope that "Laws of Motion", a significant step-up, will receive the same treatment".


01. Deus Ex Machina
02. Forever's Edge
03. Labyrinth of Mirrors
04. Las Lagrimas Del Diablo
05. Rites of Passage
06. Echoes of the Soul
07. Laws of Motion
08. The Fallen Opera
Act I : Lust
Act II : Neglect
Act III : Remorse


Ludovic Desa - lead vocals
Joe McGurk - lead, rhythm, classical guitars
David Deplanche - bass guitars
Kevin Deplanche - Drums



LMC339
EAN6419922003398



www.opposingmotionband.co.uk
www.reverbnation.com/opposingmotion
www.facebook.com/opposingmotion
www.myspace.com/opposingmotion

• High quality progressive metal debut in the vein of Seventh Wonder, Circus Maximus, Fates Warning and Crimson Glory •
• Strong mix of heavy and melodic moments within interesting song textures •
• Opposing Motion available for interview via email or phone in French or English •
• Reviews in all leading rock/metal press (printed and web) •