"On Fire" is the blazing fourth album full of power and melody from Italian metallers Mastercastle, out 19 April 2013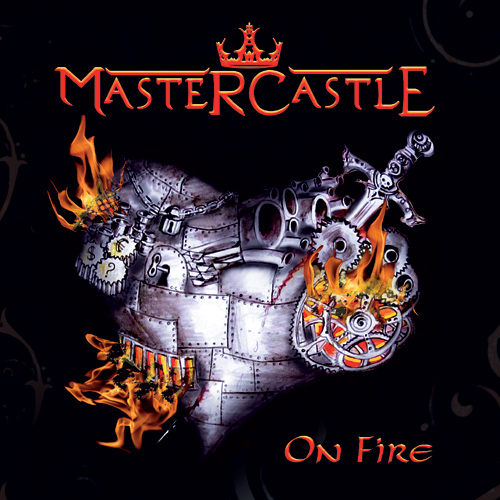 On Fire is the smouldering new album from Mastercastle. On Fire
consists of 9 tracks of melodic heavy metal with neo-classical influences from a band that has rapidly forged a glowing reputation thanks to their previous 3 releases.
Led by the powerful vocals of Giorgia Gueglio, the virtuoso guitar of Pier Gonella and driving bass lines of Steve Vawamas, On Fire marks the first release with one of the world's most respected drummers John Macaluso (Ark, Yngwie Malmsteen, and James LaBrie). This new addition has given the band a kick up the proverbial backside taking their unique brand of metal to an even higher plateau. On the band's new member Pier Gonella comments, "John gives us great energy because from the first time he heard our music he was really impressed. He participated in the composing process and his vast experience was a great help for the albums production".
Once again all lyrics were composed by Giorgia Gueglio, "I started the lyrics with the intention of writing a concept album with the title "Metals", concerning metals in metallurgy, chemistry, alchemy and magic. But during their creation I found my lyrics full of sentiments, suffering and emotions. So "Metals" became too cold. Many tracks have a title with a metal within, but these are "warmed" by blood, my/our human warmth, the passion of making music in a difficult world. So the album title was changed to "On Fire". 'O Fire' is a hot work, very human. On the front cover (also created by Giorgia) you can see a metal hearth. It represents our body that became real and can be hot or burn thanks to our emotions".
On the new album Gonella comments, "I don't feel a big difference to our previous releases, but I think this is our most (and best) melodic album so far. Our 1st album "The Phoenix" had a similar sound but with more evident classical influences. For the 2nd album "Last Desire" we moved to hard rock style and less neoclassical. Our 3rd album "Dangerous Diamonds" was somewhere between those first two, with heavy riffs and powerful sounds. This new album has our best work in the vocal melodies and their presence, with a more "natural" sound, especially in the drums. There are some classical influences in the instrumental songs, and generally it has a heavier vibe in many ways thanks to Giorgia's vocals. The production is also heavy but never harsh and really emphasis the power this band has".


The writing process for On Fire began 3 months after the release of "Dangerous Diamonds" in February 2012 shortly after John Macaluso joined the band. Many demos where recorded with John of the new material before recording for the album began proper with drums first being recorded from July 2012 to September 2012. Gonella recorded the album along with Macaluso aiming for a strong metal sound without the reliance on triggered samples and sounds. Guitar and bass recording came next before vocals were laid down. After the mix was also done by Gonnela and Macaluso before the album was mastered the album by Pier with Simone Mularoni at Domination Studio from late 2012 to early 2013.
On Fire
sees release on Lion Music on 19 April 2013 with a promo video for the track Chains to be aired in late March.


01 – Silver Eyes
02 – Chains
03 – Platinum
04 – Quicksilver
05 – Gold Violet
06 – The Final Battle (instrumental)
07 – Leaden Roads
08 – Titanium Wings
09 – Almost a Fantasy (instrumental)


Giorgia Gueglio – vocals
Pier Gonella – guitars
Steve Vawamas – bass
John Macaluso – drums
Guest musicians
Roberto Tiranti – male vocals on track 03 –Platinum.
Claudio Galbiato – male backing vocals on track 01 Silver Eyes and 02 Chains



LMC337
EAN6419922003374



www.facebook.com/mastercastleband