To those of you in guitar and metal circles Joe Stump should need no introduction. The Shredlord has been raining down full throttle neo-classical shred/speed metal since "Guitar Dominance" was released almost 20 years ago. Now on 17th August 2012 the Shredlord shall have his revenge!
Joe Stump is one of the most intense and over the top guitarists on the planet. His maniacal guitar driven releases are amazing displays of power and jaw dropping technical command. He was named by Guitar One magazine as one of the 10 fastest shredders of all time, by Guitar World magazine as one of the 50 fastest players of all time and by Guitarist magazine as one of the top 20 shredders of all time. He has appeared in countless guitar based and metal publications, fanzines and webzines worldwide.

He has toured the world both as a solo artist and with power metal bands Joe Stump's Reign of Terror and HolyHell. Joe's also an Associate Professor on the guitar faculty at the esteemed Berklee College of Music where he's been the metal/shred guitar specialist for the last 19 years. "Revenge of the Shredlord" marks Joe's 9th solo release and his best work to date.


On his new album Joe Stump comments, "The new record is heavy, dark and very classically influenced. I always try to step up my game in every way with each record. I try to take every aspect of what I do to the next level and out do what I've done on past releases. On 'Revenge Of The Shredlord' my playing, composing, as well my production skills are up quite a few notches, solo-wise this is my finest hour. My last record 'Virtuostic Vendetta' (2009 – Lion Music) was a much more diverse mix of tracks with some older school Hendrix, Robin Trower and Frank Marino influenced tunes alongside the neo-classical/speed metal/European power metal things that are always on my releases. This record's more intense, much heavier and quite a bit darker sounding in comparison".

While "Revenge of the Shredlord" is extremely intense guitar wise there are still plenty of killer riffs and strong melodies. Joe's amazing playing is showcased nicely inside very listenable musical songs that use influences from various schools of metal. It'll appeal to both guitar enthusiasts as well as fans of guitar driven metal. The Shredlord will have his revenge on 17 August 2012!!!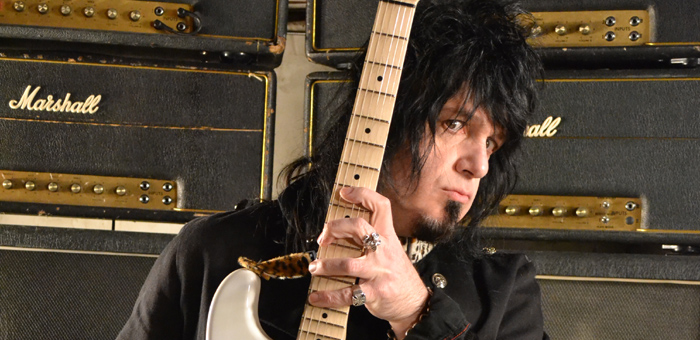 01. The Ritual Begins.
02. Man Your Battlestations.
03. Pistoleros.
04. Shredlord's Sonata.
05. Master's Prelude.
06. In The Master's House.
07. The Black Knight's Castle.
08. Enter The Coven.
09. Evil Beasts Below.
10. Strat Outa Hell.
11. White Knuckle Mayhem.
12. The End Approaches.


Joe Stump: All Guitars
Jay Rigney: Bass
Hector Jaramillo (aka Blaster) : Drums
Rock Jetstream: Keyboards
Special guest: Francisco Palomo: Keyboards



LMC329
EAN6419922003299



www.JoeStump.com
www.facebook/JoeShredlordStump
facebook.com/Joe-Stumps-Fan-Page