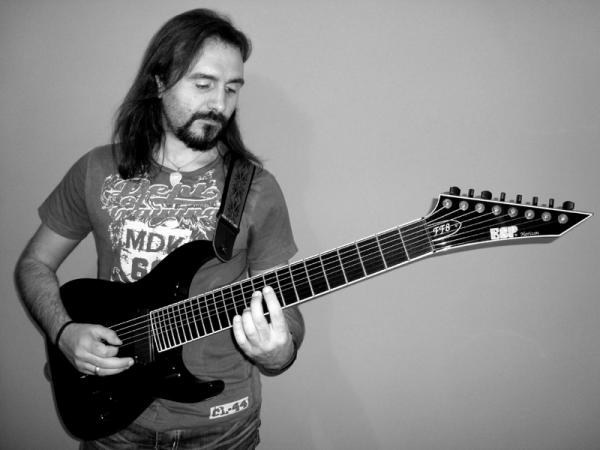 Italian guitar blazer Francesco Fareri will release his second album on Lion Music on March 23rd 2007. Entitled "Secrets Within". The new album contains 2 contrasting sides of Francesco's musical vision and is quite different from Francesco's previous release "Forbidden Dimension" (LMC147) in his playing, ideas and approach to music in general.
"Secrets Within" is divided into two movements, one heavy and one acoustic to better show all of Francesco's ideas, feelings and the way he considers music. Francesco simply comments, "I believe this album to be the best material I've ever released and the one that best represents me. This album is really introspective and very important for me, it was inspired from the experience of the impossible things happened in the last years and from everyday stuff. This isn't a guitar album, as I wanted all the instruments to have the same importance in every song. I really care recording all music in general with particular attention".
"Secrets Within" two movements are sub titled, "Into The Dark Line" which is the heavy part of the album and is more into shred and progressive metal yet with a lot of themes, melodies and unison passages. Whilst the second movement of the album "Out Of The Dark Line" is acoustic and is only guitar and piano/keyboards with more delicate melodies and some really introspective moments.
"Secrets Within" sees Francesco team up with a wealth of virtuoso musicians in Kyle Honea on Bass and Lucrezio de Seta on Drums. On these musicians contribution Francesco states, "The experience and confidence of players like Kyle Honea and Lucrezio de Seta improved the songs because they understood exactly what I wanted to record and they played with their style but focusing on my main idea. They are the best rhythm section ever heard!"
"Secrets Within also features guest keyboard/piano solos from Vitalij Kuprij (Artension / ex Ring Of Fire / Solo) and Bob Katsionis (Imaginery / Firewind / Solo).
The CD also contains extra material with photos, transcriptions, videos, a diary of the making of "Secrets Within" and much more.


» Francesco has a rapid following worldwide, his previous solo album 'Forbidden Dimension' is a perennial seller and featured in Guitar9.com top 10 overall sales chart for the year 2005. 'Secrets Within' is expected to repeat this success.
» Francesco is a household name in the world of shred guitar and is renowned as one of the fastest players in the world.
» Francesco is available for interview and is able to produce custom station ID for radio stations, please email your requests to 'promo@lionmusic.com'.