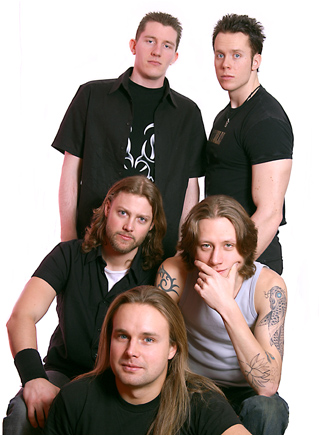 Seventh Wonder was formed in 2000 by bass player Andreas Blomqvist, guitarist Johan Liefvendahl and drummer Johnny Sandin after their previous band fell apart. The music turned towards the progressive side of metal and as the band was joined by keyboard player Andreas "Kyrt" Söderin late 2000, the new sound was cemented further.
Two demos were recorded, the first in 2001 (Seventh Wonder) and the second in 2003 (Temple In The Storm), both of which received good press.
Many singers have come and gone in Seventh Wonder over the years, among others Ola Halén of power metal band Insania Sthlm. The longest living member in the past was Andi Kravljaca (ex: Heave, Elsesphere), and it was with Andi at the microphone that the band recorded their debut album Become (released in 2005), after landing a record deal with Finland's Lion Music. Become was well received by the press and top scores were given everywhere.
However, the band parted ways with Andi shortly after the recording process had ended and once more the search for a singer started…The brilliant Tommy Karevik (ex: Vindictiv) was spotted and he joined the band in 2005, actually prior to the release of Become.
The new album entitled "Waiting In The Wings" was recorded in 2006 and was mixed and mastered by legendary Tommy Hansen (Helloween, T.N.T) and engineered by Daniel Flores (Mind's Eye) and Seventh Wonder.
"Waiting In The Wings" is home to nine tacks spanning a wide musical landscape. Even more so than 'Become' did. The most significant difference of this album when compared to Become is definitely the entrance of Tommy behind the microphone. He is something as extraordinary as a totally unique singer. The songs are long and short, fast and slow, soft and heavy and above all else damn good! The band did everything they wanted on this album and it shows throughout giving the album longterm appeal for the listener. "Waiting In The Wings" is set to break Seventh Wonder to the masses.