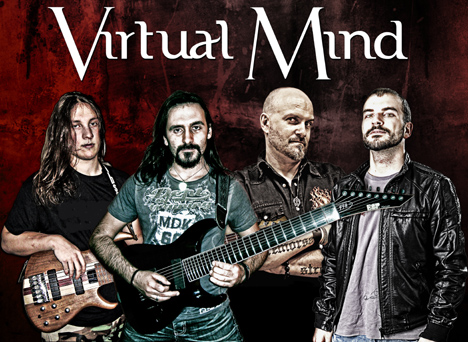 ---
Virtual Mind - Shattered Silence (album sampler)
---
VIRTUAL MIND are a progressive metal band formed by guitarist Francesco Fareri. The Debut album coming out soon is a mixture of heavy metal and progressive style with actual lyrics and personal events that influenced the total songwriting. Francesco wrote all music and lyrics trying to create something new in this genre of music.

The band is composed by Francesco Fareri 7 & 8 string guitar, renowned singer Titta Tani (ex DGM, ex Astra, Ashent etc), drummer Dario Ciccioni (Twinspirits, Empyrios, Empty Tremor, Khymera etc) and Emanuele Calvelli (Noumeno).

Everything happened when Francesco left his last band and was searching for a singer with powerful and delicate colours of the voice and so he met Titta Tani. In few weeks Titta reviewed the songs and gave some good feedback so Francesco and his close friend Mauro Tonelli started to work on lyrics. Meantime Emanuele recorded all the bass tracks and Dario Ciccioni programmed drums exactly as he could play them. Over the following weeks the album was recorded, mixed and mastered and picked up by Lion Music for release on their digital album network in June 2011.
http://www.virtualmindband.com
www.facebook.com/virtualmindband
---
---