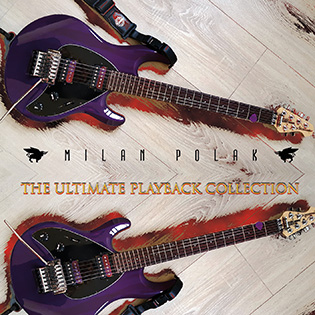 Milan Polak The Ultimate Playback Collection is a collection of 20 Backing tracks of Milan Polak's most popular instrumental songs, including the Robo Sapiens project.
We are offering this material both for tmusicians who are looking for something to jam along with but also for those of you who just want to listen to the music this way,
with the main lead guitars removed from the mixes.
High Quality 44.100 KHZ Downloads
After we have received payment for your purchase we will send you a download link for the items you have purchased. This process is manual so please accept that it can take 1-48 hours.
Milan Polak The Ultimate Playback Collection - The whole album (20 songs)




Euro

USD

Milan Polak The Ultimate Playback Collection - Track 01 Dreamscapes

Euro

USD

Milan Polak The Ultimate Playback Collection - Track 02 Rat Race

Euro

USD

Milan Polak The Ultimate Playback Collection - Track 03 Girlfriends

Euro

USD

Milan Polak The Ultimate Playback Collection - Track 04 Absolutely Positive

Euro

USD

Milan Polak The Ultimate Playback Collection - Track 05 Ground zero

Euro

USD

Milan Polak The Ultimate Playback Collection - Track 06 Catalyst

Euro

USD

Milan Polak The Ultimate Playback Collection - Track 07 Sometimes I Still Miss You

Euro

USD

Milan Polak The Ultimate Playback Collection - Track 08 Cruisin'

Euro

USD

Milan Polak The Ultimate Playback Collection - Track 09 Shadow dance

Euro

USD

Milan Polak The Ultimate Playback Collection - Track 10 Back on the Track

Euro

USD

Milan Polak The Ultimate Playback Collection - Track 11 Quicksilver

Euro

USD

Milan Polak The Ultimate Playback Collection - Track 12 Inner Peace

Euro

USD

Milan Polak The Ultimate Playback Collection - Track 13 Joyride

Euro

USD

Milan Polak The Ultimate Playback Collection - Track 14 Straight Ahead

Euro

USD

Milan Polak The Ultimate Playback Collection - Track 15 Perfect Angel

Euro

USD

Milan Polak The Ultimate Playback Collection - Track 16 Utopia

Euro

USD

Milan Polak The Ultimate Playback Collection - Track 17 4 A.M.

Euro

USD

Milan Polak The Ultimate Playback Collection - Track 18 Lights, Camera, Actiona

Euro

USD

Milan Polak The Ultimate Playback Collection - Track 19 Slowgold

Euro

USD

Milan Polak The Ultimate Playback Collection - Track 20 Spanish Romance

Euro

USD