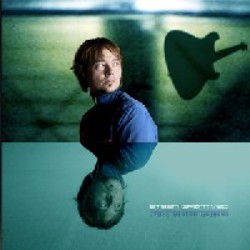 Chalk one up; make that another one for Lion Music. They signed this Danish guitar virtuoso before you could say ready, set … go. Lion Music must employ some highly skilled and motivated people who can not only spot or find talent when they see it, but also sign them before someone else can scoop them up.

So who is this guitar virtuoso? His name is Steen Grontved. He is a well known commodity over in Denmark, recognized as an incredible session guitarist. He has been on countless releases in the past; however none have ever been his ... until now. Listening to his debut release, one can't help but wonder why he has waited so long to let the world in on his own creative work?

The new release, entitled Night Vision Goggles, covers several genres. This eclectic mix is a blend of the Rock/Jazz/Fusion genres. Their are twelve tracks taking up 39 minutes. The musicians involved are Steen Grontved (guitar, guitar synthesizers, arrangement/compositions, keyboard programming), Josef Aarskov (drums, vocals on "Still Here"), Nikolaj Storr (bass), Kim Adrian (percussion), and Lars Ringgaard (Blues harp on "What Mango"). Listening from beginning to end seems like a flash, the whole time you'll be eagerly waiting to hear what's next. The variety is random and abundant, making it a very different type of listen, but thoroughly enjoyable.

The opening track, "Timber," throws you for a second or two. There are four variations of genre in the matter of less than a minute. It opens with what almost sounds like a Live Rock guitar sound, quickly changing to Jazz/Fusion beat, back to the Live Rock guitar sound, back to Jazz/Fusion, then just Jazz guitar. You get the picture.

The second track, "The Worm," is composed and arranged completely without an instrument. It was actually written directly into the key-editor of Cubase (a digital studio). It is entirely synthesizer stuff with a 70's sound to it.

"Playground" almost wrote itself according to Steen, and is very soft and easy-going with a simple melody behind it. A very nice Jazzy touch makes this a definite listen.

The fourth track, "Home Planet," is more of a Spacey tune with some Pop added. It has a tight bassy beat with equally impressive percussion work.

"Run" is actually inspired by none other than Mr. Joe Satriani. The tune has a nice moving beat from beginning to end.

"Bye" is actually a different version of an internationally famous song in Danish called "Mester Jacob," and since nobody seems to know who composed it, there is no copyright on it, much to Steen's pleasure.

"Secret Lab" is just a groovy little ditty that is Jazzy and a bit Bluesy at the same time. It is very catchy and addictive listen.

The eighth track, "My Butterfly," is a special treat with some fantastic 8-fingered tapping. It was Eddie Van Halen that first introduced fans to this technique, further improvised on by Joe Satriani and others. Steen Grontved takes this unique skill to another level.

The ninth track, "Still Here," catches you off-guard for a moment with its strange-sounding opening, but after that, a beautiful sounding guitar takes over for the remainder of the track. The guitar work is truly inspiring and this track is a must listen.

"Round and Round" is an added treat. In this track you have the bass setting the melody and baseline at the same time. This may be typical in some West-African types of music, but this album seems far from that. This is a very rare and unique style that one doesn't hear too often. Nikolaj is just outstanding on this tune.

"What Mango?" has a South American beat to it right from the start. Well after all, it does have the word mango in the title, doesn't it? Lars Ringgaard plays incredible Blues harp on this one. This track takes polyrhythms to the limit.

The last track on the album is "Find The Pick." Another tune that is quite different. Steen plays a slap-tune on a Spanish guitar while holding the pick in his right hand that he actually drops while recording. The song was recorded using 6 microphones.

Overall, this is an outstanding piece of work with some extraordinary guitar playing. It's extremely enjoyable to listen to from start to finish with not one bad song among the bunch. Steen was noted to say that making this record was to try to free his mind without worrying about if it was saleable or listenable. The truth be told, he doesn't have to worry about that at all.

To learn more about this incredible talent, try Steen's Web site (via label).