MASSIMO IZZIZZARI - UNSTABLE BALANCE (B+) Lion Music, 2007
10 tracks, RT: 56:00

Italian guitarist Massimo Izzizzari has released what could very well be the missing Greg Howe album in UNSTABLE BALANCE, a ripping good CD full of engaging jazz-fusion flavored instrumentals and Massimo's near flawless technique. The title track starts things off strong with a killer groove, the rhythm ably provided my Massimo's brother Azeglio on drums and Mario Guarini handling bass. You don't have to look far
to find a standout track, as there really isn't a bad one in the lot, Massimo always impressing with great chops, tasty phrasing and an ear for a cool arrangement on pieces like the melodic "Television Man,"
funky and hard rockin' "Violation Of Privacy" (with brother Giuliano on bass), and the delightful "Take It Or Leave It." Massimo often gets a little too close to Greg's style and that's my only complaint about
UNSTABLE BALANCE -- just the need to establish a unique identity. Massimo's original voice will surely come in time, however, and as instrumental guitar releases go, UNSTABLE BALANCE is about as good a
one as you are likely to hear this year, so let me recommend it to you right now!
- Neal Woodall (MysticX9@gmail. com) DEITRUS E-ZINE
GUITAR FEATURE - PART ONE
REVIEWS IN THIS ISSUE:
---
Introduction
There appears to be a growing trend for what might best be described as the "guitar instrumental album". Certainly based on the increasing number of releases landing on the DPRP CD Reviews desk this growing phenomenon is escalating at a rapid rate. However this should not be seen as a new phenomenon, the genre has been in existence since the early Seventies producing such great exponents as Allan Holdsworth, Al Di Meola, Steve Morse and Jeff Beck to mention just a few. In recent years this has sparked many such releases from the progressive field: Jethro Tull's Martin Barre and Yes' Steve Howe having released several solo albums and soon Spock's Beard's Alan Morse will be added to this list. And to this fold a newer breed of "shredders" are to be included - pioneered by Yngwie Malmsteen, Steve Vai and Greg Howe a whole host of newer and exciting talent is emerging.
Driving this movement in Europe is Finnish based Lion Music. So in the first of this two part Guitar Feature is dedicated to some of the current crop of releases emerging from the Lion's den. Part Two, which we plan to upload next week, will feature those signed to other labels and the ever growing independent releases.


---
Massimo Izzizzari - Unstable Balance
| | |
| --- | --- |
| Country of Origin: | Italy |
| Format: | CD |
| Record Label: | |
| Catalogue #: | LMC194 |
| Year of Release: | 2007 |
| Time: | 56:08 |
| Info: | Massimo Izzizzari |
| Samples: | Click here |
Tracklist: Unstable Balance (5:59), Access Denied (4:30), Wordgame (5:05), Television Man (5:14), Freeze Frame (7:29), The Alchemist (7:29), Violation Of Privacy (5:09), Take It Or Leave It (6:04), The Enchanted Forest (5:25), Teresa (3:45)
Right from the opening bars it is evident that Massimo Izzizzari has enlisted some really good musicians to perform the music we hear on Unstable Balance, and to be honest you don't need to go past the first track to work out that these guys have good understanding of just what is required. For Izzizzari's slant on the guitar instrumental he takes us through a journey of funky rock compositions with liberal doses of jazz, fusion, rock and metal.
Unstable Balance is a fiery album with the majority of the ten cuts being played with gusto and passion. The guitar is blistering and fluid, but mercifully with a skilful melodic sense. This is backed up by a crisp and tight rhythm section consisting of Azegello Izzizzari (no relation - sorry couldn't resist :0) on drums and bass man Mario Guarini. So with Massimo on guitar (keys, choirs & programming) the foundation for each track is tight, grooving and concise. So whatever goes on top is a bonus and here again Massimo does not disappoint, displaying a stylish and controlled display of guitar pyrotechnics.
Stand out tracks - difficult on such a consistent album - however the album opener captured the mood immediately with a strong blend of fusion, funk and rock; The Alchemist is an altogether rockier piece with interesting atmospherics and some great guitar; The Enchanted Forest - a more laid back tune with a catchy hook; and finally the "obligatory" instrumental ballad Teresa - closing the album on a more subdued platform. However all the tracks are noteworthy in some way...
Note that production is also spot on with all the instruments being easily distinguishable and well mixed. Another string to Massimo Izzizzari's bow.
Izzizzari lists Greg Howe, Jon Scofield, Richie Kotzen, Scott Henderson as influences and certainly a few others came to mind whilst listening to Unstable Balance. Certainly from what I've heard here he can certainly hold his head high within such illustrious company. A great album from within the genre and one that amply shows Massimo Izzizzari's fluid guitar work and compositional skills. Perhaps a tad long for an instrumental album at just under the hour long mark, but enjoyable all the same. Difficult one to rate as once again the progressive element is not high on the agenda - so bear in mind as with many of the releases here, that a point or two could be added if you have a leaning towards instrumental music from related genres.
Conclusion: 7+ out of 10
BOB MULVEY dprp.net
Massimo Izzizzari - Unstable Balance (Lion Music) By: Joe Florez www.live4metal.com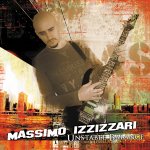 There's no better way to kick off 2007 than with a new instrumental disc coming from the Lion Music label. We have another Italian guitarist who I am not aware of until now. Doing some minor research, I see that he has pumped out some discs and been in some comps in his native homeland. Instead of being the usual metal shred monster, this man incorporates funk, jazz and prog for a unique experience that sounds like no one else out in this field at the moment. The title track explodes immediately with complicated and tricky drumming. The guitar work is melodic and filled with glorious jazz riffs, funk and even some upbeat rock notes. The tempo changes move around constantly and you can't help but play air guitar and tap your feet as this stuff is infectious as hell. As we get to the half way mark, Massimo begins to put some real feeling into what he's playing and in the end you are left with something that is never boring. Can he keep this excitement up for the duration of the disc?
"Access Denied" is more rock oriented that is simplistic in some aspects while at the same time he gets flashy with his finger work. Unlike some folks who play fast just for the sake of it, Mr. Izzizzari manages to make it accessible for anyone to enjoy. "Television Man" jazzes things up severely and it's just the first of many to come on here. Once we get to the halfway mark, things begin to slowly settle into place as the music goes from total cacophony to laidback and performed with tons of feeling and emotion which shines through. This debut offers many dynamics to keep you intrigued from start to finish. The other musicians on here deserve a thumbs up for performing equally as well as Massimo. He let's them all shine as well. There is something on here for everyone. If you want the fast music, it's on here. If you just want to kick your feet back, you have that too. The massive funky riffs and jazz performances are all on here too. Now, this is what I call a quality disc.
www.lionmusic.com | www.massimoizzizzari.com
---
Massimo Izzizzari - Unstable Balance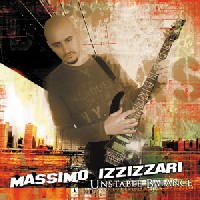 Track List
Unstable Balance
Access Denied
Wordgame
Television Man
Freeze Frame
The Alchemist
Violation Of Privacy
Take It Or Leave It
The Enchanted Forest
Teresa
Line Up
Massimo Izzizzari – All Guitars
Azeglio Izzizzari – Drums
Mario Guarini – Bass.
Rating - 8.5/10
Review Al Hay

All my colleagues at Hard Rock House know I have an insatiable appetite for guitar instrumental rock music. It's a genre that many people overlook which is a shame as this style of music has the ability to thrill and enthrall the listener. With songs having no lyrics the players have to rely on melody, harmony and invention to capture ones attention.
I've noticed in recent years that some music journals have an apathy towards guitar instrumental albums and there's an attitude of" oh no not another guitar album". They give a small paragraph with the summary "heard it all before" and yet when I go out and pick up the CD and give it a spin I often wonder "did they listen to the same CD that I've just listened to?". All these so called reviews in time could give some potential listeners the impression that guitar music is in "the doldrums". It's a shame as that couldn't be further from the truth.
If you want proof then check out any of the artists on the Lion Music label. Here is a label with an eye for unearthing exceptional musical talent. They are building an impressive roster of guitarists who have technique to die for and who create challenging, interesting and exciting music. The latest addition to the label is Massimo Izzizzari.
Previously Massimo has been recording guitar parts for music that we hear countless times a day on radio and television worldwide but with his album "Unstable Balance" we get a taste of the "real Massimo".
Every track on this ten track release is a "little gem". The song arrangements are mature and at times engagingly sophisticated. Some guitar instrumental release at times have the feeling of having themes stitched together which at times can make the music sound a bit "ploddy".The striking thing about Massimo's playing and arranging is that there is a wonderful flowing motion to it all. Everything sounds effortless and as natural as breathing.
The album covers many musical styles but overall feels and tastes like a jazz rock tour de force. Opening track "Unstable Balance" is a funky number with rhythm playing that is tight and fruity. It twists and turns. The soloing is fluid and at times dazzling. His touch reminded me of Greg Howe and Allan Holdsworth with a slice of John Schofield and Patrik Rondhat on the side." Access Denied" is another funky number but with a "rock bite". There is a nice jazzy break midway led by some super bass playing from Mario Guarini which leads into Massimo letting rip in a very Greg Howe fashion. Techniques effortlessly move from tapping, speed picking and sweep picking. Very tasty.
"Wordgame" is a smooth funky track. I couldn't help thinking of Donald Fagan whilst listening to this number. It would sit perfectly on one of his solo albums. Layer it with Steely Dan flavoured vocals and you would have a very cool track. "Television Man" see's Massimo adding a little rock flavour to his funk palette. There is some nice harmony guitar playing and some outrageous slippery and slithery licks." Freeze Frame" opens with an almost motion picture like quality with some tasty synth guitar textures before dropping into a nice bass groove. Super chordal playing providing interesting harmonic flavour is topped with a brilliant and cheeky solo.
"The Alchemist" is a rocking little number with a chugging riff which would sit perfectly in a Rush song. The solo's really feel spontaneous and there is a nice natural feeling to proceedings. It almost sounds like a crazy band jamming out. Time changes give it a "shifting sand" vibe. "Violation Of Privacy" has a nice funk-wah intro leading into a muscular riff. There are some nice textures and layers in this song and some stunning lengthy guitar runs where one wonders how many fingers has this guy got?.
"Take It Or Leave It" is a super arrangement. One could imagine the great Larry Carlton having a blast on this track. The guitars really have a conversation like quality to them. You can almost hear the exclamation marks. Things get gloriously loose and funky before building up into a true "wig out". Splendid stuff.
"Enchanted Forest" is one of the standout tracks on the album. It just drips and oozes melody. The harmonic structures are intriguing yet sound so natural. The soloing is light an airey and one is left feeling upbeat and optimistic. The final track "Teresa" is dedicated to Massimo's daughter. It is a touching piece and one can sense Massimo's pride and devotion through his phrasing and note choice. It truly is a celebration.
Massimo set out to create an album that contained songs which balanced melody and technique with structures that allowed himself and his band to express themselves freely. He has achieved this with flying colours. The music is sophisticated but at the same time accessible and on further listens is sure to reveal more to the listener. It's a superb release from a truly gifted player who one senses loves music and playing his guitar. Unreservedly recommended.


---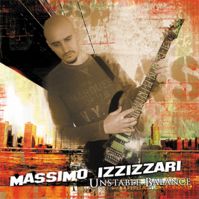 Unstable Balance
by:

Izzizzari, Massimo
LMC194 - EAN 6419922001943
Unstable Balance was entirely, recorded, produced, engineered, mixed and mastered by Massimo Izzizzari.
All songs written by Massimo Izzizzari
Unstable Balance is my first introduction to this Italian guitarist, and in reading his biography, Massimo makes it clear that he is a fusion guitarist, as opposed to the league of shredders out there today. After listening to this cd, I would say he is somewhere in between, he cites the likes of Frank Gambale,Scott Henderson, Greg Howe, Pat Metheny to name a few, as artists that he is influenced by. Of all the players on that short list, I'd liken Massimo Izzizzari's guitar playing to that of Greg Howe. At times I even wonder if it's not actually Howe himself, all the nuances of Greg's playing seem to be right there, the tone, the techniques, feel and bluesy shred lines. Another Italian player came to mind as I listened along, Alessandro Benvenuti who has also adopted a very similar approach.

One thing that I really enjoy about the cd, is that Izzizzari takes yet another similar approach to songwriting that Mr. Howe does, and that is to create challenging music to go along with his ferocious soloing skills, so you are not merely treated to a mindless excercise in guitar noodling as is ofter the case, but more so, the backdrop of music lends a nice listenable experience in it's own right. After a few songs, we are sure of one thing, that Massimo Izzizzari can play. In fact, it wouldn't have necessarily been a bad thing to back off a few of the leads and leave a little more space for the songs themselves.

So here we are in the year 2007, and virtuoso guitar cds are still being made some twenty years after the surge of Yngwie cloning experiments began, I have now witnessed the fact that no guitarist is original enough to not be copied or duplicated, Holdsworth has his followers, Yngwie has his, and perhaps the most, Beck the same, Steve Morse has a few, John Petrucci has undeniably influenced a new generation, and the list goes on, with what I am hearing from Massimo Izzizzari, Greg Howe now has a few players that hold his style in high regard, as this cd really will convince fans of Howe that his chops and feel are not beyond attainable

I am not trying to knock this cd whatsoever, as I have been and will always like Howe's playing, and Massimo doesn't intend to completely mimic everything that is Greg Howe, he shows enough influences otherwise to stand well on his own, I do hope to hear more from this musician in the future, my only suggestion is to stay true to his own voice, especially considering the compositional approach, keep things progressing, let the writing define you, not the soloing, that is ultimately what sets the great ones apart from the followers.
MJBrady
www.proggnosis.com
Lion Music has released yet another gem by guitar virtuoso Massimo Izzizzari. (I will call him Izzi for short… I hope he doesn't mind). Izzi has released his first instrumental solo CD titled "Unstable Balance." Hold on to your shorts!

First track "Unstable Balance" comes out of the gate tearing it up! Nice drum work showing a flare of a jazz fusion feel that breaks into a funk beat with Izzi ripping it up right over the top. This song clearly demonstrates the chops Izzi possesses with blazing speed and feel. Moving on to track 2 "Access Denied" – a very cool funk rock feel. I appreciate the clean guitar sound playing rhythm underneath…. nice touch! Izzi blasts right over the top again taking no prisoners, yet leaving enough breathing room in the song for the bass player to show off a little, then back to an incredible solo! WOW!

This CD has a great rock, funk jazz feel, which is wonderful. As we move on to Track 3 "Wordgame" The song displays great structure incorporating catchy melodies with burning solos as does track 4 "Television Man." There are plenty of intricate licks, hooks and odd time phrasing presented through out the album including fabulous rock riffs. This CD would please any guitar player, musician or any avid music listener looking for a guitar instrumental CD!

I enjoyed cut 5 "Freeze Frame" opening with a subtle new age jungle theme that leads you into a fat groove tunnel surrounded by a warm jazz guitar. Izzi guides you out of the tunnel and into the great wide open with a very catchy melody that will be hard to forget! Back into the tunnel for a short period, as you emerge once again into the great wide open for a variety of twists and turns, the main melody in this song will stick in your head for sure! Definitely my favorite cut.

One song after another the CD gets getting better and better. There are no weak links here. Closing the CD is "Teresa" a song dedicated to his daughter. Massimo shows what feel is all about! Bravo!

Since I have joined Rockeyez, I have never given a 5 star to anyone. Yes, I am hypercritical, but there is a first for everything. I am honored to award 5 stars to this incredible musician. Massimo Izzizzari clearly deserves it. I don't even want to compare him to anybody because he clearly stands out on his own. This is a must buy!

Rock On Izzi!
Band Lineup:
Massimo Izzizzari - All Guitar, Guitar Synth,Choirs & Programming
Azeglio Izzizzari - drums
Mario Guarini - bass
Guests:
Giuliano Izzizzari - bass on "Violation Of Privacy"
Francesco Carlesi - Keyboards on "Teresa"
Track Listing
:
Unstable Balance
Access Denied
Wordgame
Television Man
Freeze Frame
The Alchemist
Violation Of Privacy
Take It Or Leave It
The Enchanted Forest
Teresa