John Macaluso & Union Radio CD's and DVD's

The Radio Waves
Goodbye(CD)

John Macaluso's new prog metal project feat: James LaBrie(Dream Theater) Vitalij Kuprij, Mike Dimeo, Adriaan Holtz, Chris Cafferty, Alex Masi... in the vein of Ark.
Due to changes within the postal system we can no longer ship just one single CD (or we could but shipping would be very expensive)
as minimum shipping fee will be for one kilo (more or less 6-7 CDS).
We are very sorry for this change but we have no way to influence the current changes within the postal system.
On the other hand we will offer discounts on bigger orders as much as possible.
Please send an e-mail with the titles you wish to order and include your full address and phone number (needed for fedex)
to lion.sales(at)lionmusic.com and we will give you our best price including shipping. You can pay vith credit card through PayPal or via bank transfer.
REVIEWS:
Band: John Macaluso & Union Radio
Title: The Radio Waves Goodbye
Label: Lion Music

With some 200 album bearing the name of John Macaluso on the credits, quite a feat in itself with stints with ARK to Malmsteen, now Macaluso has finally got his name on the cover with his new project John Macaluso & Union Radio.

As one of the most respected drummers around he has taken this new project by the horns and with a varied list of musicians and vocalists, this new album 'The Radio Waves Goodbye' is all about the man and his music, and covers a vast spectrum of subject matter from the religious and spiritual, to the more day to day feelings we all have including anger, joy, fulfilment and emptiness to name but a few.

So now on to 'The Radio Waves Goodbye' itself, the album opens up with 'Soul In Your Mind' a thumping opener that paves the way for the rest of the album with the vocals of Dream Theater's James LaBrie adding that extra dark element to the track, with the resounding keyboard skills of non other than Vitalij Kuprij bringing the whole thing an atmospheric almost progressive edge all enveloped around Macaluso's drum skills, it's a great way to open up the album.

The same atmospheric keyboards skills of Kuprij are again present on 'Mother Illusion', but this time we se a change on the vocal front with Masterplan's Mike DiMeo taking over the mike for this very different track as it mixes a hard rock vocal sound with progressive keys and drums to great effect.

This is where the promo copy differs from the release copy of the album as the track listing vary on the promo copy of the album so I will review the tracks as they come, so back to the album.

We once again see a change on the vocal front for the next track 'The Prayer Pill' with ARK frontman Adrian Holtz taking over the mantle of vocalist for yet another change in direction for the album. This more haunting approach lets Macaluso take somewhat of a back seat on this track, with the keyboards and bass driving the track along with some quite sublime guitar moments supplied by Alex Rastopkin.

Next up is the quite mood ridden 'Dissolved' with Holtz once again laying down the vocals on this power mix tempo filled track, this time with the keyboards being provide by Dimuti and the flyaway guitars courtesy of Larry Meyer.

Mike DiMeo once again lends his power vocals to the next track 'Gates To Bridges', a switch again to a more harder sound than brings out the best in DiMeo's vocals and with the Macaluso hammering out the back beat and the immense guitar talent that is Chris Caffery lending his skills to the track, this is one of my favourite tracks off the album.

Holtz again takes up vocal duties for another mesmerizing stint at the mike for this very Pink Floyd style outing. The next track 'T-34' does away with the vocalist altogether, but with Macaluso and Kuprij once again joining forces you know that words are going to come off second best to the musicianship of these two great friends, and you're not wrong, this is just a superb piece of musical fortitude that has to be heard to be believed.

The next track is where Macaluso real comes into his own on the skinfest that is 'Pretzel'. This is one for all the drummers out there or anyone who has stood around and admired the likes of Aldridge, Lee, Powell, Macaluso, Terrana and the rest of the mighty drummers who show off their skills with drum solo's in the live arena, god bless you one and all.

Yet again we see another vocalist come into the fray this time Don Chaffin who brings his very distinctive vocals to this hard rock masterpiece, with Larry Meyer once again laying down the riffs both on bass and guitar as well as Jack Frost.

Things take a definite change in direction as the album brings in a little swing into the mix on the totally outrageous 'The Six Foot Under Happy Man', then it's back to the rock with another of my favourite tracks off the album the quite superb 'Things You Should Know'. A mix of progressive elements of both keyboards and vocals intertwined with a heady bass back beat and the acoustic guitars a quite eclectic mix that works well.

The album closes with 'Away With Words', a semi instrumental with the only vocals being a spoken piece by Macaluso himself. This haunting rendition rounds off a quite unique and incomparable release and one worthy of the Macaluso name.

Tracklisting:

1. Soul In Your Mind
2. Mother Illusion
3. Prayer Pill
4. Dissolved
5. Gates To Bridges
6. Shimmering Gray
7. T-34
8. Starring "Pain"
9. Pretzel (Drum Solo)
10. Yesterday I'll Understand
11. 6 Foot Under Happy Man
12. Things We Should Not Know
13. Away With Words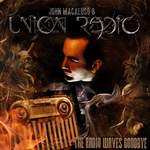 JOHN MACALUSO & UNION RADIO - THE RADIO WAVES GOODBYE (A-/B+) Lion
Music, 2007
13 tracks, RT: 65:30
[ http://www.johnmacaluso.com/ ]
[ http://www.lionmusic.com/theradiowavesgoodbye.htm ]
[ http://www.lionmusic.com/ ]
One of main problems with a lot of today's music is lack of originality; one need only spend a few minutes sampling the multitude of hopefuls constantly uploading songs to the Internet, or watch the latest top 20 video countdown to realize just how creatively bankrupt many of these "artists" are. John Macaluso is one musician who thankfully steers clear of imitation, avoiding the banal and trite to create something truly unique. THE RADIO WAVES GOODBYE is John's first solo project and is one I feel uncomfortable comparing to anyone else, as the blend of influences here is quite seamless. My recommendation is to find samples of anything off this CD and savor the writing and musicianship, as John is not only an excellent composer but has also enlisted the assistance of some incredible guests to actualize his vision: James LaBrie, Mike DiMeo, Vitalij Kuprij, Alex Masi, Chris Caffery and Randy Coven just to name a few. Check out the heavy rhythms and eerie melodies of "Soul In Your Mind," the spacey groove of "Dissolved," the progressive masterwork "T-34," the sparkling flow of "Starring 'PAIN'," John's mind-blowing drum solo "Pretzel" (with hilarious intro), as well as the off-the-wall "6 Foot Under Happy Man," and I guarantee you'll be kept busy digesting the great variety of sounds and moods contained within. If you're looking for the latest band that sounds just like something you've heard before, you can safely move right on by THE RADIO WAVES GOODBYE; if, however, you are interested in experiencing a work of uncommon quality I suggest you explore this excellent release -- immediately! - Neal Woodall (MysticX9@gmail.com)

Detritus Rock/Metal e-zine
"Rock Hard With A Purpose"
http://groups.yahoo.com/group/Detritus/
http://www.myspace.com/detritusezine
by Will Schwartz


Official John Macaluso Web Site
Label: Lion Music
Rating: 9.5/10

Tracklisting:
1. Soul in Your Mind
2. Mother Illusion
3. Prayer Pill
4. Dissolved
5. Gates to Bridges
6. Shimmering Gray
7. T-34
8. Starring "PAIN"
9. Pretzel (Drum Solo)
10. Yesterday I'll Understand
11. 6 Foot Under Happy Man
12. Things We Should Not Know
13. Away With Words

Buy This Album!

Yngwie Malmsteen, Riot, Ark, TNT, James LaBrie's Mullmuzzler, Starbreaker, Alex Masi, MCM, Vitalij Kuprij, George Lynch, Chris Caffery, Powermad, Masterlast. The common thread that runs through all of these heavy metal name stays is drummer John Macaluso. Finally, the Mac Attack has put out an album with his name on the cover to utilize his overflowing musical ideas as drummer/lyricist/songwriter, complete with a wide array of guest musicians that help bring this genre-bending sonic collage to brilliant life.

From the blistering prog metal of opener "Soul in Your Mind", which features guest vocals from Dream Theater's James LaBrie while swinging frantically between 7/8 and 8/8, to the atmospheric qualities of the introspective "Gates to Bridges", the skinsman's versatility of playing and song writing is clear. Whether it's whacked-out prog with off-time fills and oddball linear patterns, or straightforward grooves that lie deep in the pocket, Macaluso avoids the common pitfall of trying to steal the spotlight. This is an ALBUM, not a showcase (although there's plenty to admire on tracks like the cello-laden fusion fest "T-34" and the delicate shuffle of "Away With Words"), and that approach helps set this release above its peers.

Macaluso succeeds where other drummers with solo output have failed, because this doesn't play like a drummer's solo album. It's an intense, progressive listen, and I use "progressive" in the true, forward-thinking sense of the word. There are twists and turns everywhere, yet we still get plenty of vocal hooks and inspired solos to keep affairs grounded and listenable. The guy also clearly has a sense of humor, and it's a relief to not see everyone take themselves too seriously, especially on the goofy conversation that opens the scorching "Pretzel" drum solo. Don't worry though, he still plays his ass off everywhere, and there's plenty for drummers to drool over on this CD.

With Macaluso joined by many former and current bandmates, The Radio Waves Goodbye is a textured affair, rich in variety of style and musicianship but cohesive in its effect. Albums this original are an increasingly rare commodity, and those who seek something adventurous in songwriting and jaw-dropping in musicianship need to hear this album. A proud addition to my collection.

-Will Schwartz
John MACALUSO & Union Radio: "The Radio Waves Goodbye" 8
Lionmusic 2007
Review by Urban "Wally" Wallstrom,


11 June 2007
Drummers and solo albums doesn't exactly go hand in hand, do they? Nah, just remember the rather horrible efforts by the otherwise excellent Cozy Powell (R.I.P.), Peter Criss (Kiss), or here in Sweden, Freddy Von Gerber (Easy Action), etc, etc. Let's not forget about Herman Ze German (Scorpions), Herman might just be a perfectly good reason for leaving the skin-basher chained to his chair and at the back of the stage for all eternity.
This time however it's a solo album by famed star drummer: John Macaluso (Riot, TNT, Yngwie Malmsteen, Spread Eagle, ARK, etc). Talk about gun for hire as he's been involved and recorded around 200 albums over the years. The guest list is large and quite impressive with lead vocalists such as: James LeBrie (Dream Theater), Mike Dimeo (Riot, Masterplan), Adrian Holts (ARK), and Don Chaffin (VOX). Musicians are just too many to mention, Vitalij Kuprij (keyboards) and Alex Masi, Jack Frost (guitars), are merely some of all the geezers in the Union Radio Project.
The music of John Macaluso is dark and moody progressive rock with influences from acts such as Pink Floyd and Black Sabbath??? I must admit that I can't find much of the latter acts music within these tracks as it's certainly more complexed and progressive than all the Sabbath albums put together. I don't believe for a second that anyone who buys this expecting the sound of Sabbath, would end up pleased with his/her purchase. In fact, "Yesterday I'll Understand", could just as easily have been included on the latest Winger album (IV). It's also close to the sound of Cenk Eroglu and his Xcarnation project. I actually appreciate the work of Cenk more nowadays then when I reviewed his CD. It's one of those projects that only got better with time.
The opening track, "Soul In Your Mind", features James LeBrie and his voice will make everything sound like Dream Theater (goodie). Mike Demeo next with "Mother Illusion" and this reminded me a lot of Xcarnation with a hint of ARK. Very moody and dark progressive music that will make you stop and think about life and things for awhile. "Dissolved" with Adrian Holts will take you on a journey of Pink Floyd and RPWL passages with a slightly jazzy feel and again, "IV" with Winger approach. The same could be said about several of the other tracks by the way.
I do enjoy John's sense of humour during the solo piece, "Pretzel". It begins with a conversation about how Suzy went to a concert and when the drummer did his drum solo thing, she went to get a "Pretzel". Yep, most of us tend to shy away from the live drum-solo thing as it's boring as hell most of the time. This solo piece is at least entertaining and short enough to keep me awake throughout the song. Eleven out of thirtheen tracks feature vocals by above mentioned singer though, there's no need to worry about all those long and boring drum solos.
"The Radio Waves Goodbye" is an album that you need to spin several times and then let it all sink in for a week or two. There's always new things to explore and passages to find and yes, you need to enjoy the moody rock with a complex song structure and arrangements. Good stuff though... not just another crappy solo album by a drummer with too many ideas about how to make his drums sound bigger and LOUDER.
www.johnmacaluso.com
John Macaluso & Union Radio: The Radio Waves Goodbye
John Macaluso is one of the most respected drummers in rock. He has played on close to 200 albums, including on the highly acclaimed Ark albums, Yngwie Malmsteen's Alchemy, and TNT's Realized Fantasies. Obviously, this has helped him get some of progressive metal's finest musicians on his first solo album, which he set out to make the best ever album of his career.

The list of singers appearing on the album is stunning. From Dream Theater's James Labrie to Riot's Mike Dimeo and the new Ark vocalist Adrian Holtz, the vocal performance on the whole record is nothing short of jaw-dropping. The disc begins with the Labrie-sung "Soul in Your Mind", whose overall flow recalls Dream Theater circa Six Degrees of Inner Turbulence thanks to Vitalij Kuprij's atmospheric keyboard contributions. Macaluso's drumming is central on this song, and is arguably among his greatest performances ever. Kuprij weaves moody synth lines around the drums and a thudding bass figure while Labrie sings aggressively, leaving plenty of space for both a synth and guitar solo respectively.

Ark came to a halt when Jorn Lande left the band after 2001's amazing Burn the Sun, still among prog metal's greatest offerings. Many fans questioned whether Macaluso and Ostby could find a replacement, but despite numerous rumours, nothing much came of it. Finally, Macaluso introduces the new Ark singer Adrian Holtz (with whom a new CD is said to have been recorded already). Holtz' vocals are incredible -- he is a monster singer and is poised to become my discovery for new voice of the year. Possessing a brilliant midrange tone, he has the ability to shift from smooth, delicate phrases to soaring screams without overdoing it. He sings on five of the songs, all of which are amazing in different ways.

Obvious reference points while describing this truly progressive metal disc would be Pink Floyd's psychedelic parts blended with the gripping melodic edge of Ark and the hallmarks of instrumental music. "The Prayer Pill" and "Dissolved", arguably the best songs on the album, are both delivered by Holtz. Both pieces are more keyboard-dominated than guitar; dark-toned synth patches cover Holtz' indelible vocal melodies, supported by sweet back-up singing courtesy of Donna and Laura Macaluso. "Dissolved" boasts modern keyboard effects drilled into the mix, juxtaposed with some Middle Eastern flavour, and is carried by jazzified soundscapes and an eerie blend of psychedelic guitars and funky bass groove. The production of this song is totally mindblowing -- perhaps the best I've heard on a Lion Music artist.

Riot and Masterplan singer Mike Dimeo's unique vocal style should also be attributed to this album's success. There are only a handful vocalists who are capable of singing any style this perfectly, and Dimeo is one of them. Vitalij Kuprij's somewhat electronic snynth intro on "Mother Illusion" is so progressive and different from 98% of music out there that I'd never believe a singer like Mike Dimeo would be asked to sing on it. This guy is simply unbelievable, and actually reminds me a good deal of Jorn Lande. Despite never picking up pace, it feels especially tailored for him, and Macaluso's kick drum tones are still unmatched. Dimeo also sings on "Gates to Bridges", which also features Savatage guitarist Chris Caffery ripping it up, but Kuprij's laidback, mood-intensive playing saves the piece from being a typical hard rocker.

On the guitarist front, besides Chris Caffery, John Macaluso has also hooked up with the rising force Marco Sfogli, whose work on James Labrie's Elements of Persuasion blew everyone away. Sfogli first weaves dense acoustic guitars on the Floydian cut "Shimmering Grey"; and then shows us the real deal when he injects a searing guitar force on the seven-minute instrumental "T-34". Having heard this song like a dozen times on repeat, I can't help but wish Macaluso would release another solo disc, all instrumental this time. It is the absolutely inspired songwriting that sets this piece apart from hundreds others; there are dazzling synths, pianos, octopus drumming, and of course the godly Marco Sfogli on this song.

If you, like me, always hoped to hear a full-blown drum solo by Macaluso, for a good four minutes, "Pretzel" is going to be your song. The dialogue between the young girl and John in the intro is hilarious, and pokes fun at all those fans who tend to go to the bathroom during shows while the drummer cuts it loose. It is one long yet totally disciplined drum solo by one of rock's best. Period. Being a solo album, Macaluso also sings lead vocals on one song, the totally jazzy "The Six Foot Under Happy Man", but I wouldn't really consider it among the album's strongest cuts. What I, however, must mention is Dimuti, who is credited as guitarist, keyboardist, and bassist on various songs, and every time I was blown away by something and checked out who it was, I came across his name. I bet lots of prog fans will want to check him out if they're unfamiliar with him.

Another high point of the CD is "Things You Should Not Know", again featuring Adrian Holtz at the helm, and if anything on the new Ark CD is going to be in this vein, everyone be prepared to be blown away. It features some nice flute melody, cool Kuprij acrobatics, phenomenal drumming, and face-ripping guitar work by Alex Masi, another Lion Music artist. Speaking of which, Lion Music reminds me a lot of Magna Carta in the 90's (remember when they were still a cool label?) where every musician would guest on each other's albums, and add their own signature to the compositions. This disc reminds me a lot of that -- and it contains striking melodic strength with top-notch musicianship without overstepping the limits of the compositions.

Lyrically, the album seems to explore themes of religion, the occult, and spirituality; but fear not, there is nothing preachy here. In fact, the airy keyboards, creepy sound structures, and somewhat spacey overall vibes unite seamlessly with the subject matter discussed.

This is going to be a top release of 2007. Highly recommended.

Track Listing

Soul in Your Mind
Mother Illusion
The Prayer Pill
Dissolved
Gates to Bridges
Shimmering Grey
T-34
Staring "Pain"
Pretzel
Yesterday I'll Understand
The Six Foot Under Happy Man
Things You Should Not Know
Away with Words
Added: May 27th 2007
Reviewer: Murat Batmaz
Score:
Macaluso, John/Union Radio - The Radio Waves Goodbye


2007 Lion Music

Having pounded out the percussive duties for Ark, Jorn, Riot & Yngwie amongst others, drummer John Macaluso presents his latest record of hard driving technical metal that is a profound example of a 'drummer's record.' With the drums being brought up front to the mix (being very loud & powerful), The Radio Waves Goodbye features an array of musicians and vocalists including James LaBrie, Adrian Holtz, Vitalij Kuprij, Ze Gray, Alex Rastopskin, Mike Dimeo, Marco Sfogli, Jack Frost, and Randy Coven among many others, letting everybody involved make their presence known as well.

Being mostly song-oriented, the album opens up with the LaBrie fronted "Soul in your Mind," which is this heavy, dark & haunting opus where busy drumming orients itself around the brooding atmosphere; it might sound impossible, but it works and yet that sets the tone for the rest of the record, especially with, "Mother Illusion" & "Things You Should Not Know," which are other tracks that find themselves in doom laden territories while being encompassed with massive & upbeat rhythmic beats. Other cuts like "Dissolved," the sub-orchestral "T-34," and the metallic "Yesterday I'll Understand" are other high points on the record, for which the music isn't limited to drummers or musicians; there's something for everybody here, especially for OSI and Dream Theater (Train of Thought) fans.

I have to say this is an impressive record, the drumming is the perfect balance between Bonham and Peart, and there is not this overzealous 'wanking' factor within the musicianship, for which The Radio Waves Goodbye is filled with catchy tunes that you can rock out to, and of course, play the air drums to as well.
Added: June 6th 2007
Reviewer: Tommy Hash www.ytsejam.com
Score:




John Macaluso & Union Radio
The Radio Waves Goodbye Lion Music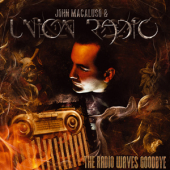 Comments: John Macaluso has been bashing the skins for many of rocks elite bands across the genre. TNT, ARK and Yngwie Malmsteen are just a few of the many bands where Macaluso has tenured. With over 200 releases to his credit it is only fitting that Macaluso first solo release would feature a host of progressive rock celebrities that have inspired fans and musicians alike. The list of names is quite extensive and includes James LeBrie, Vitalij Kuprij, Mike Demeo, Jack Frost, Randy Coven, Chris Caffrey and Alex Masi.
The Radio Waves Goodbye features 13 songs that fall within the progressive genre, not just metal but atmospheric rock that pulls from across a variety of varied musical influences. Macaluso is inspired, he is having fun, he's serious and dramatic, and all these emotional elements shine through along the musical escapade.
LaBrie opens up the CD lending his voice to "Soul In Your Mind" … you are instantly going to be thinking "…oh this sounds like Dream Theater." Well you have ¼ of the band performing, the music is progressive and Dream Theater pushed that door wide open early on for others to follow the band through.
Former Riot and current Masterplan vocalist Mike Demeo takes the microphone on "Mother Illusion." An experimental futuristic song that could have been on an Ark release is interesting and highlights Macaluso snare work. "The Prayer Pill" has a jazzy, airy feel; again the snare drum and high hats stand out as well. "Dissolved" highlights weird synthesizer melodies that provide tension and atmosphere for Macaluso percussive exploration.
"Gates to Bridges" finds Dimeo making his next appearance along with guitarist Chris Caffrey. A Hammond style organ carries the melody under the verse giving it an earthy Porcupine Tree feel. The chorus though goes for an angry metallic tonality. The rhythm guitar provides a short burst of speed metal, laced with a harmonized riff.
Vocalist Adrian Holtz appears on the majority of the songs on The Radio Waves Goodbye. "Shimmering Grey" continues the earthy progressive sound of the CD. Holtz vocals are reminiscent of Kip Winger, at times singing in hushed tones he opens up on the chorus which has a strong Winger vibe. The song has an open and warm feel and moves without a sense of urgency.
The first of two instrumental songs, "T-34," opens with fusion inspired yet jazzy piano montage and moves into piano driven ballad. Macaluso and Kuprij perform together with precision and both accent each others performance with blinding brilliance. "Pretzel" the second instrumental pays tribute to live drum solos often taken for granted by many concert goers. In between the banter of a less than enthused fan (when it comes to drum solos) Macaluso gets a bit whimsical and unleashes on his kit like a man possessed. A very cool and inspiring listen; the song highlights the talent of the drummer.
Macaluso takes over the vocal duties on "Away With Words" and "The Six Foot Under Happy Man." "The Six Foot Under Happy Man" is a throwback to the music of the '20s and '30s and gets a bit quirky with Frank Zappa style freakiness and big band style woman led choir vocals from that time period. "Away With Words" continues the atmospheric vibe. The vocals here are mainly used as added coloring winding its way amongst the instrumentation.
"Yesterday I'll Understand" introduces Don Chaffin on vocals. This is another song where the verses build up to huge choruses. "Things You Should Not Know" and "Staring "Pain" put the vocals back in the hands of Adrian Holtz and continue to envelope the listener with crafty well written songs.
Progressive without the metal, explorative and adventurous, Macaluso first solo release throws away any attempt to be pigeonholed as one-dimensional. At most times The Radio Waves Goodbye provides a peaceful and serene setting for your listening pleasure. But also includes brief excursions into heavier landscapes just to keep you on your toes.

Track listing:
1. Soul In Your Mind - Vocals James LaBrie, Drums John Macaluso, Keyboards and Piano Vitalij Kuprij, Bass Ze Gray, Lead Guitar Alex Rastopskin, Background Vocals Don Chaffin, Keyboards and Rhythm Guitars Dimuti.
2. Mother Illusion - Vocals Mike Dimeo, Drums John Macaluso, Keyboards Vitalij Kuprij, Keyboards Dimuti, Bass Ze Gray.
3. The Prayer Pill - Vocals Adrian Holtz, Drums John Macaluso, Keyboards, Bass and Guitar Dimuti, Bass Ze Gray, Drums John Macaluso, Background Vocals Donna Macaluso Laura Macaluso and Kristen Drewes, Lead Guitar Alex Rastopskin.
4. Dissolved - Vocals Adriaan Holtz, Drums John Macaluso, Bass Larry Meyeer, Guitar Larry Meyer, Keyboards Dimuti.
5. Gates To Bridges - Vocals Mike Dimeo, Drums John Macaluso, Guitar Robert Katrikh, Keyboards Vitalij Kuprij, Keyboards and 12 String Guitar Dimuti, Drums John Macaluso, Guitar Chris Caffrey.
6. Shimmering Grey - Vocals Adrian Holtz, Drums John Macaluso, Guitar and Bass Larry Meyer, Piano Derrik Weiland, Guitar Marco Sfogli.
7. T-34 - Drums John Macaluso, Keyboards and Piano Vitalij Kuprij, Guitar and Bazuki Marco Sfogli, Chello Dave Eggar.
8. Staring "Pain" - Vocals Adrian Holtz, Drums John Macaluso, Guitar Marco Sfogli, Bass Ze Gray, Keyboards and Acustic Guitars Dimuti.
9. Pretzel - Drums John Macaluso, Vocals John Macaluso, Vocals Suzy.
10. Yesterday I'll Understand - Vocals Don Chaffin, Drums John Macaluso, Guitar and Bass Larry Meyer, Lead Guitar Jack Frost, Keyboards Marty Mallinger.
11. The Six Foot Under Happy Man - Vocals John Macaluso, Background Vocals Don Chaffin, Guitar Larry Meyer, Bass Randy Coven, Horns Jimmy "Charlie Chan" Halperin.
12. Things You Should Not Know - Vocals Adrian Holtz, Drums John Macaluso, Keyboards and Acustic Guitars Dimuti, Lead Guitar Alex Masi, Bass Ze Gray, Vocals Dina and Shelly, Flute Kristen Drewes, Keyboards Vitalij Kuprij.
13. Away With Words - Guitar and Bass Alex Rastopskin, Drums and Vocals John Macaluso, Keyboards and Vocals Dimuti.

HRH rating: 8.5/10

John Macaluso is arguably one of the metal world's best known (and most active) drummers largely thanks to work with Ark. Yngwie Malmsteen and with Dream Theater's James LaBrie. So what can you expect when a drummer makes a solo album? Well in the case of John Macaluso & Union Radio then a damn fine progressive album in 'The Radio Waves Goodbye'. The vibe of the album is quite varied with a number of different styles that all managed to remain progressive throughout the 13 tracks on offer. Yes the emphasis seems more on grooves and keyboard textures (reminiscent of Pink Floyd in this respect) as opposed to pure musical masturbation and guitar overload (although there is still a lot of guitar to be enjoyed) and this really makes the album shine with originality, the album is also home to a great production with superb sonic spread – listening with headphones is a truly dazzling experience!

Opener "Soul In Your Mind" is the most accessible track for progressive metal fans to get into with a sound that recalls the best of Dream Theater which may suggest the reason why it fits James LaBrie's vocals to a tee. There is a tremendous amount of variation in this track alone yet it remains a cohesive track from start to finish and is home to an insanely addictive chorus. "Mother Illusion" begins with Macaluso laying down some drum patterns which verge on jazz and the vibe almost verges on ambient dance at times, yet the vocals from Mike DiMeo keep this within the rock field. "The Prayer Pill" sees the ambient sound continue coming across as a prog rock version of Portishead to these ears aside from the vocals of Adrian Holtz. Up next is another dazzling track in "Dissolved" which sounds like classic Pink Floyd (Animals era) with 21st century attitude and a large dose of adrenaline for good measure. Mike Dimeo's vocals are sublime here and this track will surely be a contender for song of 2007.

"Gates To Bridges" is another super cool slice of what is now becoming trademark Macaluso with a nice balance between the restraint verse and powerful chorus. Vitalij Kurpij throws down some great keyboard solos whilst Marco Sfogli adds some sublime guitar work especially over the double time solo section. The track is as will its predecessors enhanced by phenomenal drum work which only adds to the song and manages to groove – something many drummers in a prog environment could learn from. "Shimmering Grey" begins atmospheric with a sustained chord over which we get guitar volume swells (again quite Pink Floyd) yet rumblings of something darker enter at around the 1:00 mark, the way the track builds shows an almost architectural approach to song writing and shows Macaluso has a very good idea of what to do in terms of overall musical perspective. The chorus is again very strong and sounds almost Kings X to these ears with strong vocal harmonies. The 7:33 long "T-34" is epic in approach and comes across as a movie score to some fantasy epic to these ears, it's musically very visual and has arguably the most impressive music in terms of technicality on the album and will keep prog buffs happily dissecting the music bar by bar for hours.

"Staring 'Pain'" is another strong track that has several different nuances all working together in harmony whilst Macaluso gets to show off his drum chops in the solo track "Pretzel" complete with comedy intro. "Yesterday I'll Understand" begins with a nice Fender Rhodes intro before we are treated to another superb vocal performance this time from Don Chaffin and this track has hit single written all over it, modern in approach in many respects with another killer chorus. "The Six Foot Under Happy Man" see Macaluso take an oddball journey into show time jazz and to be honest it sounds totally out of place on the album but I presume its here for a reason. "Things You Should Not Know" sees the music head back into more familiar waters with another compelling drum pattern leading the track although it will take a few listens to get into this one as its quite disjointed in places. The album closes with "Away With Words" which is a nice atmospheric instrumental (aside from some tribal chanting) and in a way the track seems to resolve everything heard elsewhere making for a nice calming end to the album.

"The Radio Waves Goodbye" really is a very unique album. I don't think there is any other album reviewed here on this site that you can compare it to. There are traces of influence throughout yet John Macaluso has managed to add his own stamp to the progressive genre with an impressive collection of tracks that really have something for fans from all angles of this varied genre from past to present. Overall the album is a very rewarding experience after a few listens and could well be the surprise package of 2007.

RATING
94%
virtuosityone.com

review from : wwww.rockeyez.com:
I really thought I was going to have a hard time with this one. I first heard of John Macaluso way back in 1991 when I heard he sat in for drummer Tommi Gallo during some of the "OPEN TO THE PUBLIC" SPREAD EAGLE sessions. Since that time, his name's just popped up over and over again… Yngwie Malmsteen, ARK, TNT, STARBREAKER, etc. So, over the years I've gotten pretty familiar with John and his vast array of drumming styles and techniques.

Then just this past summer, I had the opportunity to meet and spend some time with John during the SPREAD EAGLE reunion tour. Not only did he become a great personal friend, but a HUGE supporter of ROCKEYEZ.com & STICKMANRADIO.com as well. This is where the problem came in…

He started telling me about his new solo release coming out in the spring with the project name John Macaluso & UNION RADIO and CD titled "THE RADIO WAVES GOODBYE." At first I was very excited… then he started telling me all the musicians he had assembled for the project and it just seemed a majority of them had very strong roots in "progressive" metal… something I was never too into. To make things worse, he had promised me one of the first copies and wanted me to review it! This kinda scared me a little bit because being he is a friend, how could I "slam" his CD if it really turned out to be what I thought it was going to be?

Well… John is definitely a man of his word. Not only did he get me a copy of the CD, but I had it before his record label even did! But the most important thing about it is, while it does contain a lot of progressive elements, "THE RADIO WAVES GOODBYE" is not what I had feared and basically speaks for itself. What a relief! And now my honest, un-bias review…

Creative, innovative and palpitating are three words that immediately come to mind when I think about "THE RADIO WAVES GOODBYE! It comfortably blends a unique mixture or musical styles ranging from progressive metal to classic metal and pushes the envelope even further with influences and arrangements stemming from classical concerto to 1940's "big band" or swing.

The CD opens with the powerful "Soul In Your Mind." With it's haunting chorus, progressive undertones, a flawless vocal by James LaBrie and some absolutely insane drum work… compliments of Johnny Mac himself, "Soul In Your Mind" really impresses. But it doesn't stop there! Other tracks like "Mother Illusion", "Things We Should Not Know," "Gates to Bridges" and "Dissolved" continue on in the same vein. While the vocals aren't always as consistent as those of LaBrie, the music and arrangements along with the heavy percussion emphasis really carries the CD… but what else would you expect from a drummer's solo release?

As you listen further into the disc, you'll begin to realize that although the songs individually stand alone and the arrangements and production are works in and of themselves, "THE RADIO WAVES GOODBYE" is a drummer's paradise… bottom line. On track after track after track, Macaluso puts on what can only be described as a clinic! It's no wonder he's considered one of the best in the world! He even had the balls to put a drum solo titled "Pretzel" on the release! No… not an instrumental… a FUCKING DRUM SOLO done superbly in its own tongue-in-cheek way. I never thought I'd actually enjoy riding around in my car listening to a drum solo but Macaluso has definitely proven me wrong.

Other tracks

of note include the less aggressive "Shimmering Grey" which stands out for its smoother, flowing melody which explodes into a powerful chorus and also features some very nice guitar and piano sections. "Yesterday I'll Understand" is another slower arrangement with a classic rock/ metal vibe while "Things We Should Not Know" maintains a solid progressive, yet… almost gothic feel to it. And what review could be complete without mentioning "6 Foot Under Happy Man?" This is… without a doubt, THE most surprising track on the release because (without giving "too" much away) it doesn't even feature a drum track AT ALL! But it DOES, however, feature Johnny Mac taking over on microphone duty. Take a listen and judge for yourself! I think if you really listen to the lyrics, you'll have a good time with it… in your own, dark way. 8)

Lastly I just have to mention the two instrumental tracks "Away With Words" and "T-34." "T-34" is simply tremendous! Listening to it, you can almost visualize some kind of epic battle sequence spinning around in your head that would rival anything the "LORD OF THE RINGS" trilogy had to offer. And "Away With Words" wraps the whole thing up in an entrancing… almost hypnotic fashion.

"THE RADIO WAVES GOODBYE" is just an amazing release by an amazing artist and with a supporting cast like the one John assembled here, how could you go wrong? Whether you're a drummer or not, you need this one in your collection! Make sure to circle MAY 25th on your calendar… I already have!
---

Band Lineup:

John Macaluso - Drums / Vocals (ARK, Yngwie Malmsteen, TNT, Powermad, Riot, KRS-One, George Lynch, Starbreaker, Delmar Brown, Masterlast, Alex Masi, Spread Eagle)
Vocals - James LaBrie (Dream Theater), Mike Dimeo (Riot,Masterplan), Adrian Holtz (ARK), Don Chaffin (Vox) & believe it or not, John Macaluso
Guitar - Marco Sfogli (James LaBrie), Alex Rastochin (Average White Band), Chris Caffrey (Savatage, Trans-Siberian Orchestra), Alex Masi, Jack Frost (Seven Witches), Robert Katrickh, Di muti. Larry Meyer, Nick Chinboukas (Collision)
Bass - Randy Coven (Yngwie Malmsteen), Ze Gray (Delmar Brown), Di muti, Fabrizio Grossi (Steve Vai), Larry Meyer, Gustavo J. Vitureira (Collision)
Keyboard and Piano - Vitalij Kuprij (Artension, Ring Of Fire), Di muti, Derrik Weiland (Trans-Siberian Orchestra)
Strings - Dave Eggar (Evanessence)
Backing Vocals - Deana Cook, John Macaluso, Don Chaffin, Sue-Z, Donna Macaluso, Laura Macaluso & Kristen Drewes

Track Listing

:

Soul In Your Mind
Mother Illusion
Prayer Pill
Dissolved
Gates To Bridges
Shimmering Grey
T-34
Starring Pain
Pretzel
Yesterday I'll Understand
6 Foot Under Happy Man
Things We Should Not Know
Away With Words
John Macaluso & Union Radio - The Radio Waves Goodbye (Lion Music) By: Joe Florez www.live4metal.com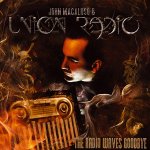 You may not realize it, but this man has been banging on the skins since the mid 80's. He's played with Powermad, Yngwie, Ark, TNT, Randy Coven and the list just piles up. Go to the website for the full resume. At any rate, after working on everyone else's work, John has decided to create something for himself. The result is Union Radio and truth be told this is a far cry from metal. It's a concoction of jazz, prog, ambient, dark and moody sounds capes and then some. So in other words, a true musicians audio wet dream. Since John has been around for a while, he has made friends with some people and they appear on here. Take "Soul In Your Mind" for instance. It's the first song on here and has James LaBrie on
vocals along with keyboard wiz Vitalij Kuprij. It begins with some very strong riffing akin to something you would hear on an old Ministry record. The drumming is severely complicated, but has rhythm. James' voice is as subtle and light as ever and there is this ambience that's a little trippy, but peaceful. This one runs the gamut in terms of tempo ranges because it shifts around quite often. There is also a solo on here that is lean and mean. Despite what I say on here, it's not a progressively metal song. It has a life all its own, but is fascinating to hear. "Mother Illusion" features new Masterplan vocalist Mike Dimeo who quite frankly I like on here much better than his day job. He can sing his highs, but they aren't obnoxious and he too can have a strong set of lungs and still sing in a mild manner that isn't over the top. The best way I could describe this one is outer space vibes met with more mesmerizing and technical drumming that almost sounds programmed with a hint of jazz and dance beats like trip hop or something like that. It's very bizarre. "Gates To Bridges" remains on par with what is going on the first three cuts, but you can hear some funky bass lines being plucked away which only adds to this ultimate experience in experimental music that will take you away to another galaxy. "The Prayer Pill" finally scales back on the insanity and goes for a more mellow piece. It's slowed down tremendously and sounds like a real song - meaning: drums, keys, guitars, drums and bass with minimal ambience. The vocals are soothing as well as the composition.
I had no idea what I was in store when I popped this in. This was a pleasant surprise because it runs through and combines many style of music that I wouldn't expect. I mean mixing prog and jazz with dance like beats is wild. Or combining dance ambience with classical is just absolutely out there, but if you appreciate things out of the ordinary you can find it quite amusing and entertaining. This is a very daring record from John and not everyone is going to get it, especially the traditional prog rock/metal heads. This is experimental in every way and is intended for the most of open minded only. Once you dive in, you will discover that there's a lot soak in time and time again. Worth investing time in. www.lionmusic.com | www.johnmacaluso.com