Metal Majesty 2005
Lion Music
LMC123
· Produced By: Valensia


---

· Running Time: 47.27


---

· Release Date: Out Now


---

· Released: EU


---

· Musical Style: Melodic Hard Rock


---

· Links: Lion Music

90%


Songs: 85%

Sound: 95%
Metal Majesty is essentially pomp rock icon Valensia and his other personality – moving away from the pomp and ceremony of trading off Queen riffs to 'paying tribute' to a heavier God – Whitesnake, Blue Murder and er, Queen. And boy – does he 'pay tribute'!
Kingdom Come's classic debut remains one of my favourite albums from its era. However, at the time it gained notoriety for all the wrong reasons – and it went on to sell a truck load. I enjoy it for what it is – a blatant 'borrowing' of Led Zeppelin riffs, updated and Americanized for what was – at the time – a huge market for hard rock. History is repeated with Valensia's 'borrowing' of material for his new release.
Had this Metal Majesty album any chance of selling 2,000,000 units, I would think that Mr. Coverdale and Mr. Sykes might be talking to their lawyers. There's plenty on offer here to mull over!
While the music will have listeners diving into their memories for where the riffs originated, there is no denying the strength of the material, or the energy of the delivery.
Quite literally, it sounds like Freddy Mercury joined Whitesnake. Queen's The Miracle album meets Whitesnake 1987 and the debut Blue Murder.
Regardless of the 'influences', this remains a highly enjoyable listen, made even better by the big fat production sound and the quality of the performance. The energy of Valensia's delivery is highly addictive and fans of The Snake or John Sykes, not to mention establish Valensia fans will find a lot to like here.
Additionally, the album is far superior to the debut album This Is Not A Drill. Better songs, better production and more addictive hooks.
From the opening bars of Still Of The Night, er, sorry, We Rocked, those memories of Kingdom Come flood back – not to mention the memories of Whitesnake's 1987.
Valensia has come extremely close to matching the guitar play of John Sykes and while the vocals are more his own, the Coverdale/Sykes mannerisms are there for all to hear.
The uptempo shred fest of Ready To Roar has the feel of Whitesnake's Slip Of The Tongue album, complete with Steve Vai comparisons.
Love Will Make You Bleed sent me to the writer's credits to make sure it wasn't a cover! Yes, this is so close to Blue Murder's Jelly Roll it just ain't funny. While I love the premise of this album, something this close to another track isn't fair to the original writer. This track comes complete with an acoustic intro which bows to a big passionate rock ballad finish where even some of the lyrics are the same! Instead of 'Love Will Break Your Heart' in Jelly Roll, we have 'Love Will Make You Bleed' here.
Crying In The Rain is next…er, sorry – wrong album again. Hold On To The Night is next up here and Freddy does his best Coverdale here, complete with dramatic intro and shredding solos.
Burying Heather is a truly bizarre track. This sounds like Queen meets The Beatles and reminds me of Zoot's take on The Beatles classic Eleanor Rigby, complete with strings.
It's time for another tribute to Still Of The Night – this time under the guise of Hell Hounds On My Trail.
Aurelia's Night doesn't bring anything to mind, which is a good thing! A simple guitar driven rocker.
For some reason Alone, Unknown and On My Own and Zenith remind me of George Michael singing Queen. We seem to have dropped the big hard rock approach for a more acoustic driven pop feel, with synth parts and a true 70's feel. A couple of interesting tracks, but two that don't really match the premise of the first half of the album.
A highly enjoyable album, if you forgive the borrowings from other sources, not to mention the over the top nature of the performance. Fans of the debut will be pleased to hear this is even better and the album is very engaging. Pompous hard rock at it's best – even if you've heard it someplace before!
www.melodicrock.com
Metal Majesty - 2005 (Lion Music)

Metal Majesty
2005
Lion Music

It was just a short while ago that I reviewed this bands debut This Is Not a Drill, which was nothing more than a glorified QUEEN tribute album. An album full of original tunes all played expertly and adeptly by a man named Valencia who seemed to be channeling the departed Freddie Mercury. Valencia is billed as a budding genius, a man who is a guitar virtuoso, a concert pianist, and studio technician extraordinaire. All this seemed plausible upon listening to the debut, but a couple of times I felt the man went a little too far in his QUEEN aspirations. I stated then that I felt he could get away with it once, but future albums should start to show the man's supposed genius in more original ways. Well the good news is that 2005 drops the QUEEN posturing; the bad news is that he has found a whole new windmill to tilt at.

It doesn't take more than the first couple guitar riffs to realize that Valencia has decided to explore the working of WHITESNAKE this time around. Once again the songs are all originals, but skirt very closely to more famous tunes from the glory days of Coverdale and crew. "We Rocked" is the spitting image of 1987's "Give Me All Your Love", "Hold On the Night" has definite "Crying In the Rain" leanings, and "Hell Hounds On My Trail" is nothing but a loose reworking of "Still of the Night". I shouldn't be surprised by his choice of taking on WHITESNAKE, I remember there being a couple of moments from the debut where he detoured from his QUEEN worship and dabbled in the Snake lore. Now on 2005 he seems to get bored with the whole idea from time to time though, he still shows a couple of QUEEN longings as well as one BEATLES interlude that seems completely out of place. For now though let's stick with the WHITESNAKE material since it is there that all the best moments are contained. Yes that means that I actually enjoyed what the Valencia was doing, it's not like we are getting any new material from the originals. He writes songs that stray just close enough to actual WHITESNAKE songs to make them all seem familiar. This is much closer to metal than the debut ever got close to. Valencia certainly lives up to his reputation as a guitar virtuoso, his playing is awe inspiring matching and often surpassing the work of more renowned WHITESNAKE axe slingers like Sykes, Campbell, Vandenberg, and Vai. In fact it is Vai that I am most often reminded of, he has the same kind of thin noodling sound that Steve Vai often employs.

The one place where Valencia seems to fall short is in the vocals. Whereas on the debut he seemed to hit all the marks with his Freddie Mercury musings, his voice can't seem to do David Coverdale nearly as well as say Jorn Lande does. He can hit the highs, but he is unable to get the lows. Those times when Coverdale gets down in the mud and rolls around, moments when he would really put the sexual charge into his songs. Those moments are lacking here, as are any lyrics that are suggestive in anyway shape or form, this is just too squeaky clean.

PITRIFF RATING - 7/10 - I feel the positives still outweigh the negatives on 2005, but like the debut I am sure that the critics are going to vastly differ in their opinion of Valencia's work. As I said earlier, the music here at least justifies the word "metal" in the band's name. There are some amazing moments throughout the album, mostly when you focus on the guitar work. There are also some very perplexing moments that just make you shake your head, like when you ask yourself what the hell a BEATLES tune is doing in the middle of this album. I have no doubt that Valencia's talents are immense in their stature, but at some point he is going to need to prove that in a more original way than showing how clever he is in interpreting someone else's sound. QUEEN seemed like a regal enough band to mimic, WHITESNAKE not so much. It is time for the real Valencia to stand up.


Added: Tuesday, February 15, 2005
Reviewer: Shawn Gould
Score:

Related Link: Buy This Release Here
www.pitriff.com




Tracklist


1. We Rocked
2. Ready To Roar
3. Love Will Make You Bleed
4. Hold On The Night
5. Burying Heather
6. Hell Hounds On My Trail
7. Aurelia's Night
8. Alone, Unknown And On My Own
9. Zenith
10. Ready To Roar (inst.)



Line-up


Valensia (all instruments)



Review added


February 7, 2005

Back

METAL MAJESTY
2005
© 2005 Lion Music (LMC 123)
melodic hard rock
studio album
10 tracks - TT 47:27
release date: January 24, 2005
http://www.lionmusic.com




Hot on the heels of the remastered European version of the first Metal Majesty album comes this follow-up, which is simply called "2005". In case you don't know, behind the monicker of Metal Majesty is hiding a Dutch artist, that we all came to know as Valensia.
"This Is Not A Drill", the first Metal Majesty album, took many of us by surprise, not only because it sounded a lot heavier than anything Valensia had thrown at us in the past, but also because of its great variety in songs. The good news is that "2005" brings us more of the same, although I have my doubts about the song "Love Will Make You Bleed" and the fact that some songs are now leaning far too close towards the material of Whitesnake. Indeed, after Queen it's now Whitesnake and if you don't believe me, just listen to "Hold On The Night" or even more "Hell Hounds On My Trail". As a whole, "2005" is good again, but I can't give it the same score as its predecessor because this time too many ideas have been stolen from Mr Coverdale's Whitesnake, which really is a shame. (CL)



---

Members' opinions

post your opinion

aorrebel

valensia is a genious, he's a very good singer, very good guitar player. An excelent album with good production and very good arrangements...excelent


www.rockreport.be

---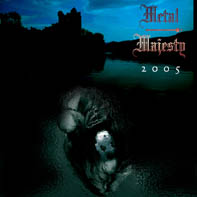 Guitar Mania – Review
Metal Majesty – "2005"
One word comes to mind when spinning this CD for the first time – Orgasmic! A superbly crafted, magnificent work of art that flows with intensity and rocks like an unharnesed jolt of electricity. Highly influenced by Queen, Valensia's (Aldous Byron Valencia Clarkson) voice is a dead ringer for Freddy Mercury. Guitar work is melodic and delivered with a virtuoso flare that exudes bravado and extreme confidence. You do not often find this combination of extreme talent all wrapped up in one package. Other subtle influences found throughout Metal Majesty 2005 include that of John Sykes (Blue Murder) the Beatles and David Coverdale (Whitesnake). This is a deeply intoxicating concoction of AOR heaven.
Valensia seems to be a stickler for detail and does not disappoint in the production department. Pristine, crystal clear vocal and guitar delivery are all mixed in a massive sonic bombast that jumps right out of the CD to grab you by the throat. Absolutely slamming.
Metal Majesty 2005 introduces the world to a first rate musician/shredder with AOR roots and a predilection for melody and fire within the frame work of emotionally drenched compositions. A true technical guitar fiend who can rip and tear with the best, Valensia delivers smoldering solo after solo. The music put forth on Metal Majesty 2005 showcases a musician who is at the top of his game with seemingly little or no limitations.
For the uninitiated - Aldous Byron Valensia Clarkson, A.K.A Flying Dutchman, hailing from The Hague Netherlands is a 34 year old musical prodigy that has sold more then 1 million copies of his debut album back in 1994. Since that time he has continued to deliver infectious musical offerings that have brought him full circle to this his latest release – Metal Majesty 2005.
All tracks found on this fine release are worthy of ones attention – my favorites include:
"We Rocked" and "Ready to Roar" – Two hard rocking numbers that combine a slamming melody with some over the top vocal harmonies. Both are catchy compositions that lay a strong AOR foundation with mind melting melodic riffs that you just have to hear over and over again. Both songs build in intensity until it is full shred ahead.
"Hold on the Night" – a John Sykes stylistically influenced romp that burns from start to finish and contains a heavy acoustic rhythm background that chugs along with a foot tapping rock vibe. Valencia incorporates almost every vocal and guitar technique available to make this tour-de-force a strong showcase for his over all ability.
Valensia is quite simply the greatest musician you probably have never heard. His music demands your attention. He is the Mozart of the AOR hard rock generation. A brilliant new artist who brings a complete package to the table. He incorporates the request palette of guitar/vocal chops combined with AOR song craft and melodic sensibilities. Valencia is one of those rare musicians who seem to be blessed with god given talents that allow him to deliver a very diverse, emotionally charged offering that combines the best of his peers. Anyone who enjoys melodic hard rock combined with over the top vocal textures will really like Metal Majesty 2005.
Guitar Mania – http://www.guitarmania.ca
juni 2004, Lion Music LMC100


TRACK LISTING
1. Grim Reeper
2. Metal Majesty
3. The Extra Terrestrial
4. Wonderful Life
5. Magic Chemistry
6. His Highness Hybris
7. Maiden Head
8. Licence To Chill
9. Everytime It Rains Again
10. Hope And Glory
11. Deborah
12. The Moon
13. Bulgarian Queen
14. Symphony In V - Minor
15. Rock Nor Roll
16. Stars Tonight

RELEASE INFORMATION
CD
Lion Music
FINLAND
2004
LMC100
28th May 2004
REVIEW
Extraordinary is the only word for this album. For those of you who love the glory, majesty, overblown pomp and supreme musicianship of early Queen - you know, when they were really rockin' - this is for you. The first 20 seconds of this album display more primal talent than the last five years worth of AOR, Prog and melodic Rock albums all put together. That is no understatement either, let me explain…
First of all, get beyond the horrendous 'Metal Majesty' tag. This is actually Valensia (a.k.a. flying Dutchman Aldous Byron Valencia Clarkson), superstar in Japan and gifted with so much talent he would make Mozart green with envy. Not only can Valensia hit every single Freddie Mercury note pure and clear as a bell, he can shred his fretboard with greater precision than Malmsteen AND perform classical piano to an outrageous standard of excellence. Valensia's control of his vocal, in both range and power, is jaw dropping. Eerily, the sheer perfection of his delivery makes certain passages, such as in 'Deborah', make you swear it was a female singing lead. To top it all the bastard is in possession of film star looks and can pen songs loaded with melody and class.
The guy's genius just might be his undoing though. Who the hell would want to be in a band with him? Who would dare? Only his drumming brother David it seems, the only other musician on this record. Nice to hear big, thudding, natural drums by the way. Valensia not only performs everything else but naturally mixed, arranged and produced the whole thing as well. It is a quite massive, lush landscape of intense Melodic Prog Hard Rock, laden with character, individuality, capped with huge harmonies and blazing solo after blazing solo. You think the latest TNT album was good? Pah! Valensia does the whole album and more in the first song!
The classic Queen comparisons are a little overdone it has to be said. Valensia is a deadringer for Mercury at his very best and when he's not simply deluging the listener in cascading, lightning fast notes his guitar tones often stray into some blatant Brian May-isms. I'm not complaining though because, quite frankly, if Queen had recorded an album this good anytime from 1990 onwards it would have, without question, been the best of their career. Sacrilege, but Hell, true nonetheless. Disturbingly, (for those of us who believe aliens are among us) Valensia's songs are equal in stature to his instrumental and vocal prowess.
The song 'Wonderful Life' is a mega-ballad powered by a breathtaking guitar break and a melody line and chorus line most AOR bands would strangle immediate family members for in trade. Stunningly next track, 'Magic Chemistry' repeats the feat. 'Licence To Chill' lifts the whole edifying monument even higher. 'Everytime It Rains Again' is a final push into unearthly realms. 'Deborah' is worthy of Perry-era Journey. Quite unbelievable.
OK, where does the boy genius fail? Where is his Achilles heel? There might be one on 'Symphony In V- Minor' where he duplicates the 'Bohemian Rhapsody' courtroom drama without deviation except the words have evolved into the nonsensical "Bonaparte, Bonaparte, Magdalene, Josephine". Aurally amazing but is it tongue in cheek? I sincerely hope so and the backwards "Bulgarian" vocal intro provides a clue here.
When Rock music is in dire, dire need of a a new focus and simply raw talent why on earth am I reviewing this record delivered to me by a perceptive yet cute little label out of Finland? Sony, EMI, BMG - get the blinkers off. This thing is loaded with hit singles and controversy. A marketing man's dream.
When you see the promo video and the dude is walking on water do not be surprised to learn it is not a special effect…

Garry Sharpe-Young www.rockdetector.com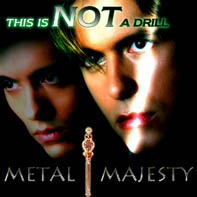 METAL MAJESTY - "This Is NOT A Drill" - LION MUSIC

I'm absolutely stunned by this release by Danish phenom Valensia. It's a little confusing to what the band name is and the album, but none of that really matters once you get into the music. I thought for a minute that Freddie Mercury had been reincarnated. There's been bands that have been influenced by Queen, then there's this project, that is the ultimate tribute to one of the worlds greatest bands.
Those of you who have listened to the deep tracks from Queen albums and "Night At The Opera" will totally get where Metal Majesty is coming from. No, you won't hear the "radio" Queen, you'll hear some extravagant, over-the-top production that Queen was famous for.
My knowledge of Valensia is very limited, but it seems he has been a bit of a mystery his entire career. Apparently he was offered a record deal at the age of 10! Well, I can see why, his compositions are nothing short of brilliant, and will unfortuately go way over the heads of the average music fan. But for the rest of us who love this type of material, we're in Heaven.
Now, before I start getting carried away, I must point out some of the flaws as well, which pains me to do considering the work put into the album. Ironically, at times I think Valensia outsmarts himself and trys TOO hard to make the music intricite. For instance, "Wonderful Life" is a beautiful song with an amazing chorus that get's a bit to detailed at times. This could have been another "Spread Your Wings" if not for the progression of the song. Prog fans will argue with me to the death on this, but I would have rather had a four minute mid-tempo ballad that a nearly six minute extravagant song.
Valensia's genius will mostly likely not be understood by the fad obsessed American crowd, but then again, I didn't think The Darkness would have the success they did either. Valensia is still a little too caught up in that 80's AOR sound, which isn't necessarily a bad thing, it's just not real "cool" here in the States.
Other notable tracks are "Hope And Glory", which might be closest thing to Queen since Queen. You will be truly amazed at how he's even able to replicate he backing vocals Queen produced. I'm telling you right now, if you think Justin Hawkins sounds like Freddy Mercury, Valensia will change your mind, I think he could fool even the biggest Queen fan.
"Rock Nor Roll" is one of the more accessible songs, and the guitars sound like David Lee Roth's "Goin' Crazy". "Deborah" is a total AOR song that probably is closer to Toto than Queen. Finally "Stars Tonight" is another track where he absolutely NAILS Freddie Mercury in every possible way. Even the guitars on this track are close to the sound produced by Brian May.
"License To Chill" will be embraced by anyone who thought the 90's were the dark days of music. It's not my favorite song on the album, but certainly the most poignant.
Lyrically the album is a bit weak, but there's so much going on with the music you don't even notice. The compositions are like nothing you've heard in years. The melodies and harmonies are brilliant. You get the feeling that Valensia could write simple Pop songs all day long, but he'd probably go insane with boredom. This is really the opposite of Pop in many ways. It won't transfer great live or even over the radio, but on a kickass home stereo with surround sound cranked up, you can bring back the glory days of the 70's when the music was made for arenas and the writing was spectacular. It's such a pleasure to hear this in 2004 when corporate music has taken over the airwaves.

METAL MAJESTY 'This Is Not A Drill' Lion Music (2004) www.lionmusic.com
Metal who? It is in fact that genius of the vocal harmonies Valensia! Now
his 'Blue Album' that Escape Music released earlier this year is a must have
for all Queen/pomp rock fans out there and this album isn't far behind!
Definitely more metal, especially guitar wise but those multi-layered
harmonies are firmly in place ('Grim Reeper' demonstrates this big time) and
Valensia's love of all things Queen is apparent as well. Highlights? Near
enough the whole damn album! But at a push 'Magic Chemistry' with soaring
backing vocals and a wall of guitars, 'Licence To Chill' that takes it down
a notch and 'Metal Majesty' that puts the pomp back into rock!
Queen fans just go and buy this, plain and simple. Otherwise if you enjoy
the OTT side of rock and metal coupled with a fantastic voice then you
really should check this album out. A fitting way for Lion Music to mark its
100th release - well done!

****1/2
Jason Ritchie
The home of classic, metal, AOR, folk & progressive rock -
http://www.getreadytorock.com
Metal Majesty - This Is Not A Drill
Lion Music
Ferdi: The talented singer, composer and multi-instrumentalist Valensia – most known for his hitsingle 'Gaia' ten years ago – is one of the most productive people from the Netherlands in the prog/rockscene. Every year he releases at least one or two records under various names. He doesn't have to do it for they money though: the millions of records he sold, mostly in Japan, already warrant his retirement-fund.
Metal Majesty is a new project in which Valencia makes heavier music than what we have heard from him so far. The music sounds a lot like Queen going prog. This European pressing of 'This Is Not A Drill' contains a whopping 15 songs that sound suspiciously close to what Bryan May and co once wrote. Especially with his vocal styles and excessive way of producing, Valensia sounds suspiciously close to Freddie Mercury. Other resemblance's are Styxx and Robbie Valentine.
A fair share pf brilliant arrangements and witty lyrics make 'This Is Not A Drill' a record that you should have heard at least once. Complex, sure, but at the same time still comprehensible thanks to Valensia's crystal-clear production. As the adult counterpart, Valensia has earned a lot of credibility with this record. Songs like 'Magic Chemisty' (uptempo rocksong), 'Wonderful Life' (gorgeous semi-ballad) 'Everytimne It Rains Again' (Mennen-like hardrock), 'Rock Nor Roll' (quirky hardrock) and an ode to Queen's 'Bohemian Rhapsody' make this one of the most fun records of this month.
The record's 70-plus minutes may make it too long to qualify this as a record that is easy to get into. Nevertheless it is a journey from one highlight to the other, an experience that I can recommend to everyone.
Rating: 80/100 www.lordsofmetal.nl