Nightscape - Symphony Of The Night

*=Staff's pick
Haunted Hill*
Higher Than Life*
Merlin*
Across The Sky*
Home
The Serpent King
Rage Divine
Curse And Damnation*
Symphony Of The Night*
The Nightscape story began in the year 2000 in the town of Skellefteå along the Baltic Sea coast in northern Sweden. The founding members Simon Åkesson and Joakim Wiklund had musical education at college and one day during one of many jamming sessions they came up with a few riffs and recorded it on computer. The idea to start a band of their own was born and even though five years have passed the band still consists of really young musicians, between the ages of 18- 20. That's not an evident factor in their music though, since this has a much more mature sound than you could expect when looking at their birth certificates. But don't let describing words like Stratovarius, Sonata Arctica, Celesty, neoclassic inputs, Malmsteen inspiration and happy symphonic metal be discouraging here dear readers. Even though that's the kind of power metal Swedish Nightscape deliver on their debut Symphony of the Night I still urge you to keep reading. This is namely no copycat getting down to business or just another one of those mainstream bands categorized as initially described. No, on the contrary Nightscape is a six piece that has enough quality and above all, a majority of great tracks and an outstanding musicianship to really stand out among the many other bands that are trying to go down this beaten and overpopulated road.
From more neo-classical edged tracks like the opening Haunted Hill and Curse and Damnation to the speedy power metal numbers Higher Than Life and Across the Sky and to more solely happy metal songs like Home, Nightscape provide an almost endless abundance of melodies and harmonies. The band just doesn't seem satisfied until the guitars and keyboards that work in perfect unison have shifted between as many great melodies as they can possibly can within each number. The guitar playing by Åkesson and Wiklund shows serious proof of extremely Malmsteen quick as lightening fingers and also seriously good work in the more "standard" playing this kind of metal usually contains. Very often the tracks contain at least minute long interludes and solo-sections and together they put on a very good metal show. The symphonic keyboard playing makes me think of Celesty but it's also possible to draw some parallels to Power Quest when the heavier fashion of this instrument is used. This in aspect, Nightscape is therefore one of the bands you ultimately also hope some day will release an instrumental album even though the band also has a very good vocalist. Simon Åkesson has a nice clean soaring voice that more than once makes me think of more well known singers like Michael Kiske and Timo Kotipelto. Åkesson though really stays much more on note and is not even close to Kotipelto's false and out of tune parts which is a very relieving input. He does sound a little more restrained in the verse of the speedy The Serpent King and maybe he could come up with a more varied repertoire next time but otherwise he's certainly doing a great debut performance. The production also follows the metal pattern in this category with its crystal clear features but maybe it could have seen a little more power in the bass and drum sections. Otherwise it's a very good one, more than sufficient for a debut album and a very suiting atmosphere has been created.
This entire issue reminds me very much of Timeless Miracle, not in musical aspects, but in terms of freshness and new and positive vibe I strongly felt this area of the metal scene really needed with Sonata Arctica and Stratovarius not nearly delivering at their peaks anymore. Light, speedy and symphonic are three very good describing words of Nightscape and the strong vitality delivered really puts me in a very good mood. These youngsters give the impression of having endless potential and already have all the components necessary to build something even better from based on their solid and technical musical skills. Fans of Sontata Arctica, Stratovarius, Virtoucity, Celesty and Power Quest surely will get more than they bargained for with this album. It's got enough class and great compositions to really be a strong contender for entering my top 10 list of the year. Trust me here folks, it really is that good and not only does Nightscape in many ways surpass their counterparts in mainly Finland, they also set the norm on how power metal in this category should be delivered.

Related links: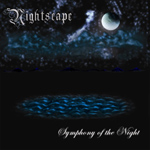 NIGHTSCAPE - SYMPHONY OF THE NIGHT
Lion Music Contributed by Panu Koski
www.imhotep.fi
One should not judge a record by its track listing. Nightscape, a young power metal act hailing from Sweden, tries to scare the record buying public away with titles such as "The Haunted Hill", "Curse And Damnation", and - believe it or not - "Merlin". Yes, this is appallingly clichéd, not to mention exhilaratingly naïve, but the songs themselves are absolutely wonderful.
The nine tracks on offer are chock-full of marvelous and uplifting melodies, and singer Simon Åkesson's voice is tailor-made for this kind of shamelessly joyous power metal. The omnipresent beautiful melodies remind one of Swedish melodic metallers Supreme Majesty, but with Nightscape the tempo is naturally much faster. "Higher Than Life", the aforementioned "Merlin", and the title track - among many others - are all prime examples of how enjoyable melodic power metal can be.
"Symphony Of The Night" shows that metal definitely does not have to be all gloom and doom; this is the type of music that makes one smile and enjoy life for a brief moment, and isn't good music supposed to do just that? With a debut album of this caliber, one can't wait to hear what these Swedes will come up with next time. While obviously not perfect (what is?), "Symphony Of The Night" is nonetheless a highly entertaining debut album.
(2005) 44 min.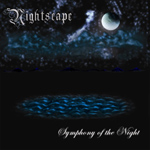 NIGHTSCAPE 'Symphony Of The Night' Lion Music (2005) www.lionmuisc.com
Power metal is certainly the 'in thing' in metal circles at the moment with magazines like 'Terrorizer' devoting whole issues to the genre and now we have this debut offering from a young Swedish band. I am happy to report that after a few spins this really is a rather decent album and one that fans of fast paced melodic/power metal will like. It reminded me very much of Power Quest and that band's debut album and even in parts Dragonforce, mainly the speed of the guitar solos from Joakim Wiklund. 'Haunted Hill' with its Manowar style choir midway through and 'Merlin' are definate highpoints. The only downside is the sheer speed of the whole album as it would have been nice to have a mid-tempo number or even a ballad thrown into the overall mix.
Nightscape are certainly a band worth keeping an eye on, especially if you enjoy fast paced power metal and it will be interesting to see how their second album turns out.
***1/2
Jason Ritchie www.getreadytorock.com
Genre
Power/Heavy Metal

Simon Åkesson

Vocals

Tracks
9

Pontus Åkesson

Guitar

Runningtime
43 Min.

Joakim Wiklund

Guitar

Label
Lion Music

Stefan Widmark

Bass

Release
12 Sept. 2005

Marcus Sundquist

Drums

Country
Sweden

Tyler Voelz

Keyboards

Similar artists
Stratovarius, Sonata Arctica, Power Quest

Production

Vocals

Compositions

8,5

7,5

8,5

Summary

8 chalices of 10 - Mat

Sunday, 25 September 2005
80/100
Nightscape - Symphony Of The Night (Lion Music) By: Joe Florez
More Swedish neo-classical power metal continues to over populate the world and scene. Nightscape (cool name by the way) make their debut on the ever growing Lion Music label. "The Haunted Hill" sounds just like you would imagine. Clean semi-high vocals from Simon loaded with typical over saturated keys, but performed with class and the pacing is just right. I have to say that while they don't offer anything new and they play it safe this is done quite well. The musicianship is very tight and they do like to venture out and get a little heavy at certain points, but it works. "Higher Than Life" blew my mind not so much because of the music, but the solo was just amazing. I was in awe by what these cats are
capable of. It was just full of surprises in the sense that it wasn't as predictable as the rest of the music. "Home" is one of the best tracks on here because the band takes a slightly different approach toward songwriting. It's not a duplicate of anything you have heard either on here or anywhere else. There is a consistent mid paced double bass drumming with the vocals soaring to the heavens, but not in an obnoxious way and the atmosphere provided is just incredible. It's a real piece of work. Overall, the band knows what they are doing, but they fall into that trap where the music sounds like everyone else before them. The potential for this five piece is endless and I know that there is hope for them, but they have to get their act together and come up with original material.
www.live4metal.com
BAND >>
CD >>
LABEL >>
MARK>>
NIGHTSCAPE
SYMPHONY OF THE NIGHT
LION MUSIC (2005)
78%

Power metal fans should check this band out! Fans of Stratovarius and even Hammerfall and the likes, will probably enjoy this new release. It's quite hard these days to put out a power metal record and sound unique and I don't think that Nightscape's sound was so unique but one things for sure is that this album got strong songs that will stick in the head of fans of the genre. The production is also crystal clear and sound heavy as hell! Another very good point is the powerfull vocalist Simon Akesson. This guy can sing! He's got a very strong voice, as strong as the well know power metal singers you all know! The keyboards, the strong guitar melodies and the catchy chorus are a couple of highlights you'll find in Symphony of the Night. As I said, it's not sounding fresh & new but this is solid symphonic metal that definitly deserve attention!