Palace Terrace CD's

Flying Through Infinity(CD)

Euro (Europe)

USD (North America, Asia)

South American customers will be charged 7.00 USD extra for registered mail.

Palace Terrace is a progressive and neoclassical rock band with a theatrical and modern edge. Their music combines superb musicianship, beautifully crafted melodies, unique harmonic progressions, compelling stories, counterpoint, large orchestrations, wide dynamics, odd meters, stunning vocal arrangements and elaborate forms.
Track Listing
I] The Tenth Dimension
II] Chaos Theory
III] Time Will Tell
IV] I Know Your Home
V] Who Am I
VI] Declaration
VII] Lights Fall Down
VIII] From This Day Forward
IX] End of Time
X] Mesmerized



Related links:
George Bellas
REVIEWS:

Palace Terrace - Flying Through Infinity
Lion Music
file under Prog / Sympho metal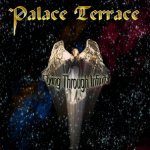 Winston: That George…who? George Bellas! This multi-musician got an idea to start a progressive and neoclassical band project with both a modern and a theatrical touch. Under the name of Place Terrace surfaces the first album 'Flying Through Infinity' and I can't be anything than enthusiastic about it. What Bellas (someone who like his name th·t much mentions it no less than sixteen times) did is quite impressive really. Together with classical singer John R. Marshall, who handles this kind of music really well and percussionist Sasha Horn this album offers a lot of what you can expect of a prog metal album nowadays.

Technical skilled, counter rhythms and other wizardry are heard but fortunately also melody and feeling. With the dicovery of Marshall Bellas was able to give the album a certain boost. I'm reminded of Pain of Salvation and Daniel Gildenlˆw and then also of Ayreon. Bellas did about everything but vocals and drums so maybe he lost the total view a bit, I would have liked a slight heavier sound. For the orchestral and guitar parts, that is. That's about the only point of criticism or maybe he should have chosen a different title, as it doesn't differ that much from a DreaM Theater album. Progfans can rejoice with this one.
Rating: 87/100 (details)