Palmqvist, Daniel: A Landscape Made From Dreams
Citing the usual inspirations (Yngwie Malmsteen, Pat Metheny, Allan Holdsworth) — as well as a few surprises (Steve Lukather! Dan Huff! Kee Marcello!) — Swedish guitarist Daniel Palmqvist has released a thoroughly enjoyable all-instrumental debut album. A Landscape Made From Dreams was recorded over an astonishingly brief two-and-a-half-month period with drummer and keyboardist Daniel Flores (who also produced this record) and bassist Johann Niemann, both of the prog-rock band Mind's Eye. Additional keyboard contributions come from a series of session players. Kudos to Palmqvist for not allowing any one instrument to dominate, making this solo disc sound more like a band effort. Palmqvist — who says he wanted to make an album "that would appeal to both guitar players and non-musicians alike" — evokes multiple moods with his playful style and provocative melodies. He shows off soaring leads over Flores' crashing piano plunges on "Riddle Me This" and brutally assaults his instrument on "Carte Blanche," a song tempered in the middle with more sparkling keys. He boogies on "Truffle Shuffle," while the massive "Words of Wisdom" and the title track build to epic proportions and close the album on a literal slew of positive notes. You can almost hear the words.


Track Listing:
1) Welcome
2) Devil's Dance
3) Moment of Clarity
4) If Things Were Different
5) Riddle Me This
6) Carte Blanche
7) After the Rain
8) Truffle Shuffle
9) Behind the Mirror
10) Song for Pongo
11) Words of Wisdom
12) A Landscape Made From Dreams (Farewell)
Added: July 18th 2006
Reviewer: Michael Popke www.seaoftranquility.org
Score: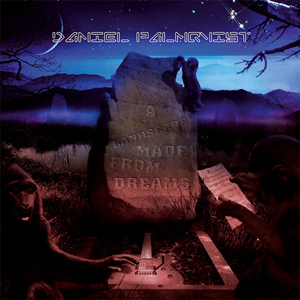 DANIEL PALMQVIST - A LANDSCAPE MADE FROM DREAMS (B+) Lion Music, 2006
12 tracks, RT: 44:49
[ http://www.danielpalmqvist.com/ ]
[ http://www.lionmusic.com/palmqvist_dreams.htm ]
[ http://www.lionmusic.com/ ]
Where do they all come from? Well, Daniel Palmqvist hails from Sweden and is the latest in a long line of Lion shredders ready to unleash quality instrumental fretburning on the world. A LANDSCAPE MADE FROM DREAMS is Daniel's debut release and showcases his ear for melodic compositions and smooth virtuosic capability. "Devil's Dance" is a good representation of what Daniel is all about, with a hypnotic groove providing a sonic landscape over which he improvises and embellishes impressively; on songs like "Moment Of Clarity" and "Riddle Me This," Daniel opts for a relaxed, emotional approach but is still able to work amazing shred techniques into the flowing arrangements. Daniel doesn't keep it all serene though, enlivening the proceedings with rockers like "Carte Blanche, "Truffle Shuffle" and "Song For Pongo." I guess stylistically A LANDSCAPE MADE FROM DREAMS is most similar to TIME ODYSSEY-era Vinnie Moore combined with instrumental Eric Johnson; produced by Daniel Flores (Mind's Eye), the album has a great sound and the pieces are sequenced well. If you are a fan of instrumental guitar albums, I can confidently recommend A LANDSCAPE MADE FROM DREAMS, and with a debut this strong I'm interested to hear what this talented musician does next... - Neal Woodall (MysticX9@gmail.com)

Detritus Rock/Metal e-zine
"Rock Hard With A Purpose"
http://groups.yahoo.com/group/Detritus/
Daniel Palmqvist - A Landscape Made From Dreams


2006 Lion Music

With all the guitar based records I listen to and all the new players I am introduced to, there is something about Daniel Palmqvist's playing and the overall production value of A Landscape Made From Dreams, that really drew me in. It's not your typical shredder/metal release, its more along the lines of a songwriters' record, without words, and with all the playing here, there is almost no need for them.

Of course the axe provides the 'voice,' but there are 'voices,' hence the guitar riffs layered upon each other, playing with and against each other to present a dense but of course a melodic stance towards the musical approach that he pronounces on this record. Stylistically, it is as if you take Lifeson, Satriani, and (Eric) Johnson with records such as Signals/Grace Under Pressure, Flying in a Blue Dream, Ah Via Musicom through different personalities.

Palmqvist flows with eased back jazz styling on the ballad of "If things Were Different," portraying a high emotional stance on "After the Rain," as well as executing heavy and chaotic moments with "Devil's Dance," "Truffle Shuffle" the funkified groove of "Sing for Pongo," and the nod to power metal on "Carte Blanche;" for which all the shredding isn't for the sake of just shredding, Palmqvist knows how to play an extremely fluid plethora of melodies. His playing definitely stands out, showing that you don't have to go into reckless improvisations to prove a musical point.
Added: July 8th 2006
Reviewer: Tommy Hash www.ytsejam.com
Score: