The Sean Baker Orchestra Baker's Dozen
by Joe Mis
Staff Writer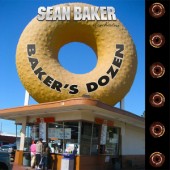 Baker's Dozen is the second release by guitar master and Michigan native Sean Baker. Fans of instrumental guitar rock are in for a real treat. Thirteen tracks comprise Baker's Dozen and vary in style from shred metal to classical and almost anything (and everything) in between.
Sean Baker has stocked the band with fellow guitarist Cmak Ashtiani, bassist David Donigian and drummer Lawrence Wilson. Mix in a few guests, and you have the makings of every guitarist's fantasy.
"Dukes Of New York" is a real rocker with a great rhythm line, some blindingly fast guitar work and prog-metal style tempo changes. Flashes of Lynch, Metallica and Megadeth abound. "Pummel U" also is an intense high-speed track with a grinding rhythm line and lyrical guitars, reminiscent of Racer X and Yngwie Malmsteen. Baker and Ashtiani really give themselves a chance to show off their chops. "Ballvice" drops the tempo a bit, but not the intensity. This piece channels the spirit of David Chastain and melds it with a real Racer X rhythm line.
Guest guitarist Joe Stump joins SBO on "Neo-Classical Gas" – yes, it is definitely a classically tinged track that would make Malmsteen or Paganini proud. "7/24/04" is a sweet and smooth acoustic song, although the transition from the high-energy stuff to a simple acoustic guitar piece is a bit jarring. "Steve's Blackout" turns everything back up to 11 with an almost industrial metal riff and some really heavy contributions from bass and drum, although some of the riff work becomes a little repetitious along the way. Racer X alum Bruce Bouillet joins the band for a shred showcase in "Playing Opossum." "Poindexter" has a great groove with some classical overtones. "Highway Star" is the true highlight of the album - the guys from Deep Purple would be proud. "Mike Varney's Mexican Vacation" mixes a little flamenco with a little shred – must have been a good trip. "Whichway To Radioland?" and "Verbal Skillz" (with guest guitarist Rusty Cooley) are more conventional rock instrumentals with great rhythm lines and solid solos. The acoustic Bach's "Two Part Invention In C Major" is a great way to wrap up the disc; it's well done, soft and mellow.
Occasionally, it seems that Baker and crew fall back on the old shredder's mantra of, "If you can't play good, play fast," and that is a bit sad since, in this case, it is totally unnecessary. Everything they play is good, yet occasionally a well-structured song turns into a blistering barrage of notes as if they were doing "speed for the sake of speed." The members of this four-man "orchestra" are all incredibly talented and have no need to rely on the old crutches. They need to distance themselves from the clichés and focus on defining their own identity as a group.
The production and engineering are very good, and the guitars are obviously highlighted. Sean baker gets production credit, with Bruce Bouillet lending a hand at the mixing board. The sound is very balanced across the entire album, and the technical proficiency (and raw enthusiasm) of all of the players really shows.
If you like guitars, this one is for you. If you are looking for deep meaning and angst, look elsewhere. This album was done with no apologies by a guitar freak for fellow guitar freaks, so crank it up!
Label: Lion Music
Web: www.theseanbakerorchestra.com
http://www.myspace.com/theseanbakerorchestra
http://www.lionmusic.com/cd/bakersdozen.htm
Track Listing:
01. Dukes Of New York
02. Pummel U
03. Ballvice
04. Neo-Classical Gas
05. 7/24/04
06. Steve's Blackout
07. Playing Opossum
08. Poindexter
09. Highway Star
10. Mike Varney's Mexican Vacation
11. Whichway To Radioland?
12. Verbal Skillz
13. Two Part Invention In C Major
HRH Rating: 8/10