Lion Music
Rating - 8/10
Review Steve Atkinson www.hardrockhouse.com
---
To write an accurate review I think you owe the artist a fair stab and a genuine period to listen to their given product. The sequence of events therefore ensued, having written the review for Hubi Meisel's "Kailash" which is a good if labouring album, I decided to clear the head with a proper "no-brainer", a tune that just has no relation to what you've heard over the last few days and gives the brain a chance to reset the levels and return a state of clarity (if not grinning like a twat), tonight's meaty morsel turned out to be Saxon's seminal "Wheels Of Steel", twat possibly, grinning definitely.

With thanks to the aural cleansing equivalent of a vindaloo, I dug back to this album from Section A, a CD that I've heard over the last few days and keep slipping back to in an almost familiar sense. Much like the Saxon classic or "Back In Black", this is an instant grab, ballsy riffs with a catchy take on genuine melody. Similar in feel to the soon-to-be classic "Tattooed Heart" by Evidence One, "Parallel Lives" has the potential to be an absolute benchmark of the genre. Grinding riffs with sublime solo sequences, combined with vocal power and a metronomic, gut wrenching bass and drum section. And the combined ability to write some really good tunes, being able to switch between a heavy grind to a lighter, multi-layered vocal section gives the band a range of options. "Awakening" demonstrates a reflective feel, whilst opener "Hunted" shows a bit of fire.

As this is a progressive piece, there's a concept, the story of William a guy who transcends parallel universes whilst dreaming. In honesty this is a thread, it's useful to know what the story is about, but the songs are so ultimately accessible that they also stand on their individual merit. Which broadens the appeal. Conclusion? Well written, well played, well-produced collection that form the basis of a story if you want and some quality music if you don't.

Track List

Hunted
The Gift
Awakening
Dark Alliance
Moment Of Truth
Hoping For A Miracle
Changing The Past
Beginning Of The End

Line Up

Andy Engberg - Vocals
Torben Enevoldsen - Guitars/Keyboards
Johan Koleberg - Drums
Mats Olausson - Keyboards Pontus Egberg - Bass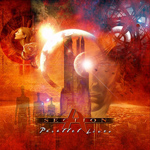 Section A - Parallel Worlds
(Lion Music)
By: Joe Florez
www.live4metal.com
I know that this name doesn't ring a bell, so I will explain briefly. The main man behind this band is Torben Enevoldsen, a fabulous guitarist. Read my May 14th review of his solo album "Flying Solo." More details are provided there. In addition to that, he formed Section A about three years ago and pumped out an amazing piece of prog/power metal. It's now round two and while the debut had more traditional values that everyone is used to, this one takes it one step forward. For starters, the tone is slightly lower. Torben's work has more muscle and aggression behind it. Nothing too elegant displayed here. Andy Engberg's voice is packed with passion and boy can he hold his voice in check when the comes time to stretch out some of the notes. The song is pretty simple for the most part with an occasional time change or complex section, but it's very minor. However, come solo time Mr. Enevoldsen doesn't perform as if he was injected with racing fuel. He goes more for the feeling and it shows. It's slightly slow, but you can tell he put time into it and it's well thought out. There is nothing sloppy here and every note counts. Just to show how diversified the young future guitar hero can be "Awakening" is a ballad of sorts that not only adds a female vocalist to the mix, but he throws in acoustic six string and plays Latin style making this power ballad a sure fire hit that isn't loaded with cheese. What is cool about this little ditty is that not only is it sensitive, but there is some minor shredding going on just to make sure that you are awake. As we move on from song to song, the sounds shift a bit going from somber to power packed and some flashy soloing is executed from time to time. Everything that you could want from an album is balanced just right, from the performances to the sounds. Perhaps this time around, more people will be exposed to something truly adventurous and even daring at times. Is this formulaic prog? To a slight degree, but when you put this in you will discover just what it is that Section A has to deliver and boy is it BIG.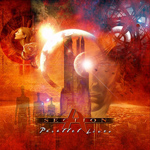 SECTION A 'Parallel Lives
' lion Music (2006)
www.lionmusic.com
Section A are back with their second album, a concept piece and a follow-up to the very good 'The Seventh Sign'. Vocalist Andy Engberg and guitar whiz Torben Enevoldsen are joined this time around by drummer Johan Koleberg with guests including ex-Malmsteen keyboards player Mats Olausson. The main concept is built around William who can travel between parallel universes but without any control over his travelling. Musically the band stretch themselves more than on the debut both time wise on the songs and musically with more soloing. The change of drummer has seen think take an almost groove laden edge as can be heard on 'The Gift'. 'Dark Alliance' is a real power metal romp with solos and fantasy lyrics to the fore. Section A have progressed on from their solid debut album and I feel their next album could really be their breakthrough release. If you enjoyed the band's first release I recommend you get this one pronto. ***1/2 Jason Ritchie
Reviews Editor, Get Ready To Rock!
www.getreadytorock.com

Section A - The seventh sign - (Lion music) progressive metal
RECORD OF THE MONTH!
I wasn't that impressed by this album at first, but the more I listened the better it sounded, and now I love it. I should have realised this, it contains one of my absolut favourite guitarplayers. The Danish guy Torben Enevoldsen. Hes fantastic! With a singer like Andy Engberg and a drummer like Andreas Lill, and guest appereances from Derek Sherinian and Günter Werno this album just needed good songs. And so it has. A really superb album, Enevoldsen are a rising star on the metal heaven...
Level 11 Teddy Jonasson 9/10
SECTION A - The Seventh Sign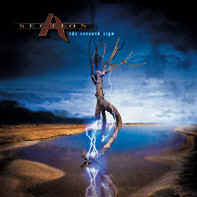 The Danish guitarist Torben Enevoldsen has put together a project called Section A. Torben started playing guitar
in the early eighties, influenced by Toni Iommi, Ritchie Blackmore and Edward Van Halen. In 1990 Torben decided
to realize his dreams, he started to practice every day on guitar techniques and improvisational skills. He started to
play with several bands in Denmark, something that gave him experience playing live, he also worked with his home
studio with a drum machine and a bass. The instrumental songs started to come and he presented them for studio
engineer Torben Lysholm who got very exited and invited him to record some songs in his studio,it resulted in a demo
CD called Just In Case. In 1997 he went back to studio again and recorded an nine track demo, two of the songs
with vocal. Right after that he signed a record deal in Holland, the debut album Guitarismo was released in 1998.
Since then there have been two more albums, Heavy Persuasion 2000 and Guitarismo was re-released in 2001on
Lion Music in Finland. Torben also worked with Lars Eric Mattson and he played on a tribute CD to Jason Becker.
Round 2001 the work had begun with Section A. Torben is a fan of Vanden Plas and he saw the band live in 98, he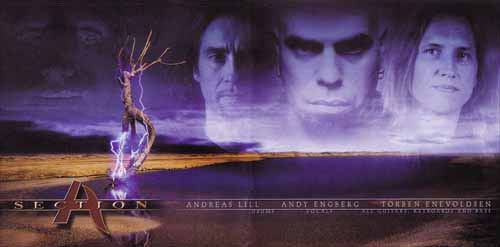 contacted drummer from Vanden Plas, Andreas Lill and he was interested to join Section A. The vocals is handled
by Andy Engberg from Lion`s Share and the two known keyboardists Günter Werno (Vanden Plas) and Derek
Sherinian (Planet X) play on some of the tracks on the album. Section A is not just another project, this album is
the best project album I have heard in a very long time. Melodic hard rock mixed up with prog metal is what Section
A is about. Torben has written all the songs and produced the album, who has an incredible good sound. The songs
are strong like the title track The Seventh Sign, who opens with an intro who goes over to an instrumental part before
the vocals comes in. Andy Engberg has a perfect voice and suits the songs perfectly. The guitar playing from Torben
is incredibly good, I like the way he plays on and when he plays solo`s on the instrumental parts on the album it gives
me great feelings, he has this right sound and feeling that are giving me good vibes when I hear him play. As I said earlier
this is not just another project this is one of the best I heard in long time, just listen to the next song Riot, with excellent
vocals, guitars, drums and keyboards, it`s a pleasure to hear such great musical skills and good songs. I have been
a fan of Andreas Lill for some years now, he is one of my favorite drummers. Just take a little time off and hear his
technique on this album, it`s great. The songs are long and variable, Pray For The Rain is a bit slower than the
previous ones, more ballad like at the start, but it builds up and has a top around the refrain part, and the guitar solo
at the end. This album is a highlight in this genre with eight very strong songs who will take you on a journey you will
like, give it a try you will not be disappointed.
http://www.torbenenevoldsen.com/
Section A are:

Torben Enevoldsen - Guitars, Keyboards, Bass
Andy Engberg - Vocals
Andreas Lill - Drums
Derek Sherinian - Keyboards
Günter Werno - Keyboards
---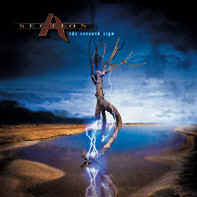 SECTION A - THE SEVENTH SIGN (2003, LION MUSIC)
JAWDROPPER!! 100/100

Torben Enevoldsen - all guitars; keyboards and bass
Andy Engberg - vocals
Andreas Lill - drums

Special Guests: Derek Sherinian - keyboard solos on 'The Seventh Sign' and
'Nightmare'
Gunter Werno -keyboard solo on 'Tomorrow'

Touting a band as being a supergroup can be a dangerous business. Immediately you assume that the quality is going to be right up there, considering the calibre of musicians involved. Section A is definitely made of some heavyweights from the melodic prog metal community. Torben Enevoldsen has carved out a distinguished solo career. Andreas Lill is a member of German prog metal giants Vanden Plas. Vocalist Andy Engberg was a long time member of Lions Share. Add Derek Sherinian and Gunter Werno and it's a very impressive mix. What is even more impressive is their album 'Seventh Sign'. I'd prefer to leave it at that and urge you to get what could quite easily be the album of the year. If I don't want my editor to kick my butt, I'm going to have to come up with a few more words than that.
Section A is the dream of Enevoldsen who wanted to release an all vocal album, with musicians that he had a desire to work with. Hence the inclusion of Engberg, Lill, Sherinian and Werno. As Pagans Mind did last year, Section A has taken melodic progressive metal to a completely new level. Fans of Lions Share, Vanden Plas and Torben's work won't have any problems taking in Section A. 'The Seventh Sign' gets off to a monstrous start with the title track, full of crunching riffs, swirling proggy keyboards and Torben decimating his fretboard. You better run for cover when the next track hits as there's a 'Riot' coming. A stunning, rampaging melodic metal anthem that has a soaring solo in the mid-section.
'Pray For Rain' is essentially a power ballad. Andy's vocals really are quite exceptional. Torben adds some Jim Matheos style riffing to his arsenal on 'Nightmare', and there's a very smooth pre-chorus and chorus stacked with harmony. The longest track and most progressive is 'Tomorrow'. There are a number of time changes and fusion soloing. The chorus has the stamp of Lions Share. 'Man In The Mirror' is a mid-tempo melodic rocker with a very catchy chorus. By now I'm struggling to find any more superlatives to describe Section A. So, bugger it. The final two tracks, 'Killing Fields' and 'Into The Fire' are just as good as anything that's gone before them.
Though Torben wanted a full vocal album, there are many moments during 'The Seventh Sign' when he stakes a strong claim to being one of the best seven stringers in the business. His solo runs are incredibly fluid, melodic and jaw droppingly good. If you stand his keyboard work up next to Sherinian and Werno, he's no slouch at that either. The work of the aforementioned keyboard wizards is also exemplary. Andy Engberg already had a great reputation as a vocalist, and that will be solidified even more with his faultless and impassioned delivery. Mention also needs to be made of the stunning artwork and packaging, and whether it is the artwork or the music, these guys can do no wrong. The book of progressive metal is being rewritten and it starts with Section A.

Review By: Luigi Cisaria
URL: www.torbenenevoldsen.com: www.lionmusic.com
Track Time: 57:25

Track Listing:

01 The Seventh Sign
02 Riot
03 Pray For Rain
04 Nighmare
05 Tomorrow
06 The Man In The Mirror
07 Killing Fields
08 Into The Fire
---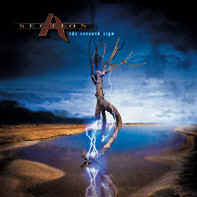 SECTION A 'The Seventh Sign' LMC072 Lion Music (2003)
http://www.lionmusic.com (out now)
The brainchild of Danish guitarist Torben Enevoldsen, who has recruited Vanden Plas drummer Andreas Lil and ex-Lions Share vocalist Andy Engberg, plus guest keyboard players Derek Sherinian (Dream Theater/Planet X) and Gunter Werno (Vanden Plas). Section A play competent prog metal with a hard rock edge to it. Opening the album is the eight-minute plus epic 'The Seventh Sign', which sets out the band's style. Crunching guitar riffs, keys layered over the top and a pounding rhythm section. More metal assault on 'Riot' with cracking guitar solos. Vocalist Andy Engberg suits the musical style well, with his screams in the right places! But there is changes of pace on here, as 'Pray For Rain' slows it right down. This track almost enters Dokken territory, with the guitars notched up only at the chorus. Album highlight has to be the epic 'Tomorrow' which changes pace with style throughout the song. It also features keys from Gunter Werno, who lets fly with his talents in the last part of the song. Good, solid well played progressive metal/hard rock and some sterling guitar solos on here. If you like this genre of music well worth further investigation.

Classic Rock Newswire -
News, interviews & reviews from the world of rock, metal & AOR all in one
place. To subscribe -
E-mail - classicrocknewssubscribe@yahoogroups.com
Web - http://www.groups.yahoo.com/group/classicrocknews/join

The new home of classic & progressive rock -
http://www.getreadytorock.com
---


SEVENTH SIGN / Section A
Lion Music 2003
Reviewed by The Atomic Chaser for Dedicated Rocker
Productions

An auditory mind blowing experience is what awaits you once you hear the remarkable debut release ,'Seventh Sign'on Lion Music Records from prog rocks latest juggernauts, Section A. Section A is, Torben Enevoldsen on guitar, bass and keyboard. Andy Engberg (Lion's Share) on vocals and Andreas Lill (Vanden Plas) on drums. Adding to theprogressive ambience are keyboard virtuosos, Derek Sherinian (Dream Theater) and Gunter Werno (Vanden Plas). If you ever wonder what it would be like to have your psyche sucked down a rabbit hole and brought a state of musical suspended animation, listening to this CD will be the next best thing. Section A's 'Seventh Sign' is a complex mix of hard rock fused with an aggressive blend of progressive arrangements that will your senses in a state of euphoric splendor. I was very impressed with Torben Enevoldsen's music genius. Especially his guitar playing. Very dynamic and energetic that at times reminded me of such players like, Tony MaCalpine and Shawn Lane. Though his playing may echo these great players, make no doubt Torben is definitely in a league all his own. As is evident on the title track that opens the CD. Between Torben's stellar guitar work, Andy Engberg's powerful vocals and Andreas Lill's precession drumming, it was obvious to me that this trio's chemistry was as tight as a glove. The musical arrangements on songs like, "Pray For Rain" and "The Man In The Mirror", simply blew me away. Every song on this CD has its own character and personality. 'Seventh Sign' is the kind of album that you put on and let its music take you where ever it wants to. Knowing that, when you finish listening, it was a musical experience that blew you away would love to take over and over again. They say first impressions are everything and my first impression of Section A is progressive rock trio that has taken the genre onto the next level. This one band that you will be hearing about it a lot in the years to come. They also say actions speak louder that words. Get your hands on Section A's, 'Seventh Sign' and experience what musical brilliance is all about for yourselves. - The Atomic Chaser

Overall Rating: 85/100 ESSENTIAL
Tony Sison aka The Atomic Chaser
---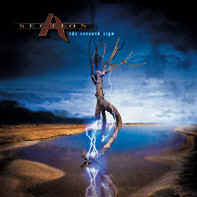 SECTION A - THE SEVENTH SIGN (2003, LION MUSIC)
Although maybe some people haven't heard of some of the musicians in this band, Section A has a plethora of talent. I really like Torben Enevoldsen's guitar work and having wrapped a great band around himself including Vanden Plas drummer Andreas Lill, and former Lion's Share vocalist Andy Engberg, Section A was a reality. Also along for the ride in guest spots was Gunter Werno from Vanden Plas and Derek Sherinian from Planet X. Enevoldsen handled Bass parts as well. The music as expected on this album is rock solid and fairly progressive in nature with a great deal of atmosphere. The thing that really stands out in my opinion is how professional the band sounds. With the members already being established, it really added a veteran sound to this record. I also really like Enevoldsen's guitar sound. There is a real edge to it that adds it's own intensity. Overall the music is consistent with each individual song obtaining its own personality to pull off a very cool effort. It is also important to note that with musicians of this caliber, the focus is definitely on the songs although some of those solos are pretty amazing. As far as my personal favorites, I really like the album as a whole and feel that all of the tracks are equally good. I do like the atmosphere displayed in the opener 'The Seventh Sign', 'The Man in the Mirror' is melodic bliss and reminds me a bit of something like MVP featuring Mike Vescera. The guitar has a real edge to it on this track that mixes well with the melody. Like I mentioned though, the album as a whole definitely gets an A.
Definitely one of Lion Music's finest release so far this year. This album ranks up with some of the great melodic progressive bands of recent memory. This album leans slightly more melodic hard rock than progressive, but that element is unmistakeable in the songwriting. This one is definitely a recommended title!
---
Section A--The Seventh Sign, Lion Music, 2003

Because I loved Ark's Burn The Sun album as much as I did, I can't help but think of this album as a logical successor to that record. It's not that Section A aren't working their own niche in the world, it's just more that vocalist Andy Engberg has a grasp on the kind of emotive leanings that Jorn Lande (ex-Ark vocalist) has his throat all wrapped around. Things are also helped along by the fact that guitarist/keyboardist/bassist Torben Enevoldsen's riffs are first class and that drummer Andreas Lill has his role down tight as a vault.

As great as the guys are on their own the record is greatly aided by two guest soloists: Gunter Werno (keyboards), who raises "Tomorrow" to new heights (and pushes Enevoldsen to new heights of performance), and Derek Sherinian who rips listeners a brand-new earhole on "The Seventh Sign" and "Nightmare." Whereas some bands might invite guest performers to cover their deficits, that's clearly not the case here. Werno and Sherinian step in and add just another layer of icing to the all-ready tasty proceedings.

Kudos to Lion Music to have the foresight to scoop these guys up. If only more would have the stones to follow suite.
Added: July 15th 2003
Reviewer: Jedd Beaudoin
Score:




---
SECTION A "The Seventh Sign" CD 81/100
Progressive Power Metal
Denmark
I had never heard of Torben Enevoldsen until today, but now that I've listened to "The Seventh Sign" a few times (don't mix it up with the homonymous song written by Possessed a long time ago...), I can say that this first all vocal album of his is a great success! Of course, with the caliber of the guest musicians that Torben decided to invite on this recording, it was pretty obvious that it could hardly have been a fiasco... The first musician to join the Danish guitar-maestro was Andreas Lill (Vanden Plas drummer). Then came the vocalist: Andy Engberg from Lion's Share... another good choice! In fact, his versatile vocal performance allows him to perfectly sing typical Power Metal tunes as well as calmer "ballads" such as the very nice "Pray For Rain" or even more classic slightly Bluesy Rock songs like "Tomorrow"... The bass and the basic keyboard parts were recorded by Torben himself, but he left some free space for Derek Sherinian (Planet X) and Günter Werno (Vanden Plas) on a couple of songs. And that was - again - a very cool idea! The "solo-battle" between Derek and Torben at the end of "Nightmare" is really something... I don't know if this project is going to evolve one way or another but I strongly encourage them to keep on playing such great music!
Beyond, Belgium