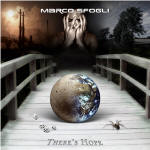 Marco Sfogli – There's Hope
Lion Music
Rating - 8.5/10
Review Al Hey www.hardrockhouse.com

When it comes to great guitar instrumental music there is one label that always seems to come up trumps with regard to bringing amazing players out into the open. That label is Lion Music and after a few plays of the debut album from Marco Sfogli, "There's Hope", I can categorically say they are unleashing one of their finest guitar orientated releases to date. From start to finish this album delivers some of the most tasty licks and chops you will hear this year. To say the future looks bright for Marco at this point would be an understatement. He has already caught the attention of many in the music world, most notably Dream Theater's James LaBrie who used Marco as his guitar player on his "Elements Of Persuasion" album and John Macaluso who employed his talents on his album "The Radio Waves Goodbye".
Marco has been playing guitar since the age of nine and since then its apparent for all to hear that he has been soaking up as many influences as possible resulting in a player who sounds comfortable and able in many styles. On his debut album Marco has this to say, "There are plenty of shred records out there that sound like many guitarists are losing the melodic component. My goal was to make it very melodic with the right amount of fire". Well after living with the album for a week or so now I can safely say he has delivered an absolute monster of an album that kicks serious guitar ass and that will have many big name guitar players looking over their shoulder as a player from a new generation emerges and steps into the spotlight.
The first thing that struck me is Marco's gorgeous rock guitar tone that is smooth, syrupy and beefy all at the same time. The best description would be that it is a glorious mix of Steve Lukather, Kee Marcello, John Petrucci, Robben Ford and Satriani. Opening track "Still Hurts" is a slice of melodic rock playing that brings to mind the song orientated playing of guitarists like Andy Timmons and Reb Beach and it's no surprise that Marco was trying to tap into the spirit of the eighties bands like Europe, Winger and Danger Danger, bands that he was listening to when he was getting his chops together. I would go as far as saying that some of his playing on this track recalls the spirit of Dream Theaters "Images And Words" album.
Which leads me nicely onto the second track "Andromeda" which just drips with silky smooth inventive playing that is mildly progressive with stunning runs and odd time signatures thrown in for good measure. Marco's playing is very reminiscent here of John Petrucci (Dream Theater), it's his tight and accurate picking combined with the way he moves across string and positions with sublime assuredness that gave me this impression. "Seven" is a wonderful song with a nice ebb and flow to the phrasing and interaction between the guitar solos and the keyboard playing of Alex Argento. It is gentle fusion that had me half expecting T. Lavitz (Dixie Dregs) was going to pop up at any time to take a keyboard solo.
"There's Hope" is a killer rock guitar work out that would sound at home on John Petrucci's "Suspended Animation" solo album. It's Marco's muscular tone and cocked wah pedal inflections along with devastating examples of sweep picking, legato and string skipping that bring this observation to mind. To be honest this track shows a player who has mastered all the techniques of the guitar rock god in some style. "Spread The Disease" sounds like the title of thrash metal song but Marco has chosen it as the title of a very laid back and juicy blues. His phrasing and tone is what led me to comparing him to the great Robben Ford. He adds jazzy licks to the brew to serve up a very potent and intoxicating display of musical taste.
"Farewell" is a straight-ahead guitar rocker, kind of from the same school of rock as Joe Satriani's "Summer Song". Marco goes for pure and straight melodies but spices things up with some very cool and fiery phrasing. There are moments in this track that brought to mind the guitar playing of Edward Box (Lion Music artist) especially in the way that many notes are "slid into". "Sunset Lights" is a scorcher of a track that feels slightly "epic". It features some cool trade off guitar and synth passages. Sort of like what Jan Hammer and Neal Schon were doing years ago but with "Sunset Lights" everything is very much music "in the now". Marco's phrasing on this track is sublime and has to be heard to be appreciated, it truly is stunning.
"Genius" is cool and heavy fusion of the highest order. Once more Marco keeps the melodies flowing and also straps on a guitar that takes some of the rhythm guitar down nice and low. It's a track that could be described as "chop city" and for those who like to sit back and be entertained with "stunt playing" this track will fit the bill perfectly. "Never Forgive Me" is a straightforward song that bristles with gorgeous melodies. Marco was considering singing on this track but decided to go for lyrical playing and after listening to this track many times I would say he made a good judgment as his playing on this track has a slightly different flavour to the rest of the album. It's slight but shows as a player he was digging deep to express himself . "Memories" is just guitar and piano interacting with each other in a way that is both tender and sweet all at the same time. Expressive phrasing makes this song one of the surprise packages of the album.
And talking of surprises "Texas BBQ" closes the album in tremendous style. It's a county hoe down that instantly brought to mind Albert Lee, all this track needed was a guitar delay section in the style of "Country Boy" and one would have been fooled into thinking Albert was the guest guitarist. For anyone thinking country guitar is a bit lame take it from me that anyone who can play country can often run rings round some of the most gymnastic guitar players out there and if anything this song shows what a well rounded player Marco is.
I guess by now you will have gathered that this album has made an impression on me. To be honest it's the sheer quality of Marco's playing and also the consistent high standard of the music he has created that has led me to scoring this album highly. Any guitar players who like the work of John Petrucci, Steve Lukather, Andy Timmons or Joe Satriani seek this album out as soon as possible. Believe me you won't regret it. On this display we can be sure of hearing a lot more from Marco Sflogi in the future and I for one will make sure I am there for the ride.