Sun Caged – Artemisia


2007 Lion Music

We have waited years for the follow up to their self-titled debut and finally, Artemisia is upon us. But since 2003, numerous side projects led to lineup changes, leaving axeman/founder Marcel Coenen as the last original man standing, which ultimately led to a more refined approach to the Sun Caged sound.

With Sun Caged paralleling themselves perfectly with Redemption, Zero Hour, Enchant (melody wise), and Sphere of Souls, Artemisia is filled with fluid melodies, technical fortitude, and a haunting mood driven atmosphere. Consistent are songs like "Lyre's Harmony," "Painted Eyes," and "Afraid to Fly," casting the shadowy vibe on the record while "Unborn" and the instrumental "Engelbert the Inchworm" are the two chaotic tracks, being upbeat in tempo, letting lose on the riffage; overall the songs themselves contain all the catchiness and hook driven gusto to keep the music within sensibility, and not some overzealous jam-related factor.

Another thing about this is that regardless of the new lineup, the band only came back stronger; Coenen pulled it off, and then some. New vocalist Paul Adrian Villarreal's delivery adds a new energetic stance to the band and with all the rest of the guys in tow, this with hopefully be the lineup they stick with. Artemisia is a flawless album in the darkwave progressive realm, proving that Sun Caged strikes with major might within the world of thought provoking music.
Added: March 23rd 2007
Reviewer: Tommy Hash www.ytsejam.com
Score:





Sun Caged: Artemisia
( www.seaoftranquility.org )
Sun Caged's debut album was so amazing that the band found an immediate cult following upon its release. Its strong mix of classic prog metal with sprinkles of fusion a la Liquid Tension Experiment and wild, crushing riffage in the style of Meshuggah and Cynic established them as a very promising band. However, due to various problems, all members except guitarist Marcel Coenen left the band, mostly forming their own projects. So it took quite a while for Coenen to recruit new members, as all previous musicians were simply top-notch and very hard to replace. The search took long, especially finding a good vocalist, but finally, after almost four years, the second Sun Caged album is out.

Artemisia features American vocalist Paul Adrian Villarreal at the helm, and he proves quite different from the previous vocalist Andre Vuurboom. Whereas Vuurboom sang in a more conventional prog metal style on the self-titled debut, he was able to convey all kinds of emotions from fear to rage to desperation easily in a sound not too unlike Ray Alder and James Labrie. Villarreal has a much different approach to singing; he harmonises a lot more with his vocals, always backing himself up during the choruses and even pre-choruses. Also, he uses plenty of wordless vocal harmonies, mostly after drawn-out, mind-bending instrumental passages. That said, he tends to stay in a safe melodic range through most of the album, rarely opting for aggressive, off-the-wall phrasing. That's not to say, however, he isn't capable of these styles, as the brief yet thundering semi-growled vocal part on the instrumental "Engelbert the Inchworm" is more brutal than anything Coenen has ever released. Villarreal's vocals carry a nice warmth to them, which really come through on the more laidback parts and will therefore connect easily with fans of melodic prog metal who also like a good dose of musical dexterity.

Musically, the elements that perfected their debut album are still present, though in a slightly more refined context. This album isn't quite as in-your-face as its predecessor, which I believe stems from the contribution of the new members. Coenen's playing showcases more restraint, but he still does cut loose and grace the pieces with his amazing sweeps and tapping harmonics. On the first song "Lyre's Harmony", a track which does a good job introducing the new guys, Coenen doesn't jump forward until the ending when the piece calls for a guitar solo. It begins with deft keyboards, sparse and well timed drum beats, and some effect-laden vocal bits before crunching rhythm guitars and keys drive the song to its inevitable climax, giving way to sweet solo performances from each member: the bass, the keys, the guitars, and then it's Coenen throwing in a sweet tapping lick whilst Villarreal's vocals are doubled - it's a great ending.

"A Fair Trade" stands out for its catchy main chorus, but this is far from a conventional melodic metal song. The riffage here has Coenen's massive riffing on the debut, backed by sturdy bass, and ethereal keyboards. Rene Kroon has done the impossible by replacing Joost van der Broek, as he is equally competent and does a great contribution to this record. I especially love his vintage keyboard exercises, much like the one on "A Fair Trade" and "Blood Lines" recalling the masters of the 70's. On the former, he is followed by the bass and guitars respectively, but it's again the lead solo at the end that complements the awesome vocal melody. The last couple of the piece are pure jazz: improvised guitar work is surrounded by a sweet keyboard patch.

The Meshuggah-styled riffery of "Unborn" is pure, unadulterated technical prog and will disprove anyone who thinks Sun Caged has softened up. While this album may not be as heavy as the debut, the heavier parts on this one totally slay. The tight drumming by Roel Van Helden (this guy is amazing!) and intricate bass lines plow through odd-time signatures only to be capped by Kroon's tasty synth dynamics. The soloing on this piece is beyond what the human mind can grasp on first listen, and Villarreal's wordless vocal melodies perfectly solidify this masterpiece. On the ballad "Afraid to Fly", albeit a bit long, and the melodic "Painted Eyes", the vocals are central, even though both tracks do contain nifty instrumentation. "Afraid to Fly" could actually also be on Coenen's previous solo album Colour Journey.

"Diaologue" constantly moves from heavy to slow, and the transition riff in between the sections is a lot like Pain of Salvation circa Entropia. Once again with lots of harmonised vocals, the keyboard solo is another highlight. Also worth mentioning is the sitar playing by Coenen's former Lemur Voice band mate Barend Tromp, lending the stomping track a somewhat eastern vibe, also thanks to the rhythmic percussion.

Like Aghora, another band whose sophomore album took years to see the light of day, Sun Caged are back, though slightly different than before. Fans of melodic prog such as Dali's Dilemma or Threshold during Extinct Instinct should grab this album immediately. The production is amazing, very warm and crisp, and the melodies are certainly going to appeal to many a listener. If you really like the heavier material on this album, you need to check out Freak Neil Inc., the band of former Sun Caged bassist Rob van der Loo, and for darker material there is always Andre Vuurboom's new band Sphere of Souls, both of which are also on Lion Music.

Track Listing

Lyre's Harmony
A Fair Trade
Unborn
Blood Lines
Painted Eyes
Engelbert the Inchworm
Afraid to Fly
Dialogue
Departing Words
Doldrums
Added: March 18th 2007
Reviewer: Murat Batmaz
Score:
SUN CAGED 'Artemisia' Lion Music (2007) www.lionmusic.com
Sun Caged return for their second album and a radical line-up change with only guitarist Marcel Coenen left from the debut album! Paul Adrian Villarreal steps up to the mike stand and also supplies the lyrics on here. There is a linked theme running throughout the album looking at people and dreams lost and what might have been.
Again the band swing around genres from the metal riffs on 'Unborn' (very Evergrey sounding) through to 'Bloodline', which will delight lovers of classic prog rock (excellent drumming on this one, lots of cymbal!). For some serious extravagant soloing check out the (mainly) instrumental 'Engembert the Inchworm', all the band members vie to out solo each other, great listening. At the songs end you get some death metal style grunts as well! Highlight for me though is 'Afraid To Fly', a beautiful mellow number and one to highlight the vocals of Paul Villarreal.
Whilst keeping some of the band's debut sound Sun Caged have struck out further by adding more solos and in vocalist Villarreal they have the perfect foil for the band's prog metal leanings. For me they are producing music ahead of the latest by Dream Theater.
****
Jason Ritchie
SUN CAGED (B) Lion Music, 2003
9 tracks, RT: 59:00
[ http://www.suncaged.com/ ]
[ http://www.lionmusic.com/ ]
I have been wanting to hear this CD ever since I reviewed GUITARTALK by Marcel Coenen in issue #241 back in September. At that time I thought that Marcel was a very talented guitarist and wanted to hear what he could do in a band situation as his GUITARTALK CD was performed primarily by himself. Well I am very happy I got a hold of this release. First, the vocal performance of Andre Vuurboom is awesome. Very good range and emotional tone set forth, clean, dirty, a wide variety of styles are layered all over this CD. His voice is a perfect complement to the progressive and atmospheric music that the rest of the band creates. Keyboard player Joost van den Broek had a heavy hand in the production and engineering of this CD which is top-notch and damn close to anything put out on a major label. This CD definitely gets me going more than the latest Dream Theater CD, TRAIN OF THOUGHT. Though Sun Caged will eventually get compared to those fellow progressive kings, this CD sounds fresher and has more heart than TRAIN OF THOUGHT. Though I don't want this review to turn into a rehashing of my disappointment of that album so I will move on to more positives of this CD. The roller-coaster ride that "Home" takes you on is memorable, from the slow intro of acoustic guitar and strings that surround the deep vocals, to the heavy mid-section accompanied by some wailing vocals, to the progressive ending before sinking back to the spreading outro. Each time I listen to this CD I like Andre's vocals more and more! "Hollow" has a very good melody line throughout the song and will have you singing the lines, "Wasted lies to deny... / wasted time passes me by..." My only complaint is that in two or three of the songs, just when a song seems to start flowing real nice they throw in some off-the-wall part that has no relevance to the song... not just some progressive passage, but a piece that doesn't fit at all. It is disruptive to the overall feel of the song in my opinion. In the past year I have reviewed a lot of CDs from Lion Music and this is by far the best release that I have heard from this label. Summary: This CD should appeal to all those that love Progressive music with strong song writing skills and a lot of atmosphere with powerful and epic sounding vocals. Marcel Coenen is a fabulous guitarist that really plays with a lot of heart and singer Andre Vuurboom has a fabulous voice. I really hope to hear more from these guys in the future. - Sean P. Gahgan (lof@earthlink.net)Detritus Rock/Metal e-zine
"Rock Hard With A Purpose"
http://groups.yahoo.com/group/detritus/
Sun Caged - Sun Caged
Mark my words, Sun Caged are going to be huge. The best debut of 2003? To me it is very close, competing for the first place alongside Masterplan & Redemption at the moment... Sun Caged play their own kind of Metal with a great element of surprise. Through the nine tracks the challenging and well written music twists and turns through a huge musical landscape. Everything from beautiful quiet piano parts to wild instrumental passages is here. Highly technical music while never losing touch with the important melodic element.
Andre Vuurboom (Vocals), Marcel Coenen (Guitars), Rob van der Loo (Bass), Joost van den Broek (Keyboards) and Dennis Leeflang (Drums) all show their great talent on this album and combined they create a sound that stands out in an already crowded scene.
Two elements in particular give Sun Caged an extra kick of adrenaline. Guitarist Marcel Coenen and Keyboard wizard Joost Van Den Broek. Joost does a fantastic job of bringing a unique atmosphere to the songs. Whether there is need for an atmospheric mood enhancer, a fast solo or just a beautiful piano interlude, he does it all with a great sense of melody and timing. I must admit not knowing Marcel's earlier band Lemur Voice, but here he impresses me and if he is not churning out a heavy riff, he is in the middle of some wild melodic solo. The way these two guys play their instruments gives the music that element of surprise I was talking about earlier. Like in the title track,
Sun Caged
where the song suddenly slows down and an emotional passage with just keys and Andre's soft voice continues. Suddenly the atmosphere is torn apart with a screaming guitar solo. I love the way the wild guitar solo completely tears the fabric of the song apart. Definitely my favorite part of the album at the moment. A nod goes to the cymbals in the quiet part of the song too. Very nice!
It is a good sign of confidence to start of with a song as complex as
Sedation
. The riff that plays in the verse of this song is a monster. Overall this is a great song with many cool passages, the long guitar solo starting around the 5 minute mark being the absolute highlight. The solo nicely leads the song into a powerful passage where the panning stereo effect gives a great flying feel to the music.
One thing I feel could have made the album even better is a little trimming of some songs, or maybe I should say tighter songwriting. An example from
Sedation
is the Dream Theater-esque passage from the 4-5 minute mark. It is the only thing I feel drags the song down. The song would have a better flow if this particular section had been trimmed a little.
I will not describe all the songs, but just say that they are all of high quality and have many exciting moments. Some songs stick in your mind after a few listens but others take many listens before they show their strength, so be patient and you will be rewarded.
Andre's vocals is another strong point of Sun Caged. Not exactly being the most original singer in the world he still delivers a consistent performance and especially in the slower songs his vocal melodies are excellent and proves that his voice has several dimensions that can be developed in the future. The title track,
Hollow
and
Unchanging
are songs where his vocal stylings and feeling add something special.
Hollow
is also available for
download
at the Sun Caged website and it is one of the most immediately catchy songs. With a blinding chorus it has been one of my favorites right from the start.
The production is impressive. Very balanced and each instrument is clearly audible. That is quite an achievement with music as complex as this. With loads of detail in both the bass playing and drumming it is also an intriguing experience concentrating on just one instrument.
Overall this is a very impressive debut, but sometimes I get the feeling that the band is holding back a little and I miss some parts where they go all out crazy. Maybe it is just that I miss some of the crazy instrumentals from their earlier demos.
If you like bands such as Dream Theater, Watchtower, Spastic Ink, Fates Warning or Symphony X then Sun Caged is sure to have something for you. Their next album will show if they can take the next step towards the throne the above mentioned bands share.
All in all a fantastic debut album that gives hope of even greater things to come. A highly entertaining release that should appeal to all fans of challenging music.
Rating: 8/10
Steen - 12/4/03
www.revelationz.net
Sun Caged - Sun Caged
2003 Lion Music
Hailing from Holland, Sun Caged seem to be creating somewhat of a stir on the progressive metal scene without having actually released any official product as yet - this is their debut. This has not stopped them however from landing some pretty prestigious support slots - most notably with Queensrÿche. The band have also managed to secure the mixing talents of Arjen Luccasen (of Star One and Ayreon fame) and this album sounds stunning.
Sun Caged are in the same vein as Awake era Dream Theater with hints of other acts like Faith No More (mostly in the vocals of Andre Vuurboom), Meshuggah (mainly in some of the 7 string riffage) and Pain Of Salvation (a dark vibe in a few places). Rest assured that these guys have their own sound and that sound is darn classy. The band is composed of the aforementioned Vuurboom on vocals, Marcel Coenen on guitar duties, Joost Van Den Broek on keyboards, and Rob Van Der Loo (bass) forming the rhythm section with Dennis Leeflang (drums). All musicians are extremely talented highlighted on every track here.
Opener Sedation is one of the most melodic heavy offerings yet there is still some frightening riffery going on. Carried along by some strong keyboard work the track is also home to an instrumental section which will give you a glimpse of things to come elsewhere.
Sun Caged begins with a low 7 string chordal riff before guitar and keyboard harmonise over an eerie melody. This leads way to an almost DT 'Lie' type riff before heading into a Faith No More sound on the verse (mostly in the vocals). The chorus sees a strong circling vocal line that builds and highlights the vocal abilities of Vuurboom. The track then breaks down for a restraint passage which then goes back into the main bulk of the track - impressive stuff.
Home opens with delicate acoustic guitar and vocals that really breathe. This is backed up by almost sci-fi keyboard atmospheric effects and its pretty mesmerising. 2:30 in its kicks into life for some more Awake era DT sounds, this is by no means a rip off, its just the best way to describe the sound. Despite the more simplistic nature of the track there is a lot going on. Nice changing of time signatures before going into another restraint texture. This then leads into another very cool riff that goes through all manner of transitions before heading back into the classy chorus.
Soil is a fast punishing track that has quite a quirky riff, not a million miles from something like System Of A Down, but with much better vocals and delivery. The chorus is pure magic, slowing things down and its got a really strong melody, before launching into the killer riff for the verse. Guitarist Marcel Coenen proved he has the chops on his Guitar Talk album, but this album is testament to the fact he has a array of killer riffs and songs under his belt.
Hollow starts with a nice piano motif before crashing in with a quite melodic verse, over a heavy framework. Great lyrics too - Whispered like a breeze, mute the sound relieves my pain. Midst the machine. Feed upon his stain... The vocals are again good, yet the chorus that is the real star of the track with a great vocal. The track then builds further before a superb doubled guitar/keyboard solo that leads back into the chorus - great stuff.
Closing In sees a darker vibe enter the picture and this is where the Pain Of Salvation reference mentioned earlier rears its head. The track is again home to a very strong riff with the keys providing great support to the main riff. The track cools off for the verse which sees some very nice chords from Coenen. The track has a pretty classic arrangement and its quality shines through every pore of the track.
The Eighth Day is home to more seven string rifferey in an odd time signature. Vuurboom manages to throw up a very strong melody line over this, which is not an easy thing to do, yet it all sound so natural it easy to overlook the skill needed to do this. Overall the track has quite a dark brooding vibe that does lighten up for the chorus and its this use of light and shade that oozes yet more class.
A killer riff sets Secrets Of Flight on its path. Very aggressive stuff that leads into a very quirky keyboard pattern before leading into a cool solo over yet another riff - I counted 4 in the first 50 seconds! This is one heavy track yet retains a melodic appeal that adds another element to the sound. This is one of the longest tracks on the album clocking in at 9 minutes yet there is so much happening the time just flies by.
Unchanging sees the album out with a more ethereal vibe. Some delicate piano work starts the piece which is augmented by some brewing thunder storm sound effects. This then leads into a very melodic verse that reminds me a little of Marillion. Coenen lays down a nice very melodic almost jazzy part that leads into the second verse. After the sonic onslaught of the previous track; Unchanging allows a moment for reflection. Fans of Dream Theater's more melodic moments will find a lot to like here, its just goes to highlight the band can write material that would appeal to any mainstream music fan too. Special mention goes to Coenen for a sublime solo that is very melodic and emotionally, yet still finds room for moments of guitar flash. Stunning and a superb way to end the album.
Sun Caged have delivered one of the best debut albums I have heard in eons. Every track has something to offer, the musicianship is incredibly high yet never takes priority to the song. There are numerous styles on show, yet it all has the Sun Caged stamp that tells you this is one the best new bands that has appeared in the last few years. The band on the basis of this album deserve to be huge.
Hot Spots: Sun Caged, Home, Hollow, Closing, The Eighth Day, Unchanging.
Rating: 94% www.virtuosityone.com review by Andy Craven
---
SUN CAGED - S/T

Progressive Metal from the Netherlands,this great new band Sun Caged was formed by ex.Lemur Voice guitarist Marcel Coenen and ex.Within Temptation drummer Dennis Leeflang back in 99,this I must say is the progressive label Lion Music´s best release so far and it´s not so strange Mr.Majestic himself Arjen Lucassen (Ayreon) wanted to mix the album because this is the album Dream Theater should´ve made after "Images and words" instead of "Awake".
Great and Big production with phat guitars and Tyson knockout drums, the songs are heavy but yet melodic and performed with a smart thinking that the most important thing isn´t to show off with virtuso musicianship like DT does much too often,no Sun Caged wants to stay on a more wiser level with the songs and melody lines as the priority.
Keyboardplayer Joost Van den Broek has produced the album and has done it with a magicians hands,tasteful and massive just as I want a CD to sound like in this genre!
Singer André Vuurboom is just as good as James LaBrie and also one of the best new vocalists of progressive metal I´ve heard in a long time,I can only sit back and enjoy all 9 nine songs with the running time of 60 minutes with a big smile on my face.
Go and download the song "Hollow" from their site right away,if you settle with just one song from this album....you´re no fan of progressive music!GET YOUR COPY OCT.22nd when it´s out...any complaints!-send an e-mail to me!
Kaj www.melodic.net

---
Sun Caged: Sun Caged

Remember the excitement when Dream Theater's Images and Words hit the scene back in the early 90's? Well, if you were one of those people who went gaga over that album back then, and still consider it to be a classic, I urge you to check out the debut from Dutch progressive metal band Sun Caged. Guitarist Marcel Coenen was formerly with the now defunct Lemur Voice, a very polished band that was on the Magna Carta label. He hooked up with drummer Dennis Leeflang (ex-Within Temptation), bassist Rob van der Loo, keyboard player Joost van den Broek, and singer Andre Vuurboom, forming this raging and intelligent progressive metal band that I predict will create quite a buzz.

"Sedation" kicks things off in grand fashion, with upfront heavy guitar riffs and symphonic keyboards. Vocalist Vuurboom is a real find, and he has a powerful, melodic voice that recalls James LaBrie, only he sings more in a mid range. His distinct style lends a classy tone to the otherwise brutal complexity of the title track, which is a prog-metal lovers delight. Coenen displays what a super talent he is on this raging inferno of a song, slaying the listener with intricate rhythms and amazing solos, with drums and bass providing the rock solid foundation. On "Home", Vuurboom opens up with some lovely vocal passages "Yesterday I saw the sun go down and feast his rest, without light I saw him touch the ground and sleep at last, together now we take this trip alone, never ever really leaving home...", then, the acoustic guitars and gentle synths disappear, and crankin' riffs and huge orchestral keyboards come crashing into the mix. Coenen lays down some huge chords and harmonic squeals on this one, sounding like a combination of John Petrucci and Jakk Wylde. The band rampages through the brutal "Soil" with sledgehammer guitar & keyboard riffs, also allowing for some jaw dropping unison lines between Coenen and van den Broek, and powerful vocals from Vuurboom. Keyboardist van den Broek really gets to shine on the melodic and symphonic "Hollow", as he creates a huge wall of sound with piano and synths in addition to ripping off an incredible solo. Vuurboom proves here that he exels on the catchier, melodic pieces just as well as on the raging metal epics.

"Closing In" has all the epic prog-metal sounds that you can possibly look for, and knowing that this is a new band you will be amazed at the poise and tightness that Sun Caged show on this one. Gentle piano leads things off before the full band enters the fray, with Leeflang's crashing drums combating for supremacy with Coenens complex riffery. At times on this track I am reminded of Images and Words or Awake era Dream Theater, as the songs mixes melody and intricate arrangements in such a polished and professional manner unlike any other band I have heard in a while. They then slow things down a bit on the doomy "The Eighth Day", complete with big riffs and lots of keyboards, plus a killer chorus. There's so many time changes in the middle of this song, as well as some great little solos from Coenen and van den Broek, that your jaw will be scraping the floor. "Secrets of Flight" might be the heaviest tune on the CD, but still mixes in tons of melody and complexity, which seems to be their trademark. At this point you will probably be worn out from the previous eight tracks, so the band ends things with the beautiful "Unchanging", a song about one persons live that is never evolving. Vuurboom literally soars on this one, backed by van den Broek's gorgeous synths and Coenen's liquid guitar lines.

Without a doubt, I have seen the future of prog-metal, and it is Sun Caged. Lion Music has a real find here, and it will be interesting to see how they market them. While the band makes no qualms about showing their influences, they perfectly meld the styles of bands like Dream Theater, Pain of Salvation, and perhaps Symphony X, up the complexity a bit, and add in loads of irresistable melodies. This one's a keeper folks-don't say I didn't tell ya!
Added: September 20th 2003
Reviewer: Pete Pardo
Score:

Related Link: Lion Music
Hits: 13
Language: english
---
SUN CAGED - Sun Caged
Guitarist Marcel Coenen (ex-Lemur Voice) invites drummer Dennis Leeflang (ex-Within Temptation) to a jam
session on New Years Day 1999. After this successful gig, they both agreed to begin to write some songs together.
The band started as a studio project, but Leeflang and Coenen decided to let the band become a full-time band.
Several members go in and out of the band the first years, but in 2002 the lineup in the band is established with Rob
van der Loo,bass, Andre Vuurboom, vocals and Joost van den Broek, keyboards. Sun Caged release their third
demo in the summer of 2002, just a few weeks after they signed a record deal. But before the recording of their
debut starts, Sun Caged takes a break and are backing band for Ron Thal, and Joost van den
Broek tours Europe with Arjen Lucassen`s Star One Project. The recording sessions first takes place early in 2003,
and the release date for their debut is set to 22 October 2003.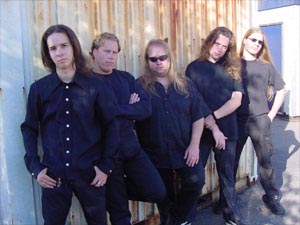 Sun Caged`s music is hard to describe, but the main line in their music is progressive metal, with all the under-categories
you can think of, like fusion, jazz, black metal, aggressive metal, but they also has elements of symphonic rock and
metal. Their album has spent lot of time in my CD player the last week and after hearing this album at least ten times
now, I`m not sure I am ready to write about the album. I feel I have lot of listening left to get to know their songs better,
but at the same time I feel their songs grows the more I listen to them and I have to say I am really impressed over
the instrumental skills this band comes up with. The first band I thought of when I heard Sun Caged is the Norwegian
prog metallers Pagan`s Mind, who also has the same mix of prog, jazz, fusion, aggressive metal, black metal in their
music, but with a little more melodic line in the music. The first song, Sedation, has huge riffs and instrumental parts,
and I admire the great vocal job Andre Vuurboom does on these songs, it`s not exactly easy music to sing to, but he
does it really great. The song Sun Caged has an opening that blow your speakers away, but after the opening sequence
it slows down a bit and after exact three minutes and seven seconds they takes us to a soft ballad-like part with very
fine singing, and the instrumental part who comes right after has an incredible guitar solo. One of all the highlights on
this album and my favorite song is the third song, Home, a song who I think present Sun Caged musically very good
with all the different styles they are through on this album. So if you like progressive metal you definitely need to
check out this newcomers they have come up with an great album really worth listening to!
http://www.suncaged.com/
http://www.lionmusic.com/
Sun Caged are:
Andre Vuurboom - Vocals
Marcel Coenen - Guitars
Joost Van Den Broek - Keyboards
Rob Van Der Loo - Bass
Dennis Leflang - Drums
---
SUN CAGED - SUN CAGED (Lion Music)
You wanna know why you should own this album? You wanna know why you should breathe? Because you have to that's why !!
So, hey I'm biased. Sun Caged are one hell of a cool band, very metal and very progressive edged with flowing melodies, neo-classical guitar shredding and highly impressive vocal ranges.
How can you fail to moved by the neo-classical bliss of opener 'Sedation' which is laced in racing keyboard melodies and luxurious neo-classical guitar playing that shows Dream Theater influences. This song is intense.
'Sun Caged' continues the progressive and neo-classical racing, only this time the band stream in a more modern thrashy edge during some parts, the song is again laced in brainbusting solos and also technical Dream Theater style melodies and as it grows the song is graced with subtle beautiful piano passages that give the song a dramatic melodic feel, pure excellence.
'Home' is magnificent and melodic; I was going to say this was ballad as it begins in a calm mood. I loved the atmospheric feelings then mid way through the song rips up into a storm of rocking guitars. Its cool how much like James Labrie singer Andre Vuurboom is like, his voice is as his names suggests, like one massive "BOOM". 'Soil' is experimental and there are some really interesting and complexed ideas going down here which keep the intensity alive.
'Hollow' is neo-classical/progressive mayhem, this song is killer, the guitar virtuosity explodes through the speakers reinventing the word shred, almost crossing Racer X with Dream Theater.
'Closing In' is another highly impressive song that is slightly slower and melodic but just as intense. This is actually one of my favourite songs on the album, makes me think of Dream Theater's 'Surrounded' and 'Under A Glass Moon' with a little more intensity.
Another favourite was the next song, the spooky and magical 'The Eighth Day' there's some gorgeous piano/keyboard work and neo-classical guitars that make this song kinda symphonic and melodic, the melodies are glorious and this is another mature side to the band. A very intense and heated song.
And the intensity doesn't end there as the next song 'Secrets Of Flight' continues the neo-classical progressions and is another cool song that plunges into the depths of experimental weirdness, swirling keyboards dominate the song and the shredding is shit hot. 'Unchanging' is melodic and pure, the vocals are amazing, very huge and dynamic sounding, what a way to end the album.
As Dartb Vader would say to Luke Skywalker in the duel at the end of the "Empire Strikes Back", "Impressive, most impressive", and that's what Sun Caged are, a fresh and exciting new band that combine the best of melodic progressive neo-classical shred fests galore. I can only hope that Sun Caged get the recognition and publicity that they deserve.
www.lionmusic.com or www.sungaged.com
90/100
Nicky Baldrian
---

SUN CAGED / Sun Caged / Lion Music
by: DERRIC MILLER www.metalexpress.no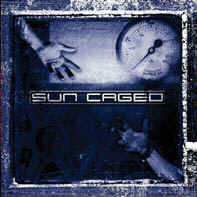 There are a lot of bitchers out there who either don't appreciate Dream Theater and don't respect them for being the unbelievable talent they are, or even worse, used to like them but now feel all of their new recordings are essentially onanistic blather. So, for those of you who can't take it, there is a new band called Sun Caged who have released a CD with everything great about Dream Theater's Images and Words but with a more modern feel. Think of Sun Caged as "Dream Theater light" at first, and then give them the respect they too deserve. This is one of those albums that will surprise and astonish you the first time you hear it.
Sun Caged are progressive metal, with nuances of, in their words, "fusion and jazz, death metal, atmospheric and ambient jaunts." Don't believe the death metal hype, though. This is intricate, precise progressive metal. In fact, the only time you could say "death metal" is at the beginning of the eponymous "Sun Caged," where a dark whisper/grunt greets you at the onset.
"Sun Caged" has a haunting chorus of "I steal the sun, I steal the sun …" that will remind you of Dream Theater's James LeBrie, and that's just fine. In fact, Sun Caged vocalist Andre Vuurboom (Jera, Imperium) can even make his delicate parts even softer than LeBrie, and his screams, well, LeBrie never probably couldn't attempt some of these notes. "Sun Caged" has a driving rhythm, heavy guitars, intermittent keyboards and a strange vocal effect during the verses that more than just remind you of Dream Theater.
"Home" is somewhat of a ballad that gets heavier at the end. It is nice to see the band's musical range here, going from an acoustic dirge to a guitar-heavy, screaming metal composition.
"Anybody in there, anybody home," says a female's voice at the beginning of "Soil," ominously answered with a male's throaty, "Who are you?" The song pacing is very machine-gun, rat-a-tat-tat like in places, especially with the drums. This song embodies their overall sound, and is a great place to start, even though it's song four.
Some of the songs you won't compare to other heavy metal bands at all. At times, they sound like Kansas or Yes. When a band can go from '70s prog rock to death metal and make it all make sense, that's quite a feat. Sun Caged does it.
Some of the other highlights on Sun Caged are "Hollow," another slow, atmospheric progressive metal song; and the insanely groovy and longish (over 9 minutes) "Secrets of Flight."
Sun Caged probably knows that they are going to get compared to bands like Dream Theater and their brethren. The interesting part is, they've only taken the best parts of that genre and melded those aspects into something they can call their own. The musicianship is top notch across the board, the vocalist has one of the best voices in metal today, and the song writing is superb. If you want to find a knock on them, it's this: you have to listen to the CD a few times before you "get it." But if you want your music spoon-fed to you, listen to top 40.
This astonishing tribute to Jason and his courage to fight and refusal to be defeated is a suitable and lengthy recording covering select arrangements by the artist. Created by a truly remarkable and respected artist that had a career that ended much to soon, this two-disc set puts into perspective the impact and supremacy of his music and creative energies. That very drive and vigor is what keeps the man filled with optimism and hope that he will in the end defeat the disease that has ravaged his body. I honestly don't know that if I was confronted with a life-changing situation like that if I could carry on like he has. I think most people would prefer to give up and curl up in a ball and die.
Artists from all over the world, new and emerging, well known and respected, have come together to salute the man that stood out amongst the crowd with honor and grace. He put all he had into every bit of music he made. The artists involved in this project reflect Becker's spirit on every track.
This is a breathtaking group of songs. There is a good mix of progressive rock and metal, with and without vocals. The tunes without the vocals really tell the story. That was Becker's forte; his guitar spoke loud and clear by making some beautifully inventive and original music. He is one of the most technically advanced guitarists that rock has ever seen. "A Jam For Jason" is absolutely awe-inspiring. The men that play on the song are dubbed the Cosmosquad, and they are Steve Morse, Vinnie Moore, Chris Polland, and Jeff Watson. This song happens to be my favorite although there were several others that really caught my discerning ears. The combination of rock, blues, jazz, and Latin influences in this song are simply mind blowing. When I saw Steve Morse's name on the credits it all made sense after I heard the song. And that is just one number of many that rock the house. There are two full discs of ear splitting, mind bending, electrically charged rock and roll that will leave an ineradicable impression on you. I prey that Jason Becker will recover and bring to us once again his remarkable talent and musical vision. Long live rock and roll and the music of one great guitar man.