VENTURIA - HYBRID (2008, LION MUSIC)
Marc Ferreira - vocals
Lydie Robin - vocals
Charly Sahona - guitars, keyboards
Thomas James - bass
Diego Rapacchietti - drums

Background
Back in 2006, Lion Music released a series of great albums from their roster. That year was one of their best in terms of quality releases. Two of those bands came from France, the first was Hauteville, the second - Venturia. We haven't seen a follow-up from the former, but the latter return with their latest 'Hybrid', which follows on from their impressive 'The New Kingdom', which was reviewed by us at time, receiving a healthy 9/10 rating (see link below). The line-up remains intact, as does their unique modern prog metal sound. If you took away the heavy guitars of Charly Sahona, I'm certain that Venturia would sound completely different, and hence the album title 'Hybrid' is quite an appropriate term. There are loads of modern angles applied to this album much like an Architect's design operandi. The dual male/female vocal contrast adds further interest. Call it 'ying and yang', and overall there is more equal duality to the shared vocal approach than say a band like Nightwish. To be fair, neither Marc Ferreira and Lydie Robin's voices are typical of the hard-core prog metal movement. Both have voices at the lighter (dare I say it) 'pop' end of the spectrum, it's just that the Venturia attack is based heavily on Sahona's guitar wotk and a big rhythm section.

The Songs
It doesn't take long for Venturia to reach cruising speed, as 'Swearing Lies' is quickly into gear courtesy of Sahona's super fast riffing. The tempo of this track changes quite a bit throughout, where the slower sections feature everything from bass popping, modern keyboard sequences and near spoken word vocal.

The shared vocal is apparent on 'Be The One', also the contrast between the two. In parts, Marc is nearly performing a rap improvisation, while Lydie provides the harmonic foil. The guitars and back-end are heavy as anything.

'Running Blind' is captured fury at its best. The changeable sections within this track make for a colorful musical experience - including neat arpeggio sequences, French vocal interludes from Lydie, and some rapid fire drumming.

Opening up with a growling bass line, 'Pearls Of Dawn' operates at half pace compared to the tracks gone before. Easily, this compares favorably with other modern commercial metal heard on radio currently.

The most unusual track on the album is 'Will You Save Me'. The structure and layers are very deep. One moment we are in full on 'metal mode' with double kick drums blazing away, the next we are hearing symphonic elements with will 'o' the wisp vocals from Lydie. Change up's galore to be sure.

Continuing in the same vein is the melodic 'Sparkling Rain', which throws out comparisons to the magical British band Iona, particularly Lydie's vocals. Nice track, certainly one of their less metal moments on the album.

Once you get past the stop/start intro of 'Hottest Ticket In Town', the track returns to the prog metal bombast of the earlier tacks. Sahona's lead guitar work is superb.

I enjoyed 'Love Gamers', mainly due to its racy nature, interesting vocal sections and the 'hot' (i.e. metallic) and 'cold' (milder moments) contrast.

'Why This Womens Life' is Lydie Robin's 'moment' on the album. The title would suggest a feminine angle for this track, and so it proves. A dramatic affair, which features classical and symphonic elements wrapped around Lydie's passionate vocal delivery.

Just to ensure Venturia don't depart on a mellow note, 'Sublimated Dementia' powers out of the 'Hybrid' musicverse with prog metal ambitions on overload, ensuring that a third payload (album) is on the cards in a year or twos time.

In Summary
This is another solid release from this French outfit. Glad to see them back. Would be better to see them out playing live somewhere, rather than being stuck in a studio. Along with the latest Seventh Wonder opus 'Mercy Falls', it seems Lion Music are back to the 2006 glories. Well done!

URL: www.lionmusic.com : www.venturiaofficial.com

Track Listing:
01 Swearing Lies
02 Be The One
03 Running Blind
04 Pearls Of Dawn
05 Will You Save Me
06 Sparkling Rain
07 Hottest Ticket In Town
08 Love Gamers
09 Why This Womens Life
10 Sublimated Dementia

Rating:

Related Articles:

Venturia - 2006 The New Kingdom

Venturia - 2008 Hybrid
www.glorydazemusic.com
VENTURIA - THE NEW KINGDOM (B) Lion Music, 2006
8 tracks, RT: 44:49
[
http://www.venturiasite.com/
]
[
http://www.myspace.com/venturiamusic
]
[
http://www.myspace.com/charlysahona
]
[
http://www.lionmusic.com/venturia_cd.htm
]
[
http://www.lionmusic.com/
]
Coming to us from France is this young progressive metal outfit with their debut album THE NEW KINGDOM. Venturia play a rather unique and often captivating mix of metal, pop and prog rock, incorporating male/female vocal interplay and tight musicianship to strong effect. Opening with the title track, you immediately notice the emphasis on melodic songwriting, effective vocal delivery and powerful band interaction. Guitarist Charly Sahona is a new breed shredder with lightning fast chops and a rhythmic style that leaves room for the keyboards, which he also plays with guest keyboardist Kevin Codfert (Adagio). Capitalizing on the success of bands such as Lacuna Coil and Nightwish, Venturia utilize female vocals to complement lead vocalist Marc Ferreira, with Lydie Robin's smooth voice often a nice contrast on songs like "Words Of Silence" and "Take Me Down." The band is rounded out by excellent fretless bassist Thomas James and precision drummer Diego Rapacchietti, whose contributions can clearly be heard on standout track "Fallen World (Is There A Reason?)" and the album's lone instrumental "Candle Of Hope Through A Night Of Fears." For me the production was somewhat thin in places, as I would have especially liked to have heard a fuller guitar sound. Small complaint though, with a little honing of their overall sound Venturia appear to have all the necessary skills to be the next big thing in prog metal. I look forward to hearing more from them... -
Neal Woodall (
MysticX9@gmail.com
)
Detritus Rock/Metal e-zine
"Rock Hard With A Purpose"
http://groups.yahoo.com/group/Detritus/
Venturia – The New Kingdom


2006 Lion Music

The one thing that sets France's Venturia apart from many other progressive metal bands is that they can meld the occasional operatic and overtly technical element with AOR-tinged pop melodies; and in many cases there are several different melodic approaches in each song, with each being highly sophisticated of course.

With both male and female lead vocals, heavy, thick guitar crunch, and a heaping of keyboard textures, occasional dark and aggressive elements come out with moodiness that has a profound effects on the atmosphere that is presented on The New Kingdom. But besides the stance for creating the mood, the musicianship and the songs prove the standpoint for the album's main strength; there's no doubt about that. Shadows of a murk laden melodies encompass on "The Unholy One," "Fallen World," and the balladry of "Walk on to the Daylight," but there are the occasional upbeat numbers such as the opening title cut and the instrumental jam session of "Candle of Hope…," so whether the band is setting a mood or driving with hard edged endurance, Venturia knows how to build upon musical prowess.

Again, here is a band that really helps define the term progressive metal without going into territories of inaccessibility. Both song and musician driven, Venturia carries the flame along side band such as Age of Nemesis, Sphere of Souls, and Magnitude 9 for the ever so lovely and hallowed grassroots approach to world of progressive metal.
Added: June 9th 2006
Reviewer: Tommy Hash www.ytsejam.com
Score: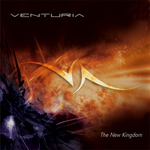 Venturia – The New Kingdom (Lion Music, 21/04/2006)
French progressive metal band Venturia was founded by guitarist Charly Sahona and drummer Diego Rapacchietti (Zero, Paganini, BPM) in 2000. They were later joined by bass player Thomas James and two vocalists: one male (the New Yorker Marc Ferreira) and one female (Lydie Brown). Interesting here is the contrast between the two vocalists, which creates a perfect mix of softer (pop/rock) and heavier (progmetal) vocal duet lines. The band got a lot of help from Kevin Codfert (Adagio), who shared guitar and keyboard parts with Sahona, helped the two band leaders with the arrangements and engineered/mixed the album. "The New Kingdom" is a good album that offers something for everyone: from pop-oriented material to heavy progmetal.
www.rockreport.be
VENTURIA - The New Kingdom
Lion Music

Release Date: 2006-04-21

by: MICK BURGESS www.metalexpressradio.com

Email: mick@metalexpressradio.com

One of the great things about listening to brand-spanking-new music is that every now and then something arrives through the door that you have never heard of before ... there are no pre-conceptions of what to expect and it turns out to be a right better than anything you ever expected. Then again, some may reside in the "Probably Won't Listen To That Again!" box after one spin. So, which category do you think Venturia would fit into?

Venturia were formed in France back at the turn of the millennium by guitarist Charly Sahona and drummer Diego Rapacchietti, with bassist Thomas James joining later along, and with a special guest from Adagio, Kevin Codfert on keyboards. To give the band a different edge, not one but two vocalists were recruited in the form of Marc Ferreira and Lydie Robin. Now, male/female split vocals are not a particularly new concept, being particularly popular in the Gothic field, but not quite so common in the Progressive Metal arena, where Venturia play their trade. More on those vocals later ...

The opening refrain of "New Kingdom" does not immediately hint at anything particularly different about Venturia, and certainly nothing that separates them from dozens of other Prog Metal hopefuls and Dream Theater wannabbees. There are the usual frantic, crashing drums, ferocious staccato riffing and fluid scales from the guitars, and keyboards stabbing furiously throughout the opening passage -- all essential ingredients needed for the Prog melting pot.

Venturia have, however, taken those essentials and given them an added twist. In Ferreira, they have a singer who, rather than attempting a James LaBrie or a Geoff Tate approach like many other bands of their ilk do, instead tackles things a little differently. The press release likens his style to that of Darren Hayes of Savage Garden, and incredible as it may seem, this is a pretty accurate description and one that works devastatingly well. Ferreira's performance throughout this album is top notch,and he can veer from an aggressive hard-edged slant to something more mellow and rich, a feat perfectly demonstrated within just one verse of "New Kingdom."

If that wasn't good enough for you, then Venturia have yet another vocal ace up their sleeve in the shape of Lydie Robin. What a simply stunning, beautiful voice she has too, coming across as a mix between Kate Bush and Loretta Heywood from dance act Bomb The Bass. According to her biography this is the first time she has attempted to sing in a Rock environment, but you wouldn't be able to tell. Maybe it is her enthusiasm, freshness and varied influences that brings the added dimension to this album.

What really stands out here is the interaction between Ferreira and Robin, the harmonies are at times a joy to behold. Rather than treading along the long worn, "male gruff/female clean" Operatic route, the two singers both have strong, clear, melodic voices. Check out "Words of Silence" for evidence. The beautiful acoustically picked intro with a particularly sweet Ferreira vocal before Robin joins half way through the verse all topped off by a haunting layer of keyboards. The tempo picks up after the verse with some hard-edged riffing, before returning to the mellower verse. In fact this song has so many twists and turns and so much to offer on each subsequent listen!!

"Take Me Down" is even better. Again, a simply wonderful dual vocal display, with a chorus so memorable it'll stay with you for weeks. By memorable that does not mean a cheesy "Final Countdown" sort of memorable but more of a tune so exquisite, harmonies so tight and keyboards so atmospheric that you'll want to play it again and again.

With "Fallen World," Venturia evoke the finest moments of Conception and the long lost Raddakka. A cracking marching riff and pulsating keyboards drives this song along, topped off by the trademark Venturia harmonies. Sahona pulls out some fine guitar work both on electric and acoustically. At the other end of the spectrum follows "Walk onto the Daylight" which shows the more reflective side of the band.

"Dear Dead Bride" closes the album in full on Prog overload, an epic in the true sense of the word, which goes through the whole range of light and shade, and tempo and mood changes, which will keep more than satisfied.

In a crowded genre where everyone tries the same tricks, it is so refreshing for a band to come along and do something different. Having two singers of this quality is obviously Venturia's strong point, however the performance from the rest of the band is nothing short of breathtaking. To hear a Prog Metal band focus on melody and songs without sacrificing their musical prowess is another major plus point. The songs are varied enough and feature tempo changes galore and extended musical passages which never once outstay their welcome. The balance between accessibility and complexity is evident throughout. Where most bands extend things far more than necessary, Venturia trim off the excess fat and leave a lean, mean melodic masterpiece in its place. Codferts' keyboards also deserve a special mention as they weave wonderful, atmospheric textures that enhance rather than swamp the overall sound of the band.

The New Kingdom is one of the best Prog Metal releases heard in many years, and might well be the finest debut album since Dream Theaters' When Dream and Day Unite. If they can produce albums as consistently good as their debut, they will have a long and successful career in front of them. Quite possibly the new heirs to the Prog Metal crown. Simply awesome.

For further information check out:
Venturia Web site where you can download a rather excellent 5-minute medley from the album.
Lion Music Web site
Venturia - The New Kingdom (Lion Music) By: Joe Florez www.live4metal.com
This is the debut from a five piece French outfit. We all know just how hard it is to make a name for yourself not only in the metal world, but in prog as well. I think that these youngsters have a shot at it. The title track provides plenty of up beat and energetic riff action while the rhythm section of Thomas James (bass) and Diego (drums) add plenty of groove to the mix. The deciding factor that makes this band original is the way that they combine male and female vocals. Marc does most of the singing here and while he has a slightly high register in his voice, he can bring it down just a bit so our ears don't crack. Lydie comes in during the choruses and as expected she is fragile, angelic and soft. Most
of the time unless the woman throws down a vicious attack on the mic, I don't even bother to listen, but because of the energetic music that is being produced as she does her job I had to hear just how it would come off. It works, at least in this band anyway. Things get really tripped out during the solo, as not only do you get a 70s retro keyboard sound, but the neo-classical performance shines through here too. Then, you get this jacked up electro-spacey sound that sounds like guitars or bass lines on crack. I kind of dug it. It's hard to explain, so you just have to take my word for it until you hear it. "The Unholy One" threw me for a loop due to it coming off as an AOR or radio friendly song at first. It has a feel akin to Mr. Mr's "Kyrie." Remember that 80s hit? But then, things change and get heavier with Charly down tuning his guitar and laying down heavier licks. Also, the classic formula of the past (ala the seventies) comes into play here, but quickly leaves. Once again, this is sort of strange, but I have to keep on listening. I'll tell you what, these guys love to keep their fans on their toes because they move around so much with the compositions. "Words Of Silence" seems like it will start out as a sensitive ballad, but then quickly moves into a more metal feel and then everyone busts out their technical chops. Even though the transitions are plentiful not only here, but everywhere else as well, they are pretty much smooth and not so herky jerky. There is no train wreck anywhere to be found. This is an album that you have to sit down with and listen to it over and over again because I guarantee you that you will miss stuff the first time around. There is just so much depth and dynamics to this debut that you won't be able to grasp it all the first time around. It is highly original and will keep you entertained for many spins to come. www.lionmusic.com | www.venturiasite.com
Venturia - The New Kingdom
Lion Music (LMC173)
Rating - 8/10
Review Dougie www.hardrockhouse.com
---
I must admit to having a bit of a twilight zone moment when this CD arrived from Lion music. I had just finished reading the latest issue of the Fireworks magazine in which an interview with Lion Music owner was printed and the rather bold statement made that Lion music is second only to Inside Out for this sort of music. I guess that I actually agree with the sentiment however and it is no mean feat for Lion Music to make this claim given the fact that it should be understood that Inside Out is part of the SPV/Steamhammer organization and thus has greater financial backing. In the main Inside Out deals with more established artists, whereas Lion Music, and Venturia is a case in point, release a lot of debut albums or product from lesser known bands. So well done Lion Music...

Now onto Venturia proper, a band that were formed in 2000 and for whom 'The New Kingdom' happens to be the debut release. As with many other Lion Music releases the album sits firmly in the prog rock genre, but differs from most prog albums by featuring two vocalists, one male and female and that has enabled the band to develop a sound all of it's own. The music itself has lots of the usual suspects in the influences it draws upon, but it is those vocals that give the overall feel of 'The New Kingdom' an almost 80's pop rock feel, and seeing that I was a teenager in that decade this appeals to me instantly.

The other big plus is the fact that 'The New Kingdom' has something that will appeal to most rock fan, from the big drum driven opener that is the title track itself to the more mellow 'Words of Silence' and then the extended instrumental workout that is 'Candle Of Hope Through A Night Of Fears', this album serves up something different but at the same time exceedingly well played and truly interesting to listen to.

However having praised the vocals previously they also give rise to my only negative comment due to the fact that the male/female combination is are not used enough throughout the album, when they are such a strength in the bands repertoire why have such long extended musical workouts? Not that this is putting the music down at all but I really would just like to hear more vocals and in particular those of Lydie Robin, who has a voice equal parts Stream Of Passion's Marcela Bovio and a less operatic Kate Bush. Still a great start from Venturia and something the band cam defiantly build on into the future.

Track List

New Kingdom
The Unholy One
Words of Silence
Take Me Down
Fallen World
Walk On To The Daylight
Candle Of Hope Through A Night Of Fears
Dear Dead Bride

Line Up

Charly Sahona - Guitars/Keys
Kevin Codfert - Keys
Thomas James - Bass
Diego Rapacchietti - Drums
Marc Ferreira - Vocals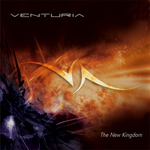 Venturia arrives on the progressive music scene with their first cd The New Kingdom, and from what I can tell you, they are as mature and solid sounding as any band that has been around for years. This cd is simply perfect in everyway, there is nothing average or middle of the road about this band, each musician performs their respective instrument at the highest level, they are also a band that creates a natural chemistry which results in sincere, genuine music, that is a treat for the ears. Their music is on the metalish side of the progressive spectrum, but nothing angst driven or overly riff oriented. They write with a subtle complexity, almost stealthly hidden in such a way that you really don't fully realize the demanding time signatures and arrangements until you have listened to the cd in it's entirety a few times over, and have gotten familiar with the alluring melodic themes provided by the two vocalists.

Marc Ferreira and Lydie Robin are the bands' voices, each with clean and harmonically complementary tone, the male/female style really adds a nice fell to the songs, his being a powerful and full ranged voice, her's being a very soft almost sensuous sounding style. Each perfectly work together to be the personna of the bands lyrical statements. You will hear melody galore from these two, which adds to the lasting quality of their music, but the vocals, as good as they are, are really not the key selling point to this bands music, they have created a personal and unique sound, mainly because the creative level of talent each of the writing musicians provides, not only are they stellar virtuoso players, but they are also showing an exceeding gift and sense for smart songcraftsmanship. It is a rare combination indeed, no matter what the genre, hearing musicians piece together the skills and creative aspects to their craft and have a masterpiece as a final result.

By rights, debut bands are not supposed to be this good, I am expecting the normal flaws of tone, production, filler songs, and the like, but I am not hearing anything that resembles a band that is just putting out their first cd here. Again Lion Music continues to discover and offer great talent an opportunity to be heard, and fans of progmetal or prog in general are in for a real treat when the hear this cd, this band is exceptional, and gets my highest recommendation, this is one of those bands that offers enough in musical quantity to appeal to fans of progmetal, progrock, fusion, etc. They are simply that good.
prognisis
BAND >>
CD >>
LABEL >>
MARK>>
VENTURIA
THE NEW KINGDOM
LION MUSIC (2006)
78%

Described as a new era in progressive metal, I should say that I agree. Venturia definitly got something new and unique to offer to fans of progressive metal. Other than prog, you can feel the influence of pop & metal. With the clean male vocals and beautiful female voice, Venturia sound great. The melodies are great, emotional and you got a lot of talent in this band. It's easy to see that those guys are more than excellent musician. Amazing playing, fluidity, awesome skills and technicaliity but the most imporant, it's well played, not complicated prog that you won't understand! In other word, those songs have a soul! There's also a lot of hook and catchy moments on this record. I really think prog metal fans will love those beautiful melodies and good grooves
VENTURIA
The New Kingdom
(Lion Music)
More and more bands want to have a unique sound and to be unique. So lately we have various combinations of metal music with other elements. When I received the new album from Venturia and read that the band combines the beautiful pop music with the progressive metal sound, I didn't believe it until I had the chance to listen to it. This band from France has achieved this combination, they have pop music elements going hand in hand with progressive metal and this is what you are about to listen to from "The New Kingdom". The band has used dual vocals male and female ones, which are close to more pop interpretations rather than metal ones and with influences from RUSH and DREAM THEATER, we are offered this "strange" final result. I am sure that if you listen to it for the first time you will be surprised, but I think if you give them more time you will see that they have some really well worked compositions with very interesting ideas and above all, they have achieved to be unique! Despite liking it or not, the truth is that this band has found their personal sound!
Official Site:www.venturiasite.com
E-mail Band: venturia@venturiasite.com
E-mail Promotion: info@intromental.com
E-mail Label: lion.sales@lionmusic.com
Antonis Maglaras - Beyond the Veil
VENTURIA - The New Kingdom
Lion Music LMC173
French neo classic prog metal with a clean production and melodies; there's an element of Rush without such high vocals. The classical keyboards are a great sound, , there's an element of Ra era Eloy with more fierce guitar in the opening title track. "The Unholy One" has its atmospheric moments and a more electronic rhythm, before a real grungy guitar cracks in. Complex stuff! Shared male and female vocals work well too.
Pretty enjoyable throughout.
3.5/5
Joe Geesin www.themusicindex.com