Change Of Track
Released October 21st 2005
LMC153 EAN: 6419922001530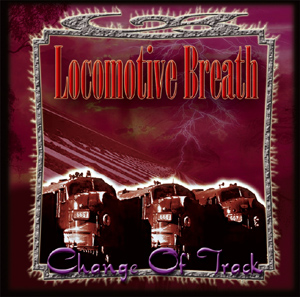 Official Website
http://www.locomotivebreath.net
Scroll below for album promo banner.
Change Of Track is the third release by Swedish melodic metal band Locomotive Breath and their debut on Lion Music.

As the title suggests events have happened within the band. Their debut 'Train Of Events' was released in 1997 and saw a mix of melodic hard rock and progressive metal, whilst the follow up 'Heavy Machinery' showed a new side of the band being the debut of vocalist Mattias Osbäck and showcasing a heavier more riff orientated approach.

On the new album Change Of Track singer Mattias and founder/guitarist Janne Stark have collaborated more in the song writing process, which definitely shows on the material. As original bass player Ulf decided to leave during the writing process this role is now handled by Talisman and ex Yngwie Malmsteen -bassist Marcel Jacob on the album. The songs are still heavy and guitar driven, but with a stronger melodic feel and choruses that stick like epoxy. Just listen to tracks like "Shadow", "High On Illusion" or "I'll Be Fighting". The album also features two ballads (or at least semi-ballads), which compensates for the total lack of such on the previous release, and an instrumental guitar orgy entitled 'Gargleblaster' (dedicated to the author Douglas Adams) which features the guests Hank Shermann (Force Of Evil, Mercyful Fate), Mattias "IA" Eklundh (Freak Kitchen), Tommy Denander (Radioactive) and Lars Eric Mattson (Mattson).

"Change Of Track" contains catchy melodies as well as biting guitar work and heavy riffing and proves the Scandie Metal Scene is still thriving.

Track Listing
H.M.M | Shadow | What I've Become | Leaving My Heart With You | Speed Driven | Feel My Rage | Firestarter| High On Illusion | Phyxious | Kingdom Of Tragedy | Chains Around Heaven | I'll Be Fighting |Gargleblaster

Band
Mattias Osbäck: Vocals, Janne Stark: Guitars, Ted Wernersson: Drums, Marcel Jacob: Bass

Guests
Hank Shermann (FORCE OF EVIL, MERCYFUL FATE, FATE etc), Mattias Ia Eklundh (FREAK KITCHEN), Tommy Denander (RADIOACTIVE), Lars Eric Mattsson (MATTSSON), Per Karlsson (UNCHAINED), David Blomé (UNCHAINED) and Boner (THE BONES).