Randy is from the same Long Island breeding ground as Steve Vai and Joe Satriani. In fact, Jeff Berlin was a neighbor of his who offered some guidance and inspiration for Randy's Life Long Love of Music and The Bass Guitar.
After High School and various Hendrix and Zeppelin cover bands Randy went to Berklee College of Music. It was there where Randy got to meet and play with other musicians from all over the world. Ironically, one of them would be from his own backyard Steve Vai. A mutual friend saw both Randy and Steve play and thought they would play great together so they were formally introduced and formed a Band called Morning Thunder.
Morning Thunder also featured on keyboards David Rosenthal (Billy Joel, Rainbow, Cindy Lauper) and Eddie Rogers on drums. This was a band were any member could bring in a piece of music learn it and play it no matter how complicated. In fact, the songs on Randy's first solo CD "Funk Me Tender" and the songs from Steve's first solo CD "Flexibal" were originally performed by Morning Thunder. IMAGINE THAT!
Randy left Morning Thunder to join the Canadian fusion band Orpheus this is were he got his first road experience by touring nonstop throughout Canada. Orpheus also recorded their second record in New York and featured two of Randy's songs. At this point Randy felt the need to have his own band so he returned to New York.
"The Randy Coven Band" with Todd Turkisher on drums and Jim Hickey on guitar recorded "Funk Me Tender" Randy's debut solo album. This album also features a guest appearance by Steve Vai on the title track. The album was recognized immediately and earned a nomination for the New York Music Awards(Best New Album on an independent label) in 1995. Funk Me Tender's impressive sales in it's arena lead Randy to a lucrative record deal with Guitar Recordings. The only Bass Player ever to get signed to an all Guitar Label.
During this time with Guitar Recordings Randy recorded two more solo CD's "Sammy Says Ouch" and "C.P.R" which featured an up coming guitarist named Al Pitrelli. Who has now played with the likes of Alice Cooper and Megadeath. Recording the "Sammy Says Ouch" CD Randy recalls was a simple plan we would record it like we were playing in a club and put it on a disk. It was recorded and mixed in two weeks and attracted international attention among musicians and instrumental fusion enthusiast. By this time people were beginning to take notice and Randy was able to enlist some serious players to get on board for the next self titled CD "C.P.R." (Coven-Pitrelli-Reilly) Zakk Wilde(Ozzy), Steve Morse, Vito Bratta(White Lion), Randy Jackson(Zebra), and sicko violinist Mark Wood all appeared on this CD. Zakk sang and played guitar on the Stevie Wonder tune I Wish and and appeared in the "C.P.R." video for M.T.V.(Europe). Steve Morse also played a ripping guitar solo on a track. C.P.R. got the international recognition that was unexpected, but very much appreciated "Quote from Randy." It's still amazing! No matter where I travel or with whom I play there are still fans there with C.P.R. CD's for me to sign. Sometimes it has Al's signature on it first which means he was in that particular part of the World Before Me. Hell I was in Bulgaria once, and this guy came up to me after a show and hands me a "C.P.R." CD with Al's signa- ture and I'm like "what the"! How did he get here first? Go Figure!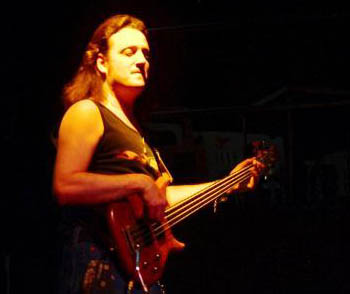 Also, during this time with Guitar Recordings Randy recorded with several fusion and instrumental artists including Blues Scaraceno and appeared on several Guitar Recordings Compliation CD's as well as replacing Billy Sheehan for The Bass Secrets Column in Guitar Magazine. Randy still holds the record for the longest running columnist he lasted five years. Then was replaced by Stu Hamm. (Not Bad.)
Although Randy was well respected by his peers and playing with the best out there. The big gig still eluded him until the day Leslie West heard the Compilation CD with Randy on it. The CD featured the likes of Steve Vai, Leslie West, etc. Leslie being the guy he is called Randy out of the blue without even hearing him play. He figured that being the only Bass player on an all Guitar Album that this guy better be good.
Leslie was looking to record another solo record and reform the Group Mountain you know the one (Mississippi Queen). Randy recorded the record "Dodging the Dirt" in San Francisco and formed a friendship with Leslie then on August 21, 1997. The mighty reunion of Mountain took place (at a sold out show) at the Ritz in New York City featuring: Leslie West, Corky Laing, and Randy Coven on Bass.
After the Ritz they went on to headline Show's throughout the USA andEurope and play festival's with likes of Deep Purple, Johnny Winter, Motorhead, etc.
After a couple of years of being in sideman land Randy needed to return to his roots and started recording his fourth CD "WitchWay". During this time he got a call from Yngwie Malmsteen. Yngwie said he needed a Bass player right away for a world Tour to support his Alchemy CD. After listening to the CD Randy realized this is a dream gig were it would take all his chops to play the fast intricate unison and counterpoint lines the Bass would play in Yngwie's music. Were most people say "less is more." Randy says for Yngwie music, "more is more." Randy stayed with Yngwie for three world tours and during this time he also recorded with his band A.R.K. and com- pleted the "WitchWay" CD.
Currently, Randy is touring doing Bass clinics and recording and touring with his new project M.C.M.(Alex Masi, Randy Coven, John Macaluso) as well as CO/writing and recording the new A.R.K. CD.
Randy has also performed and recorded with:
Brain Setzer(Stray Cats)
Alan Holdsworth
Larry Coryell
Jeff Watson(Night Ranger)
Joe Lynn Turner(Deep Purple)
Vivian Cambell(Def Leopard)
TM Stevens
Holy Mother
Randy's students included some of the top bassists in the world today.
Victor Baily(Weather Report, Madonna)
John Myung(Dream Theater)