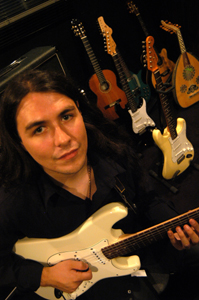 Lion Music is proud to announce the incredible all star neoclassical/progressive shred project Journey into the Fourth Dimension, an Incredibly intense shred release featuring guitarist Jose del Rio and keyboard virtuoso Vitalij Kuprij (Artension).

Fronted by the incredible talent of Chilean axemaster Jose' L. del Rio the band takes you places you have never been before. Besides the incredible keyboard work of Vitalij Kuprij the album contains many highlights such as Mrs Pilar Aguilera, a multi-award winning Soprano with a vast experience working at the Opera; singing for instance "Nel mezzo del cammin" the only non-instrumental of the album, based on Dante Alighieri's Inferno, in Italian.

Fans of over –the-top intense shredding need to check out the 300 bpm version of "Flight of the Bumble-Bee".

What you have here is an album destined to become a classic within the neoclassical/progressive shred/fusion style.